MS in Kinesiology (Sport Pedagogy)
Interested in the study and practice of teaching or coaching physical education, sport, or physical activity? Then our M.S. in Kinesiology emphasis in sport pedagogy will fit your career goals.
Tailored for both future and practicing teachers and coaches, our degree program will improve your knowledge of physical activity and sport instruction. We offer both thesis and non-thesis programs to accommodate your specific goals.
If you are interested in obtaining initial teaching certification in physical education, pursue the M.S. non-thesis degree program option. There is a degree program option that can qualify you for licensure in Georgia.
Highlights
Both thesis and non-thesis degree programs offered
Can qualify you for an increase in the level of your teaching license
Hands-on, practical experience
Video: Study Physical Education at UGA
Learn the best methods to teach sports skills and physical fitness as a student in the University of Georgia's Department of Kinesiology.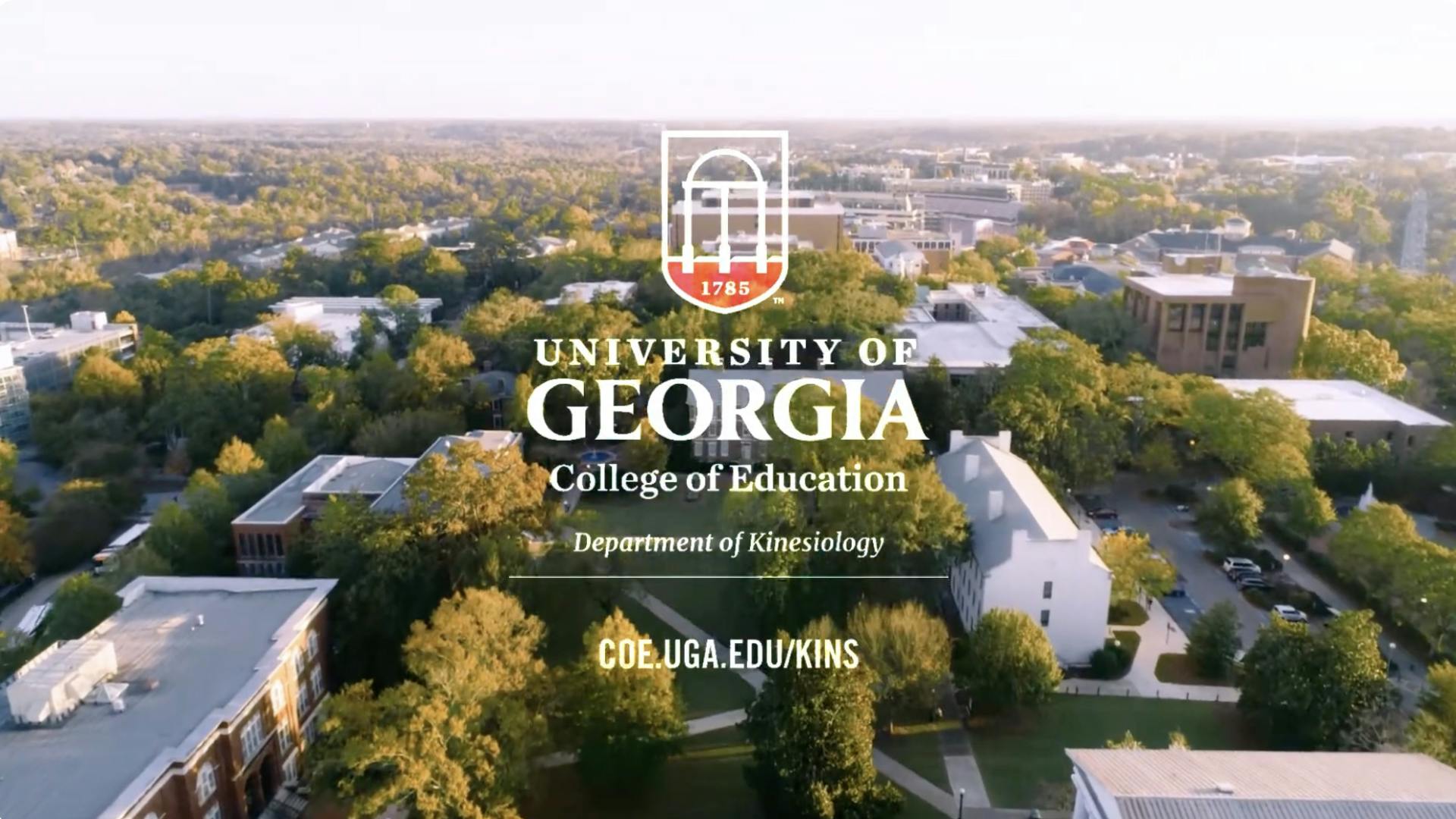 Curriculum
This degree program focuses on the study and practice of teaching and coaching physical education, sport, and physical activity. We structured this emphasis to serve the needs of future and practicing teachers and coaches. As a student in sport pedagogy, you will take coursework in:
Instructional strategies
Curriculum theory and design
Issues and trends in sport pedagogical research
Analysis of teaching
Coaching education
We also offer ample opportunities for fieldwork and research experience.
The M.S. in Kinesiology program typically requires a minimum of 30 hours for the thesis program and 36 hours for the non-thesis program. Neither option guarantees initial teacher certification.
Our 12 hours of required coursework includes:
Approaches to sport pedagogy
Analysis of pedagogy in sport
Research methods
Applied statistical methods or qualitative research traditions
We also offer many electives that cover a variety of sport and physical education topics and areas.
Our faculty is internationally recognized for its expertise in sport pedagogy. As a student in our program, you will work with your major professor to determine a program of study based on your goals.
Over 150 graduate students from across the globe enroll in our department programs each year. Our size and diversity provide a range of perspectives and ample networking opportunities both within and outside the department.
Additional information and disclosures regarding state licensure for professional practice in this field can be found at the UGA Licensure Disclosure Portal .
Our faculty have expertise in a range of subjects, with faculty members who serve as advisors to students in the exercise physiology emphasis:
Download a Program of Study
How to Apply
The Graduate School handles admission for all graduate programs at the University of Georgia, including those in the College of Education. The Graduate School website contains important details about the application process, orientation, and many other useful links to guide you through the process of attending UGA at the graduate level.
Start A Graduate School Application
You may hold any undergraduate degree to apply. In addition to completing your application, you will also submit transcripts from all higher education institutions attended, three letters of recommendation, a vita or resume, and a statement of purpose to our department. The GRE is not a requirement for admission to the M.S. non-thesis or thesis programs specializing in Sport Pedagogy.
Prospective Graduate Student Application Checklist
The following should be uploaded to the Graduate School's application:
Unofficial transcripts from each institution of higher education attended
Statement of Purpose

Statement of Purpose should summarize your career goals and how the degree program would help you attain those identified goals.
If applying to a MS-thesis or Ph.D. program, ensure you describe your research interests and how your interests fit with a specific faculty member within the Department of Kinesiology.

A CV or resume
Contact information for three references
Deadline to Apply
January 10 (thesis), June 1 (non-thesis)
Additional Resources
Please use our online form if you have any questions for the department. Please be as specific as possible so that we may quickly assist you.
Faculty and Advisors
The College's programs are taught by dedicated faculty who are experts in a range of areas and are passionate about helping students succeed both in their programs and professionally.
A close working relationship with your advisor is key as you progress through your program of study. Please note that most graduate students at UGA are not assigned to a faculty advisor until after admittance.
Tuition and Financial Aid
Almost all in-state students begin their studies at UGA paying limited tuition or fees. Please note that these amounts are subject to change and are meant to give prospective students an idea of the costs associated with a degree at the University of Georgia College of Education.
Students may qualify for a variety of assistantships, scholarships, and other financial awards to help offset the cost of tuition, housing, and other expenses.
Student Life
Located in the Ramsey Student Center for Physical Activities, the nation's largest on-campus facility for recreation and fitness. Our department's facilities include 10 laboratories, offices, conference rooms, and classrooms.
We provide assistantship opportunities to qualified students, offering financial support and experience in a professional, teaching, or research role. Assistants work 13 to 20 hours a week and receive a stipend, full tuition waiver, and one-third remission of our university health insurance.
Our research is supported by grants from nationally known organizations such as the U.S. and Georgia departments of education and the National Institutes of Health.
See for yourself how much UGA College of Education has to offer! Schedule a tour of campus to learn more about the UGA student experience.