BestShotUGA TikTok Competition
Support vaccine confidence and uptake in the UGA/Athens community and win $1,000 in prizes!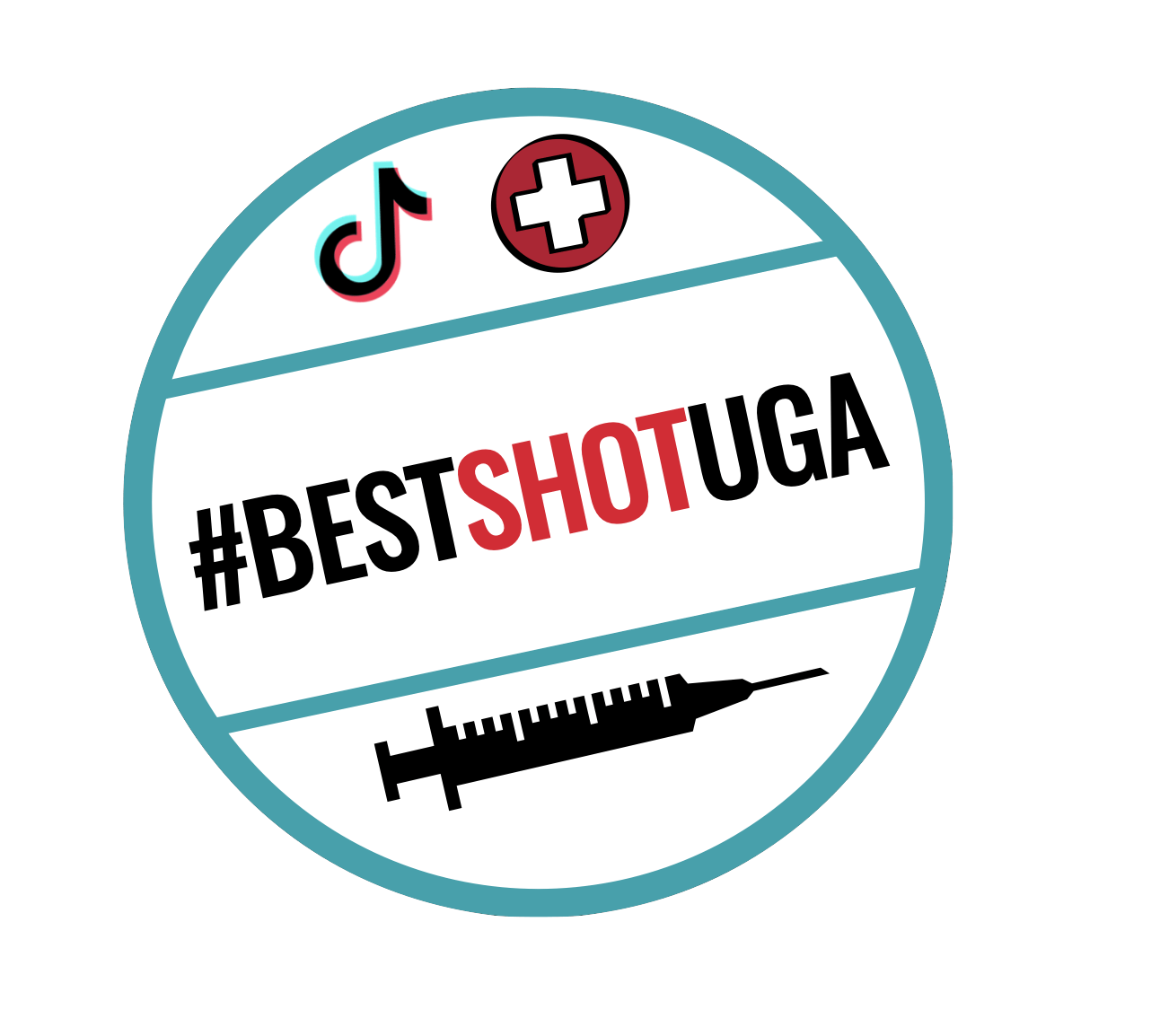 The UGA Willson Center for Humanities and Arts , along with College of Education professor Melisa Cahnmann-Taylor and representatives from the UGA Arts Council , is working to help increase vaccine confidence through community participation in the arts.
One of only 30 projects funded by the CDC Foundation, UGA is using the grant to start a TikTok campaign to promote vaccine confidence and uptake.
The project invites UGA students, local artists, and the greater Athens/Georgia community to join us in creating vaccine "Edu-Tainment" on TikTok. Contest winners will receive $1,000 in prizes from local Athens businesses!
Contest Winners
#BestShotUGA celebrated the top four TikTok showcase winners in Oscars winning-style on Saturday, April 23 from 4-6 p.m. at UGA's Atheneum. Attendees walked the red carpet into UGA's newest art gallery downtown, featuring an exhibition by MFA students in the Lamar Dodd School of Art.
The team of judges included Mary Frances Early College of Education alumna and TikTok star @mschanggifted/Jere Chang (M.Ed. '99, M.Ed. '05), Atlanta actor Thomas Brazzle, University Health Services staff, Natasha Thomas, and Atheneum Gallery director Katie Geha.
As one of 30 funded projects by the CDC Foundation to increase vaccine confidence and uptake through the arts, #BestShotUGA pledged to build a collection of TikToks — many of which would be directly produced by artists — to organically nourish conversations about COVID-19 vaccination and masking practices on campus and in our state and national communities.
This project ran Feb. 1-April 1, with page followers steadily growing from zero to 175 and views that grew from zero to almost 200,000. Fifteen funded artists included local dancers, rappers, comedians, singers, visual artists, and many others in our creative community, with the goal of producing 5-10 TikToks each and motivating community creators to continue the trend.
To incentivize the community, we ran a contest with $1,000 in cash prizes to any creators. Additionally, we hosted three TikTok tables at the Tate Center on campus, where we recorded brief TikTok-style interviews asking passersby how they felt about vaccines to increase participation and visibility.
Between Feb. 1 and April 7, we had 394 videos posted on our #bestshotuga TikTok page, out of which 278 were new content and 116 included previously loaded content. Of the 278 videos, nearly half were collected at the interview tables — 46 videos on Feb. 12, 57 on March 14, and 21 on March 21.
The judges decided to divide the $1,000 prize between four winners based on three criteria: public health information (25%), viewership and engagement (25%), and entertainment and originality (50%).
These are the results:
First Place ($400)
Second Place ($300)
Third Place ($200)
Fourth Place ($100)
Award Ceremony Photo Gallery