Georgia Conference on Children's Literature
Planning for our 54th Georgia Conference on Children's Literature! (March 17–18, 2023)
After a successful in-person conference, we are looking forward to the 2023 conference. As an integral part of Georgia's literacy initiative for more than half a century, the Georgia Conference on Children's Literature draws hundreds of teachers, school media specialists, public librarians, authors, illustrators, and children's literature scholars from the Southeast and beyond. The conference also hosts the finals of the annual Helen Ruffin Reading Bowl, a statewide competition for students in grades 4–12.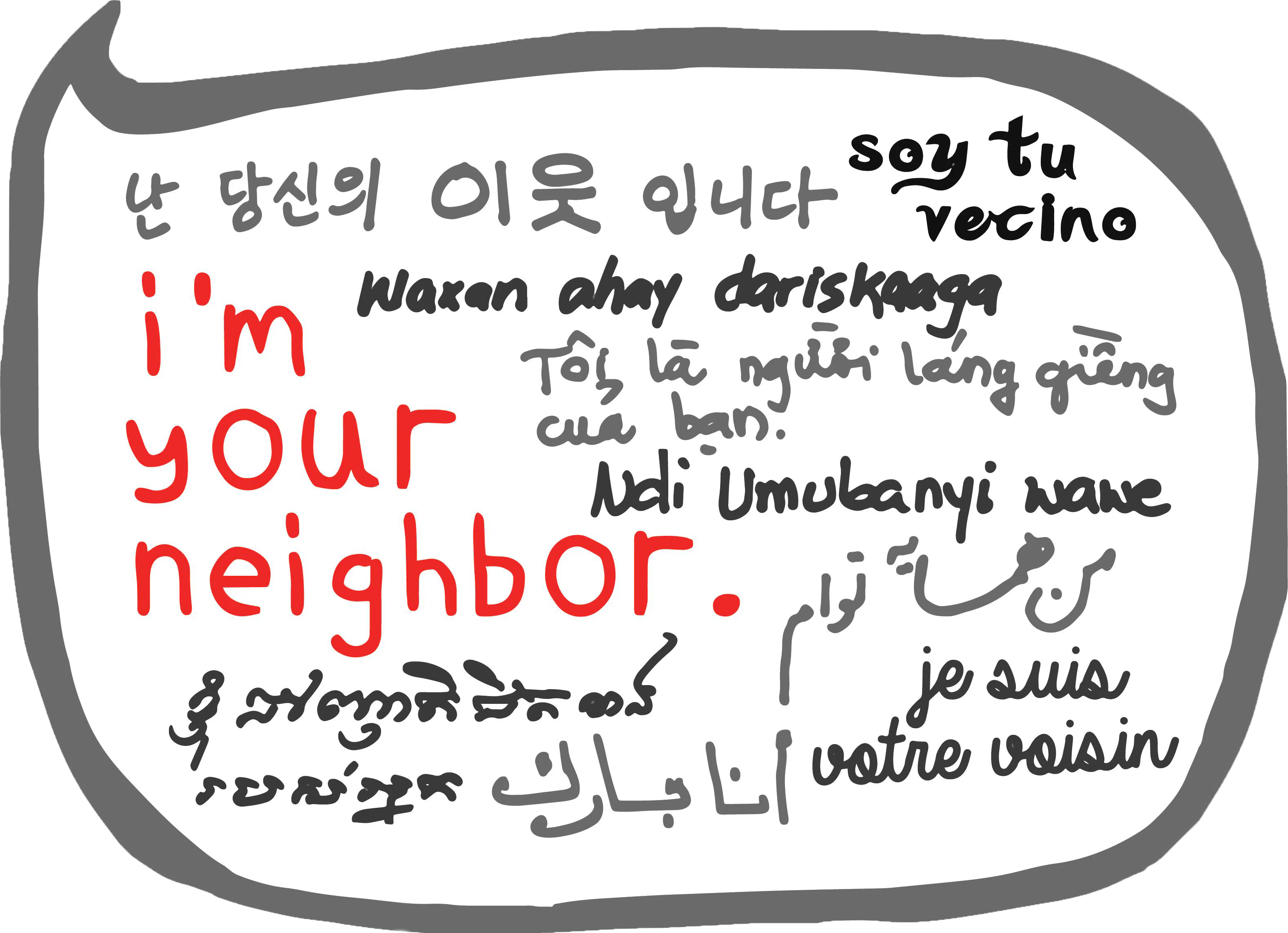 The 54th Georgia Conference on Children's Literature is pleased to be hosting "The Welcoming Library" exhibit, a pop-up conversation on immigration and our new generation communities driven by a collection of acclaimed picture books featuring New Arrival and New Generation families. Readers of all ages "meet" these families on the page and explore the commonalities shared by all families through "I'm Your Neighbor" Books-created discussion questions as well as companion programming and education materials to help build an environment of welcoming and belonging.
Victoria Jamieson and Omar Mohamed's collaboration When Stars Are Scattered is one story listed by "I'm Your Neighbor" as fostering conversations about refugees and recent immigrants. Join us March 17–18, 2023, to listen to Omar and Victoria share about When Stars Are Scattered and to learn from two representatives from "I'm Your Neighbor" : Kirsten Cappy and Anne Sibley O'Brien!
The conference is also closely connected to the Georgia Children's Book Awards .
Upcoming Dates
Registration is open!
Earlybird pricing ends February 11th, so be sure to register early! If you are presenting at the conference, AND you register on or before January 31, 2023, you receive an additional discount off the registration fee!
Conference Program
To view a copy of the conference program, click below. Print copies of the conference program will be available at the conference registration table on Friday morning.
Conference Speakers
Kirsten Cappy
Kirsten Cappy co-founded I'm Your Neighbor Books in 2012. She brings 20 years of experience using children's books and the companion tools she creates to increase curiosity, empathy, and cultural competency. Kirsten was named one of the Boston Globe's Everyday Heroes for her work on the Welcoming Library, a traveling collection of acclaimed picture books featuring New Arrival and New Generation families that inspire conversations about immigration.
Reem Faruqi
Reem Faruqi is the award-winning children's book author of Lailah's Lunchbox, a book based on her own experiences as a young Muslim girl immigrating to the United States. She's also the author of Amira's Picture Day, I Can Help, and two middle grade novels in verse, Unsettled and Golden Girl, which all got starred reviews. Reem Faruqi lives in Atlanta with her husband and three daughters.
Victoria Jamieson
Victoria Jamieson grew up in Pennsylvania, where she wrote and illustrated her first book in the third grade. She attended the Rhode Island School of Design, but soon found herself drawn back towards illustration instead of animation. After graduation she began working as a book designer with HarperCollins Children's Books in New York. Roller Girl (2015) was a Newbery Honor Award Winner and New York Times bestseller. Her graphic novel, When Stars Are Scattered (2020), co-authored by Omar Mohamed, was the 2022 Georgia Children's Book Award winner.
Omar Mohamed
Omar Mohamed spent his childhood at the Dadaab camp, after his father was killed and he was separated from his mother in Somalia. He devoted everything to taking care of his younger brother, Hassan, and to pursuing his education. He now lives in Lancaster, Pennsylvania, with his wife and five children, and works at a center to help resettle other refugees. He is the founder of Refugee Strong, a nonprofit organization that empowers students living in refugee camps.
Karl Newson
Karl Newson is the best-selling author of the 2022 Georgia Children's Book Award winner I Am a Tiger. His other creations include I Really Really Need a Wee, The Same But Different Too, The Hat Full of Secrets, and most recently the picture books I'll Be There and The World at Your Feet, plus many more! His stories have been translated in 29 languages around the world. Karl grew up in Norwich, England, and was inspired to write his first story when his children were small; he's been writing stories ever since.
Anne Sibley O'Brien
Anne Sibley O'Brien is a children's book creator who has illustrated thirty-six picture books. She is the author of fourteen of those books, including I'm New Here (2015) and Someone New (2018), both of which received starred reviews from Kirkus. She has also written three recent picture books which she did not illustrate: Abracadabra, It's Spring! and Hocus Pocus, It's Fall! (2016), both illustrated by Susan Gal, and Circle Round (2021), illustrated by Hanna Cha. In addition to creating books, she is a cofounder of two projects featuring diverse books: I'm Your Neighbor Books , and the Diverse BookFinder .
Carole Boston Weatherford
New York Times best-selling author Carole Boston Weatherford recently released R-E-S-P-E-C-T: Aretha Franklin, the Queen of Soul. Her 50+ books include the Caldecott Honor winners Freedom in Congo Square, Voice of Freedom: Fannie Lou Hamer, and Moses: When Harriet Tubman Led Her People to Freedom. She won a Coretta Scott King Author Honor for Becoming Billie Holiday, NAACP Image Awards for Moses and for Gordon Parks: How the Photographer Captured Black and White America, and many other awards. Baltimore-born, Weatherford teaches at Fayetteville State University In North Carolina.
Be an Exhibitor
Exhibitors at the Conference on Children's Literature have the opportunity to meet educators, media specialists, faculty, and children's literature enthusiasts from across Georgia.
Be a Sponsor
Sponsors at the Georgia Conference on Children's Literature enhance the overall conference experience and will be recognized with a special acknowledgment in the printed program and online.
Past Conferences
For 50 years, our conference has celebrated top authors and illustrators from around the world.
Thanks to our annual sponsors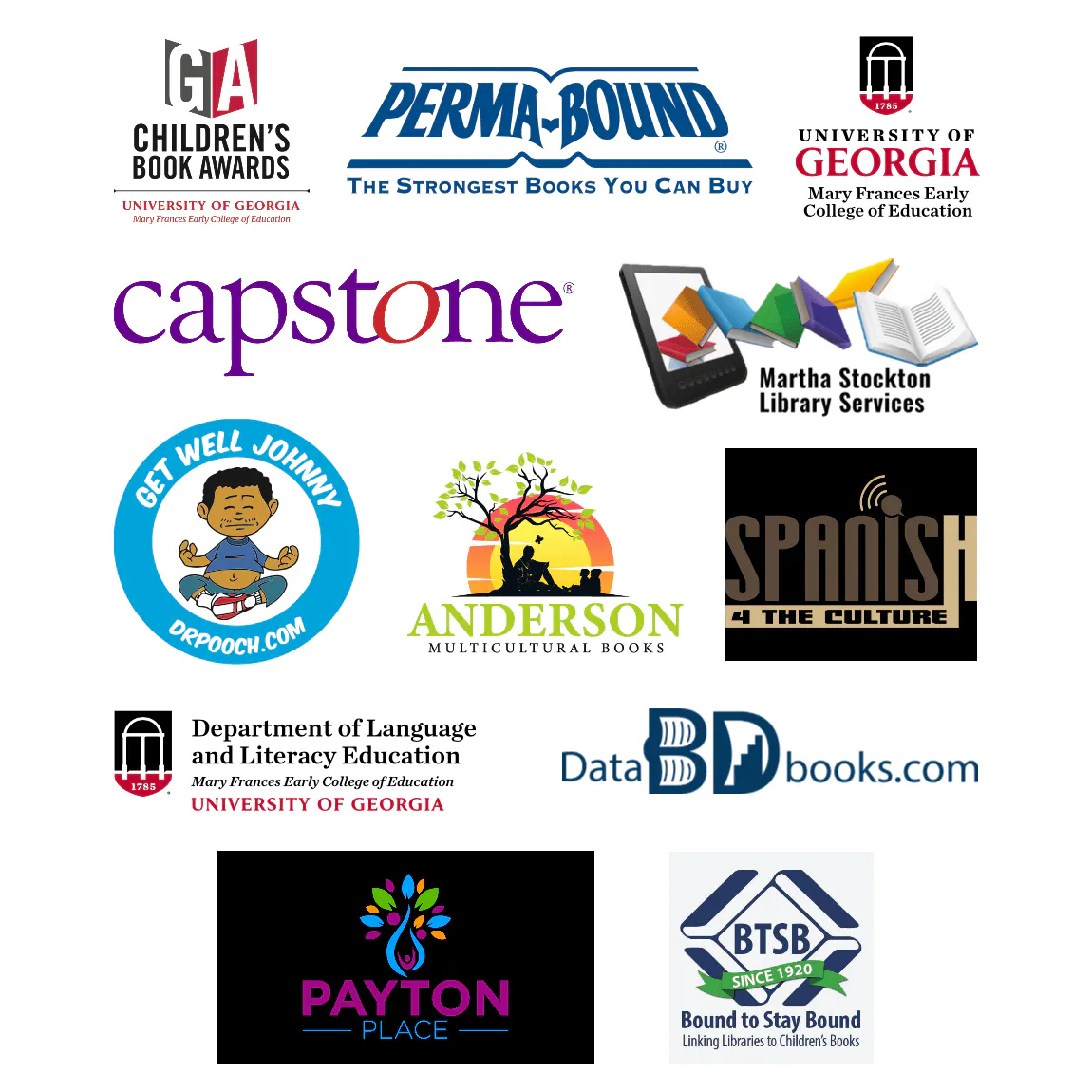 What Others Say
I love this conference! I always learn something and come away energized.
After a two-year absence from the conference, it was GREAT to be back! I am retired now but still LOVE to attend. It's always inspiring to meet the authors and illustrators who are forever my HEROES!
Out of all the conferences I've attended, this one is the best! What other conferences is there a chance you will be on the elevator with an author/illustrator or even have one come to your table and sit down with you?
Past Conferences
For 50 years, our conference has celebrated top authors and illustrators from around the world.
2022 Keynote Speakers
Elana K. Arnold
Angela Dominguez
Alex Gino
Minh Lê
Leigh Turina
2019 Keynote Speakers
Kwame Alexander
Ben Clanton
Alan Gratz
Pablo Cartaya
Aisha Saeed
2018 Keynote Speakers
Kelly DiPucchio
Louis Sachar
Grace Lin
Laurel Snyder
Åse Marie Ommundsen
2017 Keynote Speakers
David Biedrzycki
Natalie Lloyd
Duncan Tonatiuh
Kelly Bingham
Kathryn White
2016 Keynote Speakers
Patricia McKissack
Eric Velasquez
Carmen Deedy
Michael Dooling
Alan Gratz
2015 Keynote Speakers
Clare Vanderpool
Jennifer Sattler
Susan Nees
Shonto Begay
Mike Artell
2014 Keynote Speakers
Jodi Moore
R. Gregory Christie
Judith Ortiz Cofer
Jennifer Holm
2013 Keynote Speakers
Deborah Wiles
Angela Johnson
Molly Bang
Pat Mora
Amanda Knoll and Howard McWilliam
2012 Keynote Speakers
Mike Wimmer
Barbara O'Connor
Carole Boston Weatherford
Jody Feldman
Meghan McCarthy
2011 Keynote Speakers
Mary Downing Hahn
Alma Flor Ada
Gail Gibbons
M.T. Anderson
Karen Beaumont
Susan Liverpool
2010 Keynote Speakers
Margie Palatini
Kadir Nelson
Andrea Davis Pinkney
Robert Burleigh
Fred Newman