Georgia Conference on Children's Literature
As an integral part of Georgia's literacy initiative for more than half a century, the Georgia Conference on Children's Literature draws hundreds of teachers, school media specialists, public librarians, authors, illustrators, and children's literature scholars from the Southeast and beyond. Join us for the 55th Georgia Conference where we're sure to have an exciting line-up of keynote speakers, workshop sessions, and a diverse offering of break-out sessions.
The conference is closely connected to the Georgia Children's Book Awards and the 2024 GCBA winners will be announced during the conference!
Breakout Session Proposals
The proposal window is now closed.
Learn More
The 55th Georgia Conference on Children's Literature will be held on March 22-23, 2024.
Upcoming Dates
Conference Speakers
David Bowles
David Bowles is a Mexican American author and translator from Texas. He has written multiple award-winning titles, most notably The Smoking Mirror, the 13th Street chapter book series, the young adult graphic novel series Clockwork Curandera, the picturebook My Two Border Towns, and the award-winning novel in verse They Call Me Güero.
Elizabeth Dulemba
Elizabeth Dulemba is an award-winning illustrator, author, professor, blogger, and speaker. She has over three-dozen books to her credit, including her debut novel, A Bird on Water Street, for which she was named Georgia Author of the Year. Three of her recent picturebooks as illustrator were written by New York Times Best-selling author, Jane Yolen: Merbaby's Lullaby (2019), Crow Not Crow (2018), and On Eagle Cove (2020). Her newest title, Teacup, is published under the pseudonym of Bae Broughton, after the street she lived on in Scotland.
Torrey Maldonado
Torrey Maldonado was born and raised in Brooklyn's Red Hook projects. He has taught in the New York City Public Schools for over twenty-five years. His fast-paced and compelling stories are inspired by his and his students' experiences. Torrey's popular young readers novels include What Lane, Tight, and Secret Saturdays. Hands, his latest novel, is a Junior Library Guild Gold Standard Selection, has received a starred review from School Library Journal, and is a "Best New Book of 2023."
Stacy McAnulty
Stacy McAnulty is a children's book author, who used to be a mechanical engineer. She has written an impressive number of STEM picturebooks, and some wonderful middle-grade novels, including the 2023 GCBA winner Millionaires for a Month. When she's not writing, Stacy likes bake (and eat!) triple-chocolate cupcakes. Originally from upstate NY, she now lives in Kernersville, NC with her 3 kids, 3 dogs, and 1 husband.
Bob Shea
Bob Shea is an award-winning author-illustrator of many popular titles, including the 2023 GCBA picturebook winner Chez Bob. Bob has worked with Comedy Central, was the designer of the PBS Kids logo, developed an on-air character for Playhouse Disney, worked with Nick Jr., has appeared on Noggin and The Sunny Side Up Show. Dreamworks is developing one of his books into a television show. He lives in a yellow house with his wife and son.
Be an Exhibitor
Exhibitors at the Conference on Children's Literature have the opportunity to meet educators, media specialists, faculty, and children's literature enthusiasts from across Georgia.
Be a Sponsor
Sponsors at the Georgia Conference on Children's Literature enhance the overall conference experience and will be recognized with a special acknowledgment in the printed program and online.
Past Conferences
For 50 years, our conference has celebrated top authors and illustrators from around the world.
Thanks to our annual sponsors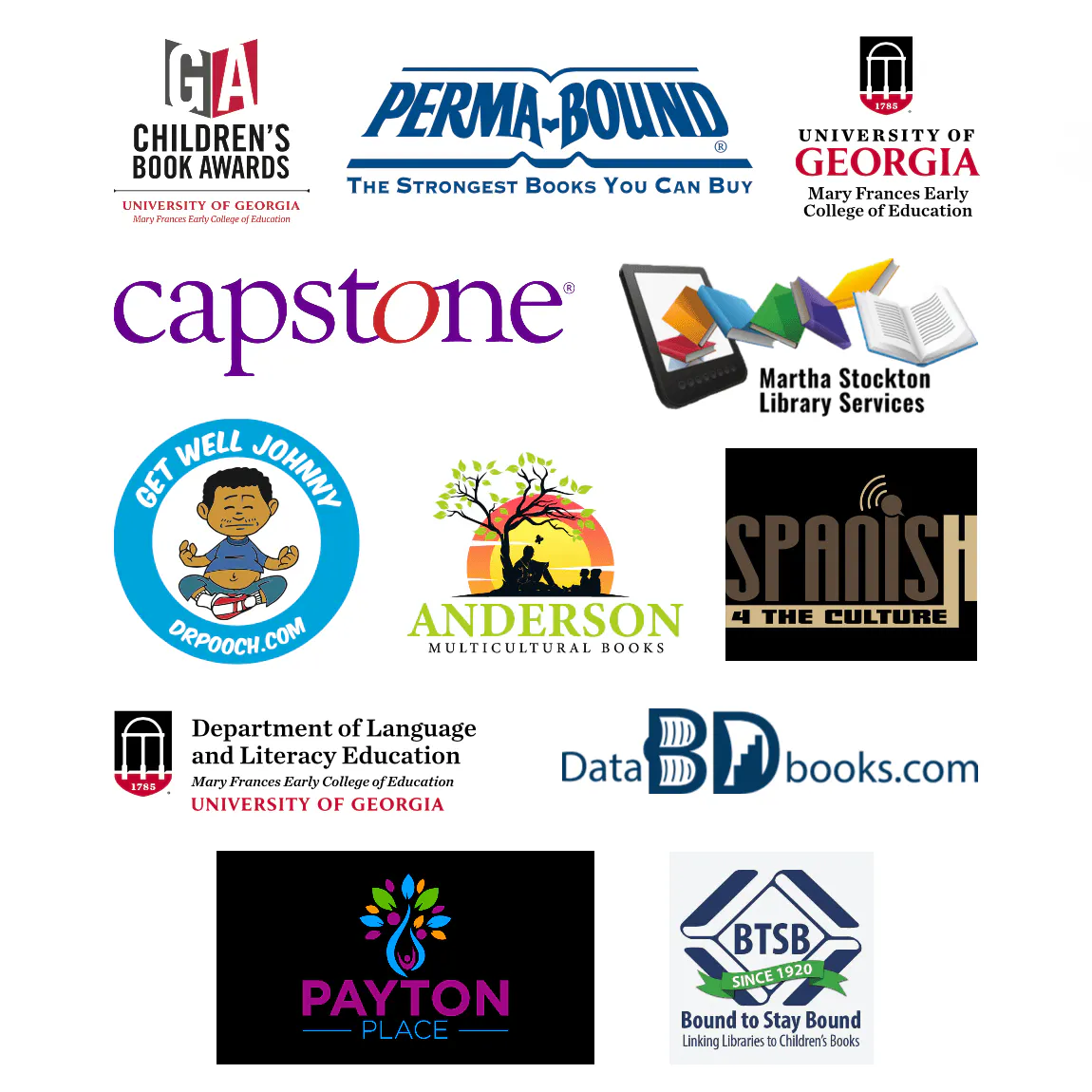 What Others Say
I love this conference! I always learn something and come away energized.
After a two-year absence from the conference, it was GREAT to be back! I am retired now but still LOVE to attend. It's always inspiring to meet the authors and illustrators who are forever my HEROES!
Out of all the conferences I've attended, this one is the best! What other conferences is there a chance you will be on the elevator with an author/illustrator or even have one come to your table and sit down with you?
Past Conferences
For 50 years, our conference has celebrated top authors and illustrators from around the world.
2023 Keynote Speakers
Kirsten Cappy
Reem Faruqi
Victoria Jamieson
Omar Mohamed
Karl Newson
Anne Sibley O'Brien
Carole Boston Weatherford
2022 Keynote Speakers
Elana K. Arnold
Angela Dominguez
Alex Gino
Minh Lê
Leigh Turina
2018 Keynote Speakers
Kelly DiPucchio
Louis Sachar
Grace Lin
Laurel Snyder
Åse Marie Ommundsen
2017 Keynote Speakers
David Biedrzycki
Natalie Lloyd
Duncan Tonatiuh
Kelly Bingham
Kathryn White
2016 Keynote Speakers
Patricia McKissack
Eric Velasquez
Carmen Deedy
Michael Dooling
Alan Gratz
2015 Keynote Speakers
Clare Vanderpool
Jennifer Sattler
Susan Nees
Shonto Begay
Mike Artell
2014 Keynote Speakers
Jodi Moore
R. Gregory Christie
Judith Ortiz Cofer
Jennifer Holm
2013 Keynote Speakers
Deborah Wiles
Angela Johnson
Molly Bang
Pat Mora
Amanda Knoll and Howard McWilliam
2012 Keynote Speakers
Mike Wimmer
Barbara O'Connor
Carole Boston Weatherford
Jody Feldman
Meghan McCarthy
2011 Keynote Speakers
Mary Downing Hahn
Alma Flor Ada
Gail Gibbons
M.T. Anderson
Karen Beaumont
Susan Liverpool
2010 Keynote Speakers
Margie Palatini
Kadir Nelson
Andrea Davis Pinkney
Robert Burleigh
Fred Newman