Legislative aides get schooled in kinesiology
It's not often that a PowerPoint presentation includes an element of danger.
But this was the case on Thursday as graduate student Travis Fetchko strapped on a football helmet and braced himself for impact.
The demonstration, which showed where Fetchko sustained a hit to the head while hooked up to a computer sensor, was part of a presentation by the University of Georgia College of Education for more than a dozen aides to Georgia's legislative delegation. Visiting from Washington, D.C., the group included members from the offices of Georgia's two senators as well as 11 of the state's 14 representatives. They spent two days touring key UGA units related to federal research grants, which included kinesiology's work on concussions and a new way to measure muscle health.
"I think it's good to see how the university is using federal research money, not just at the faculty level but also undergraduate," said Tommy Nguyen, staff director for Sen. Johnny Isakson (R-GA). "And it's also good for us to see what the needs are when we get back to Washington."
The group saw two different demonstrations during the morning tour, starting off in the kinesiology department's biomechanics lab, where cameras help analyze movement to train future athletic trainers. "Concussion management is really one of the hot topics in sports today," said Ron Courson, UGA's assistant athletic director, who is working with assistant professor Julianne Schmidt on concussion research. "Is football at a crossroads? It really is."
Until recently, sports injuries of any kind were treated aggressively, often with multiple trips a day to the physical therapist to heal pulled muscles or joints. But when the brain is injured, the main thing it needs is rest — a difficult thing for a student athlete, who is expected to keep a full schedule of classes on top of practices. And despite being a hot topic in the sports world, there is still much unknown about head injuries.
Schmidt's research examines the locations, frequency and force of the hits sustained by UGA football players. Using sensors in their practice helmets, Schmidt and her research assistants can obtain real-time information whenever a player has a head injury. This research has already led to groundbreaking new coaching to prevent head injuries, called "heads up football." The idea, Schmidt said, is that when you keep your head up and know you're about to be hit, you can brace yourself for the impact and lessen the blow.
New research projects focus on evaluating concussions and their effects over a longer period — UGA is one of 30 universities taking part in the NCAA- and Department of Defense-funded study — and a groundbreaking new project to help concussion patients evaluate their driving abilities. "We have really good protocols for when people can return to sport, but nothing that tells us when people can begin driving," Schmidt added. "It's really the first of its kind."
Down the hall, professor Kevin McCully showed the group the innovative way his lab is measuring muscle health using light. With a strap around her leg, graduate student Kristine Polley demonstrated to the group how the device records the amount of energy given off by her muscles' mitochondria. The device has the ability to measure muscle deterioration in ALS patients, people diagnosed with diabetes, and even those taking a statin drug.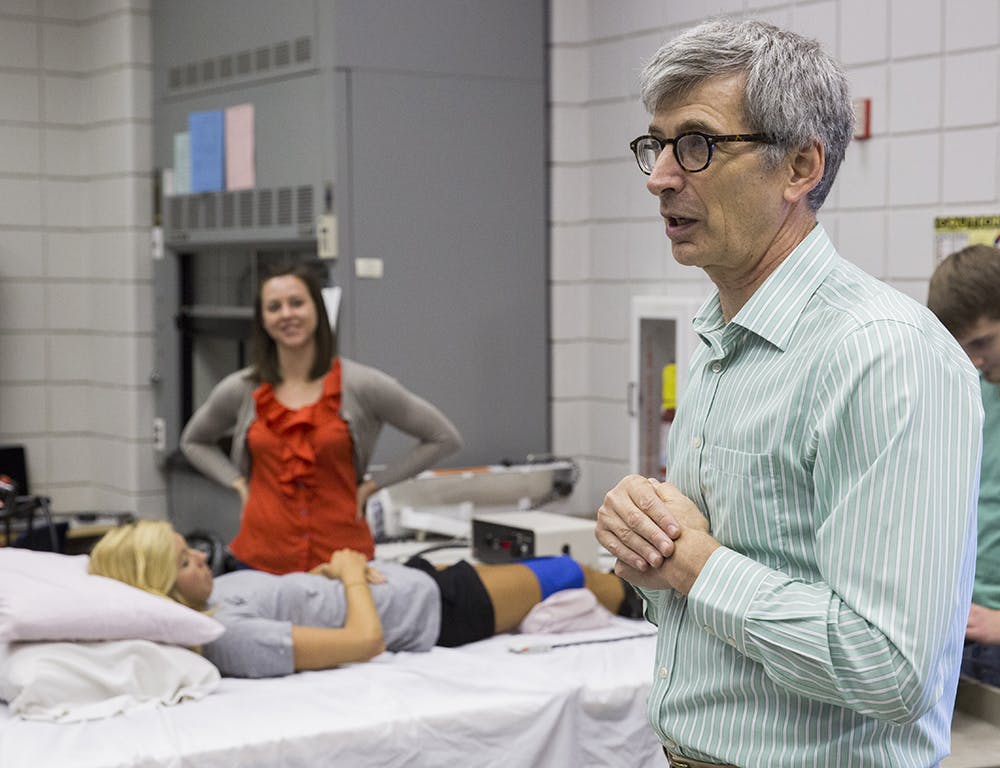 McCully added that this research, started thanks to a grant from the National Institutes of Health, has spun into a private venture. This non-invasive method of measuring muscle health is in demand in both clinics and from drug companies. It can help measure the effectiveness of treatment as well as the drug itself.
And, this research is more than a professor teaching in a lab. With McCully were six students, some undergrads and some graduate students, all of whom have their own research projects related to mitochondria. Jillian Estes, for example, a student in the Center for Undergraduate Research Opportunities (CURO) program, is studying mitochondrial myopathy, a rare muscular disease. Fellow student Kathryn Cushen, who recently received a $1,000 CURO stipend, is studying the effects Crohn's disease has on mitochondria.
The research possibilities are only limited by space, said McCully, as he noted there were more students with quality research projects this year then there was available space. In the area of concussions, Courson told the delegation that there is so much research yet to be done on the injuries, UGA could be on the forefront of educating the country and creating national guidelines. "We need to have a standardized return-to-play policy," he told the group. "No matter if you're in Washington state or Georgia, you return to play the same way. We want to be a player in that."
Having an audience so connected on Capitol Hill gave the students hope for future projects, too.
"Knowing there's federal funding, it opens our minds to other opportunities," said Cushen. "When I came into McCully's lab, it made my thoughts possibilities."
— Kristen Morales