2015-16 Donor Appreciation and Alumni Awards honor nine for their achievements
Nine College of Education graduates and friends were recognized for their career achievements and community leadership at the College's 11th annual Donor Appreciation and Alumni Awards Dinner held on March 5 at the UGA Hotel and Conference Center.
Congratulations to this year's award winners: Ryan Akers, Timothy Puetz, Kimberly Bearden, Jessica DeCuir-Gunby, Catherine Bradshaw, Erin Hames, Philip Lanoue, Cindy Darden, and Alvin Wilbanks.
The College of Education's annual Donor Appreciation and Alumni Awards honor past graduates and friends who have a lifetime of achieved success or have a high level of achievement at the mid-point of their careers.
Outstanding Young Alumni Award
Honoring graduates of the College who are 40 or younger at the time of the nomination and have made outstanding contributions to the profession.
Ryan Akers
Dr. Ryan Akers received his Ph.D from the University of Georgia College of Education and is focused on enhancing individual, family, and community preparedness for the people of Mississippi.
As an assistant extension professor at Mississippi State University, Akers researches statewide and regional community preparedness and disaster management initiatives for the MSU Extension Service, which serves all 82 counties of the state. By providing research-based information, educational programs, and technology transfer focused on different issues and needs, he can help Mississippians make informed decisions about their economic, social, and cultural well-being.
Since joining MSU, Akers has created several programs, including the Mississippi Youth Preparedness Initiative, the MSU Community Emergency Response Team, and the National Institute for Food Safety and Security Training, which is a charter member of the Food and Agriculture Protection Training Consortium.
In 2014, the Mississippi Youth Preparedness Initiative was awarded the nation's Most Outstanding Youth Preparedness award and also received an honorable mention recognition for "Preparing the Whole Community."Additionally, Akers was named a Champion of Change by the White House where he was invited to speak about youth preparedness.
Akers and his wife Brandy live in Starkville, Mississippi with their two children. He is an avid half marathon and obstacle course racer.
Timothy Puetz
Since 2001, Dr. Timothy Puetz has worked for a variety of institutions ranging from nonprofits to federal government organizations. Today, Puetz is the operations manager at the National Institutes of Health's Clinical Center, which is the world's largest hospital devoted entirely to clinical research.
In this capacity, he is responsible for developing, designing, and improving programs of clinical care, management, and support services to ensure efficient and effective administration of resources in the hospital. In 2012, Puetz joined NIH as a Presidential Management Fellow. During this time, he took on a broad range of administrative and scientific positions with the National Human Genome Institute, the National Institute of Drug Abuse, and the National Cancer Institute.
Prior to joining NIH, Puetz served in the United States Army in both the Medical Service Corps and the Infantry, which included a tour in Afghanistan. He has partnered with the Republic of Liberia's Ministry of Health and Social Welfare in conjunction with the Carter Center's Mental Health Program to examine the accessibility of psychotropic medicines.
Puetz, who received his Ph.D. from UGA's College of Education in 2006, has remained active in the area of public health research. He is engaged to Helene Dumais and currently lives in Washington, D.C., where he is an advocate for veterans' health.
Outstanding Educator Award
Honoring individuals in K-12 or higher education who have made a significant impact on their students, school, school district, and beyond.
Kimberly Bearden
Over the past 29 years, Kimberly Bearden has been a teacher, curriculum director, staff development trainer, and middle school principal. She is the cofounder, executive director, and a language arts teacher at the world-renowned Ron Clark Academy, an innovative middle school and educator training facility in Atlanta. Since its inception, over 33,000 educators have visited RCA and Kim's classroom to learn her creative methods for engaging students, promoting rigor, and creating a climate and culture for success.
After graduating from UGA in 1987, Bearden began her teaching career at Cobb County Schools where she received the Milken Family Foundation Award for Excellence in Education and was Cobb County's Teacher of the Year. Over the years, she has been the recipient of numerous other honors, including the Disney American Teacher Award, the Phoenix Award, and the Making a Difference Award. Her bestselling book, Crash Course: The Life Lessons My Students Taught Me, was released by Simon and Schuster in 2014.
Bearden and her husband Scotty live in Atlanta with their three adopted sons fromSoweto, South Africa. Bearden met the boys on her travels to South Africa with her students, and she was inspired by their determination, passion, and resilience. Her beloved daughter lives close by and has been thrilled to gain three new brothers.
Jessica DeCuir-Gunby
Dr. Jessica DeCuir-Gunby has influenced hundreds of teachers, counselors, principals, superintendents, and education researchers as an associate professor of educational psychology at North Carolina State University in Raleigh, North Carolina.
In addition to being a University Faculty Scholar in the Department of Teacher Education and Learning Sciences, DeCuir-Gunby serves as a faculty mentor with the inter-institutional Center for Developmental Science. She is an active researcher of critical race theory, racial identity development, and emotions in education and has published several books, dozens of book chapters, and numerous journal articles, as well as procured grant research funding totaling over $4.3 million. She was even inducted into the North Carolina State University Academy of Outstanding Teachers in 2012.
DeCuir-Gunby, who earned both her M.A. and Ph.D. degrees in educational psychology at UGA, is currently serving on the diversity and inclusion committee of the Hill Center, a learning development center that focuses on student academic remediation and teacher professional development.
DeCuir-Gunby, her husband, Dr. Norris Gunby, Jr., and her son live in Durham, North Carolina with their two cats.
Professional Achievement Award
Honoring individuals in the mid-point of their career who have demonstrated significant achievements in their field.
Catherine Bradshaw
Dr. Catherine Bradshaw is a professor and the associate dean for research and faculty development at the University of Virginia's Curry School of Education. Before serving in her current position, Bradshaw spent nearly 10 years as a faculty member in the Department of Mental Health at the Johns Hopkins Center for the Prevention of Youth Violence. She continues to serve on the faculty there while also acting as the Deputy Director of the Johns Hopkins Center for the Prevention of Youth Violence and Co-Director of the Johns Hopkins Center for Prevention and Early Intervention.
As a developmental psychologist and a youth violence prevention researcher, Bradshaw is primarily focused on the development of aggressive behavior in adolescents and school-based prevention of behavior and mental health problems. She received her master's degree from the University of Georgia College of Education in 1999 and later went on to receive her doctoral degree from Cornell University in 2004.
Bradshaw has collaborated on numerous research projects supported by the National Institute of Mental Health, the National Institute on Drug Abuse, the Centers for Disease Control and Prevention, the National Institute of Justice, and the Institute of Education Sciences. Her federally funded research focuses on topics such as bullying, school climate, the effects of exposure to violence, peer victimization, and environmental stress on children.
Bradshaw also collaborates with the Maryland State Department of Education and several school districts to support the development of programs and policies to prevent bullying and school violence and to foster safe and supportive learning environments. She has received early career research awards from the Society for Research in Child Development and the Society for Prevention Research, as well as a Presidential Early Career Award for Scientists and Engineers from President Obama for her research on the use of evidence-based violence prevention programs in schools. Bradshaw is the editor of the journal "Prevention Science."
Erin Hames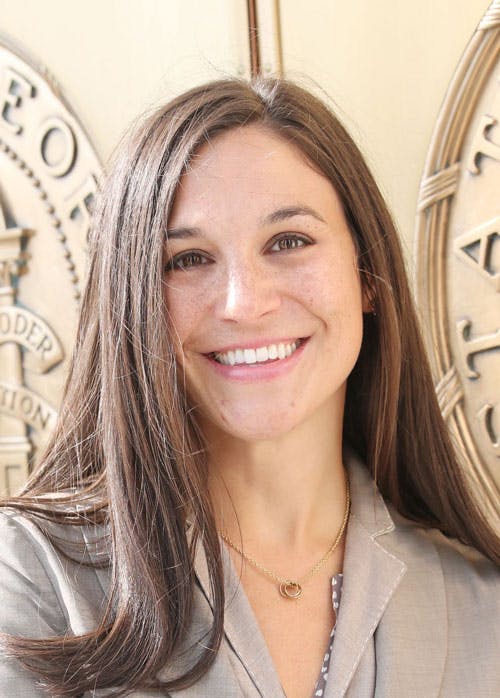 After serving in two gubernatorial administrations, Erin Hames' passion and desire to better the lives of children inspired her to launch ReformEd, a firm focused on improving educational opportunities and outcomes for children and students. Prior to heading this new educational initiative, Hames spent almost a decade under the gold dome of Georgia's State Capitol as the senior policy advisor for Governors Sonny Perdue and Nathan Deal with a stint in between as Chief of Staff to the State School Superintendent.
In these positions, Hames played a major role in the passage and implementation of key pieces of legislation and policy changes, including preserving the HOPE Scholarship and Georgia Pre-K programs, strengthening school board governance, increasing academic standards for all students, and creating Georgia's first needs-based scholarship, REACH. She also served as the executive sponsor for Georgia's Race to the Top team that successfully secured a $400 million grant for the state of Georgia.
After graduating magna cum laude from the University of Georgia's College of Education, Hames taught middle school social studies for three years. In 2008, she was admitted to the State Bar of Georgia after graduating from Georgia State University's College of Law with honors. Hames is a member of the College of Education's Board of Visitors and UGA's Alumni Association's 40 Under 40 Class of 2013. She and her husband, Ben, live in Atlanta with their son and are active members of Buckhead Church.
Outstanding Service Award
Honoring individuals who demonstrate outstanding and continued dedication in service or philanthropy to the College of Education.
Philip Lanoue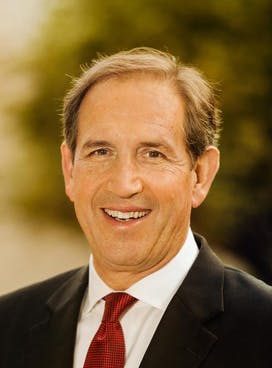 Since 2009, Superintendent Lanoue has led the Clarke County School District with a proven track record of bringing schools and districts to higher levels of academic achievement. He is the 2015 National Superintendent of the Year, as well as the 2015 Georgia Superintendent of the Year.
Under his leadership, Clarke County School District moved from a 63% graduation rate upon his arrival in 2009 to a current graduation rate of 80%. In addition, the district has been honored as a Title I Distinguished District for its success in closing the achievement gap between economically disadvantaged and non-disadvantaged students. During his tenure, Lanoue has fostered a variety of local, state, and national partnerships, including the University of Georgia's award-winning Professional Development School District. Lanoue is passionate about students being prepared to succeed in today's global and digital world, and therefore all students in grades 6-10 benefit from the International Baccalaureate Middle Years Programme, and all students in grades 3-10 are provided with a digital device.
Prior to serving s area assistant superintendent of the Cobb County School District in Marietta, Georgia, Lanoue, who earned his bachelor's in 1978, was a high school principal in his home state of Vermont.
Lanoue began his educational career as a science teacher and is currently an adjunct assistant professor in the College of Education's Department of Lifelong Education, Administration, and Policy. He currently resides in Athens with his wife, Vickie, and is the proud father of two daughters who live in the New England area.
Lifetime Achievement Award
Honoring those who hold a distinction in their field and have demonstrated outstanding success in their work. The recipient must be a recognized leader and have made a significant impact in the education community.
Cindy Darden
Over the past 36 years, Dr. Cindy Darden has made it her mission to help Georgians live healthier and more meaningful lives through education, therapy, mentorship, and leadership. She currently consults with behavioral health agencies and is passionate about taking care of her loved ones.
Darden's interest in psychology began while she was working at the Clarke County Correctional Institution. As a human development specialist with the Cooperative Extension Service, Darden created curriculums and taught County Extension agents how to apply them in various areas for the general public, including child development, parenting education, and divorce adjustment.
After receiving her Ph.D. from the University of Georgia College of Education in 1991, Darden served as the coordinator of psychological services for the Regents' Center for Learning Disorders at the university. While there, Darden developed a postdoctoral fellowship program, supervised graduate assistants from several disciplines, and provided extensive psychological assessments, as well as individual and group therapy.
The final phase of Darden's career was with Advantage Behavioral Health Systems where she helped individuals with mental illnesses, addictive diseases, and developmental disabilities. Darden was Advantage's clinical director for several years before serving as CEO for seven years prior to her retirement. After facing years of budget cuts, Darden led the agency to find other means for funding so that it could continue serving over 12,000 clients annually. In time, Advantage has grown to be one of the most respected community service boards in Georgia.
Alvin Wilbanks
Under Alvin Wilbanks'leadership, Gwinnett County Public Schools earned a reputation as one of the most successful school districts in the country. When Wilbanks was named chief executive officer and superintendent of Gwinnett County Public Schools in 1996, he was serving concurrently as the district's assistant superintendent of human resources and continuous improvement, as well as the president of Gwinnett Technical College, which he opened in 1984.
In 2010, Wilbanks, who earned both his bachelor's and master's degrees from the University of Georgia College of Education, played a key role in Georgia's successful bid for a federal Race to the Top Grant. He was appointed by the last three governors of Georgia to serve on significant statewide education reform commissions. Additionally, two governors named him to the Board of Trustees for the Georgia Teacher Retirement System where he currently serves as chairman.
An education leader in the state and nation, Wilbanks was elected as the inaugural chairman of the Georgia Education Coalition and gives school districts a unified voice with the state's legislature on funding and education policy. He also helped establish and co-chair the Large Countywide and Suburban District Consortium, which is comprised of large, diverse, and successful districts that work to influence federal education policy through proven practices and records of success.
In 2010, Gwinnett County Public Schools won the highly prestigious Broad* Prize for Urban Education, distinguishing it as the best urban school district in the nation. In 2014, Gwinnett made history when it was named a finalist for the Broad Prize again in its first year of renewed eligibility. After winning in 2014, Gwinnett became only the second district to be a two-time Broad Prize winner.
Wilbanks has won numerous honors and awards for his professional accomplishments and civic contributions. He was named the 2005 Georgia Superintendent of the Year and was one of four finalists selected for the national title. Wilbanks was also honored as the Gwinnett Chamber of Commerce Citizen of the Year and received the Boy Scouts of America's Silver Beaver Award. He and his wife have two daughters, five grandchildren, and one great- grandchild.