Professor honored with 2017 Outstanding Alumna Award from alma mater
Linda Campbell, a professor in the department of counseling and human development services, was recently recognized as the West Virginia University Eberly College of Arts and Sciences' 2017 Outstanding Alumna in the department of psychology.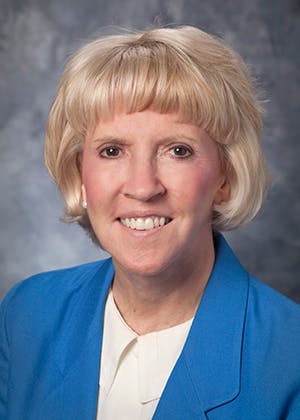 Each year, the Eberly College recognizes outstanding alumni from across the College to acknowledge the important contributions they have made within their professions and communities. The selection process begins at the department or program level and is approved by the dean of the college.
"Recognition as an outstanding alumna is a very great honor," said Campbell, who also directs the Center for Counseling and Personal Evaluation. "The privilege I felt in being able to attend WVU and the resulting impact on my life and career is immeasurable."
Campbell is primarily focused on researching ethical standards, regulations and policy development. Since ethical behavior and decision-making often lag behind actual practice in certain areas, said Campbell, she has published numerous articles on topics that contribute to narrowing this gap, including health disparities, multicultural diversity, behavioral ethics and ethical-decision-making methods.
Additionally, Campbell has been working with professor Edward Delgado-Romero and public service associate Linda Logan in the department of counseling and human development services to develop a research data base to investigate the effects of behavioral health treatment on primary care health status.
The study is focused on health disparities, treatment for ethnically diverse groups and the impact of integrated care on quality of treatment. In addition to providing behavioral health services to the public, the team is also developing a database to provide training for doctoral students and to deliver services to those who have no access to healthcare.
The Eberly College will honor Campbell in April at their annual Alumni Awards Banquet.
"I am the first person in my family to go beyond high school," said Campbell. "The opportunities, the resources, the access to gifted faculty I experienced and the professional values I adopted sent me on a rich and rewarding life journey that would not have been possible without WVU."