Alumni spotlight: Cabell Sweeney
Cabell Sweeney admits she was intimidated by mathematics.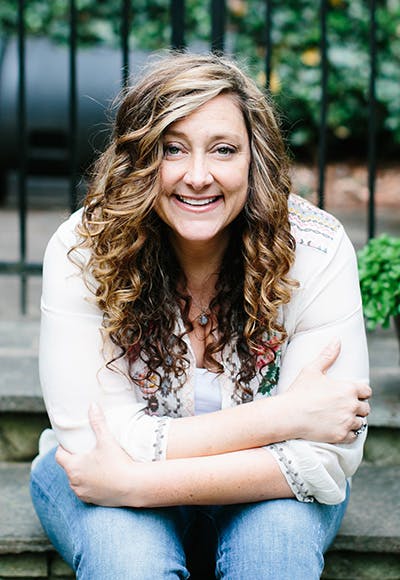 As a sophomore at UGA, Sweeney (B.S.Ed. '95) wanted a degree that connected her to people. And working with the Young Life ministry, she also knew she wanted to make a difference in kids' lives. Education seemed to be a good fit.
Except for one tiny part of the curriculum—mathematics. Sweeney felt intimidated by the idea of teaching it.
But as a new student in the College of Education, she joined a research project led by a graduate student—now the College's senior associate dean, Denise Spangler. During the project, Sweeney visited classrooms taught by engaging, inspiring teachers and began to see that math wasn't something to be feared after all.
"I was intimidated at the thought of making lesson plans, but the way that Denise talked about math, and taught us how to make manipulatives and bring literature into it, it's not just math but you're learning and teaching and discovering with some goals," says Sweeney, whose life's twists and turns have brought her face-to-face with several intimidating decisions. So far, she says, embracing learning, growing, and changing is the best way to tackle them.
One of these changes came about as a project on her kitchen table, when her mother bought Sweeney unfinished pottery as a wedding present. Even though she had never painted pieces outside of a paint-your-own-pottery outing, she eventually decided to take the plunge and begin to paint—no matter how intimidating the challenge seemed.
But today, that challenge is one of the most fulfilling aspects of her life, as she creates whimsical designs for her own business, Cabell's Designs. Her UGA-themed pieces are also sold by Magnolia Lane Collection.
"The same things that Denise was modeling for me were the same things my mom taught me—if you're learning and growing and changing, it's not failure," says Sweeney, who now spends her days working out of her Northwest Georgia studio. "So yeah, I was scared. I was scared I'd try this thing and I would fail. But I also realized that if I didn't try, I'd always regret not trying."
Sometimes it's the difficult things that make life enjoyable, she adds.
"I believe that if you are living out your passion and your purpose, you are among the few who are blessed to be able to do that," Sweeney says. "Nobody is a self-made anything. We've all been dealt a hand in life and some people play it really well. Yes, there's a lot of hard work, but I've been really fortunate, and I'm really grateful to have been dealt a pretty great hand."