Alumni spotlight: Geraldine Clarke
Working with adult learners is a uniquely rewarding experience, says Geraldine Clarke.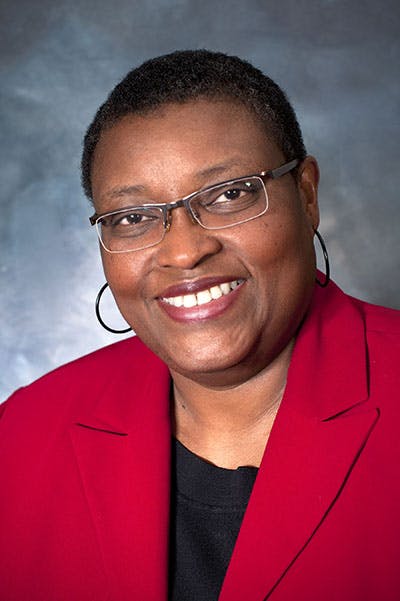 As director of resident support for the Athens Housing Authority, Clarke (B.S.H.E. '76, M.Ed. '96, Ph.D. '10) creates educational programs that change lives. Whether it's a class on financial literacy or a discussion about goal setting, she says, her adult students all bring their unique life experiences to the table—and these become building blocks for their next steps.
"You take those life experiences to help them get to where they want to be," says Clarke, who received her graduate degrees from the College of Education's Department of Lifelong Education, Administration, and Policy. But she considers herself more of a facilitator or a trainer than a traditional teacher. "I help move them toward their goals, but also to capitalize on their life experiences, because you can't downplay that. That has to be part of it."
With a background in social services before coming to the Housing Authority, Clarke knew she wanted to work with families to improve lives. Her initiatives include classes for the 1,154 resident families on budgeting, setting goals, and going back to school. She also created the Inter-Community Council, a 501(c)3 nonprofit that gives residents the opportunity to lead within their own communities.
This is her 41st year working for the Housing Authority, and as retirement draws closer, she looks back on a long and rich history of helping lift families up.
"I've seen more good than not good, and I've had an opportunity to really impact people's lives," she says. Everyone, no matter their circumstance, has goals and can accomplish so much, she says. "People want to be heard. They want to know that they're doing their best, and they can leave here and do great things. And it's just helped me stay focused on helping families help themselves."
This is an important point, she says. Because when you enable someone, they will only see a temporary benefit. If you empower them, they reap benefits for a lifetime.
"What I've learned is not to enable but to empower. There is a difference," she says. "It's like anywhere else—if you want to do something to change where you are, to move out and do better, then you have to just do it. It's not easy."