Lessons in the landscape
Even on a gloomy, humid day, Leo Twiggs' studio is alive with color, texture, and the smooth notes of classical jazz. He moves seamlessly around a table covered in jars of concentrated dye and drops a few pieces of wax into a steaming pot.
After mounting a piece of fabric to a board and dipping a pen-like tool into the melted mixture, he delicately weaves a simple pattern across the surface. Long hours spent painting, dipping, and crushing the wax result in a thoughtfully composed scene that appears spontaneous, but speaks to the American culture in a deep and meaningful way.
Called batik, this method of painting is time-consuming and rarely used by modern-day artists. It is traditionally used to decorate wall hangings, clothing, and tapestries, but batik's volatile nature means it must be handled with great care to create modern works of art.
Twiggs (Ed.D. '70) developed an affinity for batik while experimenting with it in the early '60s. He has since created his own technique for the medium, breaking new ground in the art world not just for his powerful pieces but also for his impact on art education in the South.
"I think as an artist you've got to have a voice," says Twiggs, whose studio is adorned with an arsenal of images and symbols. "If you sing falsetto or soprano, that's the nature of your voice, and those voices are iconic because it's through your voice that you say what you want to say. And so for me, batik had that. It's mellow, it's batik whispers, it's like jazz, it's introspective."
Images of the South
The back wall of Twiggs' studio is covered with photographs, clippings, and posters of images that echo the Old South—a cow standing in a quiet field, a yellow railroad crossing sign, a snapshot of Hurricane Hugo, and most notably, a haunting painting of the Confederate flag. These signs and symbols are central to Twiggs' work as a batik artist. In fact, his fascination with these forms runs so deep that many of them are revisited over and over again in painting series that symbolize the story of the African-American journey from slavery to freedom, and later, to equality.
"We African-Americans need to find symbols in our culture just like Picasso uses the bull and horse from his culture in his painting 'Guernica'," says Twiggs. "I thought, I grew up on a farm, what about a cow? A cow is a really docile creature and is a symbol of a group of people who are led around and have no power."
Born and raised in St. Stephen, South Carolina, Twiggs remembers the sights, sounds, and scents that shaped his imagery of the South—including the cows on his family's farm that often appear as quiet silhouettes in his batik paintings.
His experience in high school as a film projectionist at a local theater inspired the tone and subject matter of many of his works. Twiggs' mother always stayed up, no matter how late, to be sure he safely returned home from work—especially as African-Americans became increasingly targeted by hate groups. Looking back, Twiggs realized his mother wasn't alone in her worry, and that all over the South other mothers worried about the fate of their children. This feeling of being a target was later reinforced after the events of 9/11, says Twiggs, and more recently, the deadly shooting that took place at "Mother Emanuel," the Emanuel African Methodist Episcopal Church in Charleston, South Carolina.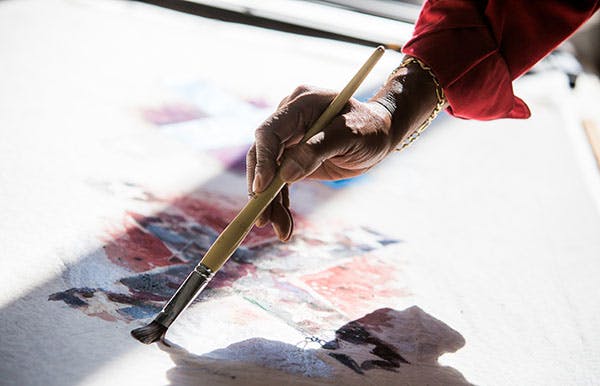 Now, in a sense, all individuals are targeted by an unknown enemy, he adds. This unseen threat became the inspiration for his "Targeted Man" series, which features numerous motifs, including a three-ring target, a lone X reminiscent of a railroad crossing, and a faceless figure. Twiggs' artwork is primarily influenced by his experience growing up in the South as an African-American man, and one of his most iconic series features the region's most divisive symbol in various stages of deterioration.
Twiggs' fascination with the Confederate flag developed during his drive back and forth between Orangeburg, South Carolina, where he lives today, and Athens, Georgia, where he attended graduate school at the University of Georgia and became the first African-American to receive an Ed.D. in art education. During these journeys, especially on Confederate Memorial Day, Twiggs was reminded of an era long gone.
"I had never seen the flag displayed so vividly before because, in South Carolina, it was on top of our state house and there was all this controversy," he says. "But nobody had them hanging from their homes."
Using the flag as the central motif, Twiggs commemorated this display with a series of distorted and ghostly images. Though very much a relic of the past, the Confederate flag continues to serve as an icon of the South today. This dichotomy of emotions, represented by the flag's cracked appearance and varying levels of intensity, speaks to the symbol's lingering effects on viewers today.
While painting the flag's bars, Twiggs was reminded of a railroad crossing, which he says symbolizes the racial conflicts the nation must learn to cross over. "Life itself is a series of crossings," he adds. "Death is the final crossing."
All of these elements—the flag, the target, and the letter "X"—eventually culminated together in a series commemorating the nine victims who lost their lives at Charleston's Mother Emanuel church.
"It just came together; it was like a perfect storm so to speak," says Twiggs, whose nine-part series, "Requiem for Mother Emanuel," was on display at the Mint Museum in North Carolina earlier this year. "I think what happened to me was because I had painted Confederate flags, it was just natural for me to do it and to say what I had to say, using the flag as a motif."
Bringing art to others
A long, vertical painting, "Last Flag," hangs on Twiggs' studio wall. It is striking not because of what it depicts, but because of what it does not. The empty space between the faceless man at the bottom of the painting and a deteriorating flag hovering at the top gives the image an eerie, quiet nature.
It was as a graduate student in the UGA College of Education, under the mentorship of art professor Edmund B. Feldman, when Twiggs began to compose his paintings in this way—playing with space and emotion to elicit a visceral response. While pursuing his doctorate at UGA, Twiggs continued to teach at South Carolina State University, and Feldman's influence helped impact Twiggs' own art while also informing his work as an art educator.
"Feldman spoke about looking at art and making art as a way to engage our students as art teachers," he said. "Making art is what we're doing, and so as a teacher, I thought about that and it really helped me with my students."
In 1970, after receiving his Ed.D., he remained at S.C. State to help create the institution's first art department. At the time, S.C. State did not offer an art major, so Twiggs made it his mission to build the program up and attract the most talented students. In fact, after establishing a program and then a department, Twiggs further highlighted the arts by opening the I.P. Stanback Museum and Planetarium on the university's campus.
As head of the art department, Twiggs was adamant about staffing his program with working artists to train and teach his students. "You can't teach students about creativity if you don't create," he says. "Even though I was an administrator, I couldn't tell my faculty to create art and exhibit if I did not do that myself."
After teaching art for three decades and working with African-American architect Harvey Gantt of Charlotte to design a new art building at S.C. State, Twiggs retired in 1998—the same year the building opened.
A work in progress
"It's a time-consuming process, but the results are worth it," says Twiggs of his unique and rarely used medium. "I don't rush it because people want it. You learn over time how to create the subtleties that you want, and I think I'm at that place in my career where I have control over the medium, but I'm still learning."
Dye is unforgiving, making patience important when working with batik. This attention to detail and quality of work captured the attention of Bill Eiland, director of the Georgia Museum of Art, who helped in the early 2000s to organize a retrospective exhibition of Twiggs' work, which then traveled throughout the South.
"It was an exhibition that spoke directly and eloquently to its viewers," says Eiland. "Twiggs' use of batik reinforces the 'folk' element in his work, although he is decidedly not a folk artist. He has borrowed a technique for its expressive possibilities that he can exploit in images that otherwise may be mute."
There are very few artists who paint using Twiggs' batik techniques. The main reason for this is because, as a pioneer of the medium, he had to invent his own painting process to make the medium viable. With no precedent holding him back, says Twiggs, he could innovate freely and learn from his mistakes.
Working within the confines of the medium has been an interesting challenge for the artist. He developed the perfect wax mixture for creating crackles and, through trial and error, discovered ways to mount the fabric on hardboard so he could continue to apply dye. These innovative techniques define his work as true batik paintings rather than traditional wall hangings.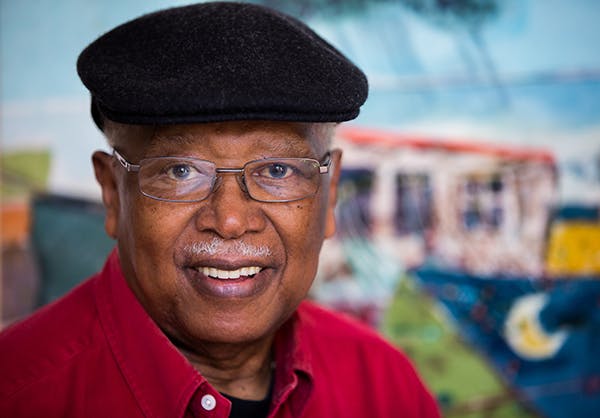 Before attending UGA, Twiggs was an art student at both the Art Institute of Chicago and New York University, where he was immediately engrossed by the peace and quiet serenity of oriental art. To this day, his art continues to exude a soft yet deeply moving atmosphere that speaks to racial injustice in the South and around the world. While grotesque and haunting at times, Twiggs says he enjoys batik because of its tendency to appear serene and blurry. But by incorporating a crackle effect with the wax or a splatter effect with the paint, he keeps his work focused on unresolved conflicts in the South and around the world.
"UGA was very important in my career," says Twiggs. "Every place I've been to really contributed something to my work. Georgia came along at the right time because I knew how to do batik, I had taught in public schools, and I was building an art program.
"If you paint, that raises questions. So when I paint a Confederate flag, when I paint a targeted man—it's about creating questions that are hidden by the answers."