Meet a #COEgreatgrad: Kelsey Brown
Kelsey Brown is graduating with a dual degree in communication sciences and disorders and theater. After Friday's graduation ceremony, she will hop a plane to London, where she will finish the final coursework for her theater degree.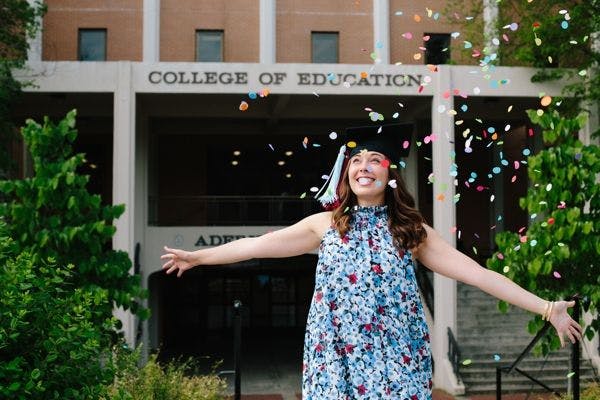 Then, this fall, she will blend her two degrees when she spends a year as an access and inclusion apprentice at a professional children's theater. Next fall she will start the master's program in speech-language pathology at Emerson College in Boston.
"I have met so many wonderful, passionate, spirited people during my time at UGA," she says. "I am going to miss big things like going to games and sorority events, but also small things like Eno-ing on campus, seeing movies and getting Mexican food."
Looking back on her time at UGA, Brown says she is most proud of the opportunities she had to combine her passions for communication sciences and children's theater.
"There are so many parts of being a Bulldog that make me proud," she says. "I am most proud of my work as a double major and my involvement in Children's Theatre Troupe, Camp Twin Lakes, American Alliance for Theatre and Education and the Lexington Hearing and Speech Center—among so many others—that gave me the skills, experience, and confidence to follow my career and personal dreams."