New grant uses abstraction as a guiding principle for learning
Scientific models are abstractions of the phenomena they represent.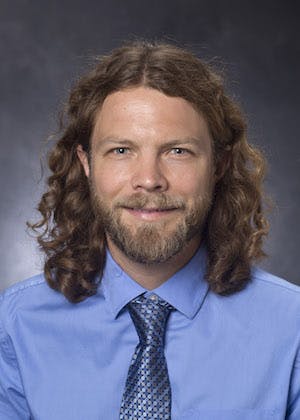 And even though abstraction is a well-acknowledged characteristic of models, researchers and science educators traditionally have not used this idea to support instruction since students oftentimes have a hard time grasping abstract concepts.
"A major problem in modeling pedagogy is that learners tend to see models as 'copies' of reality," said Capps. "We argue that it is useful to think of models as abstractions, or ideas that are pulled away from the particular circumstances of a given source."
With the help of a $449,849 grant awarded by the National Science Foundation, Daniel Capps, an assistant professor in the department of mathematics and science education, will conduct a three-year study to advance students' understanding of what models are, while also enhancing the instruction of science educators.
"The emphasis of our research will be on enhancing students' understanding of the nature of models," said Capps. "In previous work, we advanced abstraction as an idea for learning about the nature of models and developed an assessment to measure the extent to which students understood that models are abstractions. It is our intent to more fully explore the potential of abstraction as a guiding principle for learning about what models are."
In addition to researching the potential value of abstraction as a guiding principle for learning about the nature of scientific models, Capps, and co-principal investigator Jonathan Shemwell, an associate professor of education at the University of Alabama, will explore how abstraction in modeling is impacted by contextual factors, such as differences in schools and teachers.
The project will directly impact at least 1,000 students in Georgia and Alabama, as well as several dozen high school teachers who will learn how to teach about the nature of models, either by participating in the study or by attending related professional development activities.
Furthermore, four teachers will work with the project team as instructional leaders through a long-term collaborative effort to develop and communicate the concept of abstraction in modeling to their peers.
"There is a vacancy in the literature related to teaching what models are," said Capps. "Our work helps fill this vacancy by putting forth a tractable idea for how to teach what models are."