The never-ending story
Your challenge: Find a fun, engaging way to explain topics such as the size of an atom, the effects of sleep deprivation, or the psychology of cats.
Don't freak out—it's not impossible. In fact, College of Education graduate Logan Smalley tackles this every day and the results are informative, engaging videos watched by millions.
Smalley (B.S.Ed. '06) is director of TED-Ed, the educational outreach arm of the global TED organization, known for its 10-minute expert talks on all sorts of subjects. TED-Ed takes that idea of delving into a topic and, working with a teacher and a team of animators and writers, breaks it down into a bite-sized, animated chunk that makes the topic accessible to any age. Videos such as "The Psychology of Narcissism," "What Makes Tattoos Permanent?," "How do Tornadoes Form?," and "When Exactly are you Dead?" explore subjects of science, technology, and history, and help augment lessons around the world.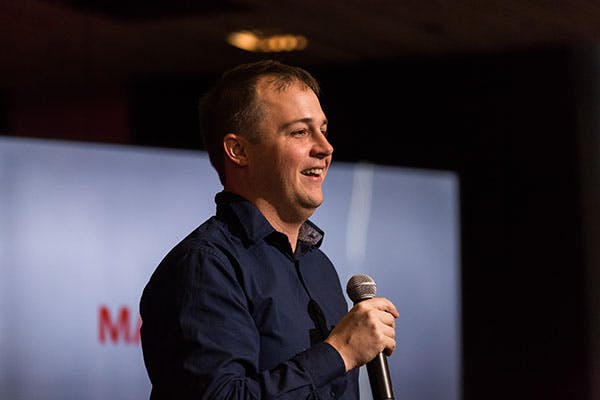 And these video lessons are one more way Smalley tells stories—a penchant that connects his passions in education, literature, filmmaking, and friendships.
"TED's mission is 'ideas worth spreading.' TED-Ed is sparking and celebrating the ideas of teachers and students around the world," says Smalley, noting that with TED-Ed, teachers submit ideas for lessons and the most compelling ones are selected and turned into an animation by the TED-Ed team. "We work with the teacher to draft a script, then we record the script and work with hundreds of professional animators to create the videos. The videos are translated into over 100 languages and shared online for free."
The average TED-Ed video is viewed by more than 250,000 learners on its first day, and more than one million learners watch a TED-Ed video every day. "We've created videos with about 1,000 teachers at this point. The experience has been incredible."
Even though TED-Ed began just five years ago, Smalley's connection with the initiative started when he pitched the project as a TED Fellow in 2010—just as another of his stories was unfolding into a new, unforeseen chapter. And as with all stories, it's about timing and the right characters.
In Smalley's case, his cast of characters was diverse and life-changing.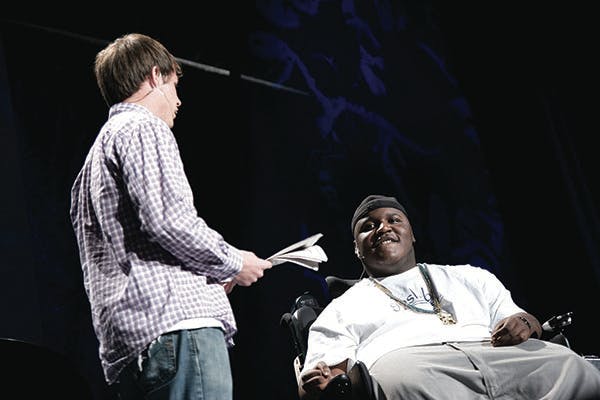 Go west, young men
Smalley, a native of Athens, chose to major in special education at the College of Education after years of working at a summer camp for kids with disabilities. The camp had a tremendous influence on him—not only did it pique his interest in how people learn, but it also introduced him to one of his closest friends: A young man named Darius Weems.
The summer of his junior year at UGA, Smalley, Weems, and a gaggle of their friends decided to go on a momentous journey. It was the era of MTV's "Pimp My Ride" TV show, and the friends had an idea—would the show pimp Weems' wheelchair instead of a car? Diagnosed with Duchenne muscular dystrophy, Weems had never traveled outside of Athens. A road trip seemed in order.
Along the way, Smalley and others took video with the idea to make a documentary from the trip. But when they returned to Athens—unfortunately, without a pimped-out wheelchair—they were all so busy that, Smalley says, they sat on the 300 or so hours of footage for a year. When working with a freelance film editor didn't work out, they took matters into their own hands.
The result was the film "Darius Goes West," and as the group of friends boarded a plane for their trip to the Santa Barbara Film Festival—while they were filmed by the TV documentary series "Nightline"—Weems' first plane ride caught the attention of Delta Airlines.
"Delta said, 'We'll help you guys get to any film festival you can get into.' So all of a sudden we have a huge incentive to apply to many film festivals," says Smalley. "We ended up winning over 28 film festival awards."
Along the way, the fan base for "Darius Goes West" grew exponentially. "We met over 10,000 people in so many movie screenings who were charmed by Darius' story," he adds. "We were a group of 13 dudes—we were kind of a scene in and of itself."
At the end of their film circuit tour, Darius, Logan, and the crew decided to take Weems' story on the road. Using their new network of fans, the friends bought an RV and crisscrossed the country for the next three years with the film. "We called it the 'if you host it we will come' model," he says.
But wait, let's back up a minute. Because just before Smalley started crisscrossing the country in an RV, he was accepted into Harvard University's technology innovation in education program. Because even though Smalley was cutting his teeth on the film festival circuit, he saw films as a way to educate and inspire—not just entertain.
"Keep in mind, this was two years after YouTube launched, one year after Facebook was no longer one school's thing, and the year after the iPhone came out. So it was a very fun time to think about technology in education," he says. "I think of filmmaking as an extension of my training as a special education teacher. Just as a teacher must present an idea to a diverse group of students in a way that everyone can relate to, a filmmaker must present a story in a relatable way to a large and diverse group of people in theaters. Darius' story was relatable on so many levels, and it motivated millions of people to understand and care about Duchenne muscular dystrophy."
Duchenne is a rare genetic disease that causes the muscles in the body to become weak over time, and is eventually fatal.
After finishing graduate school, the "Darius Goes West" road trip turned into a three-year expedition. And while on the road, Smalley and Weems applied to be TED Fellows. Today, the program includes more than 500 young thought leaders, innovators, artists, scientists, and others, with 40 accepted per year.
And they were accepted into the first class.
"It was a phenomenal program, and at the end, one of the perks was that you got to pitch a program to be a senior Fellow. I pitched TED-Ed," says Smalley. "They loved the idea but it was not a good time for the organization to take it on."
That story didn't end there. It just paused.
Two years later, in 2011, a new chapter started.
"They called me up and said, 'Good idea, good timing,'" he says. "They asked me to come to New York to start TED-Ed."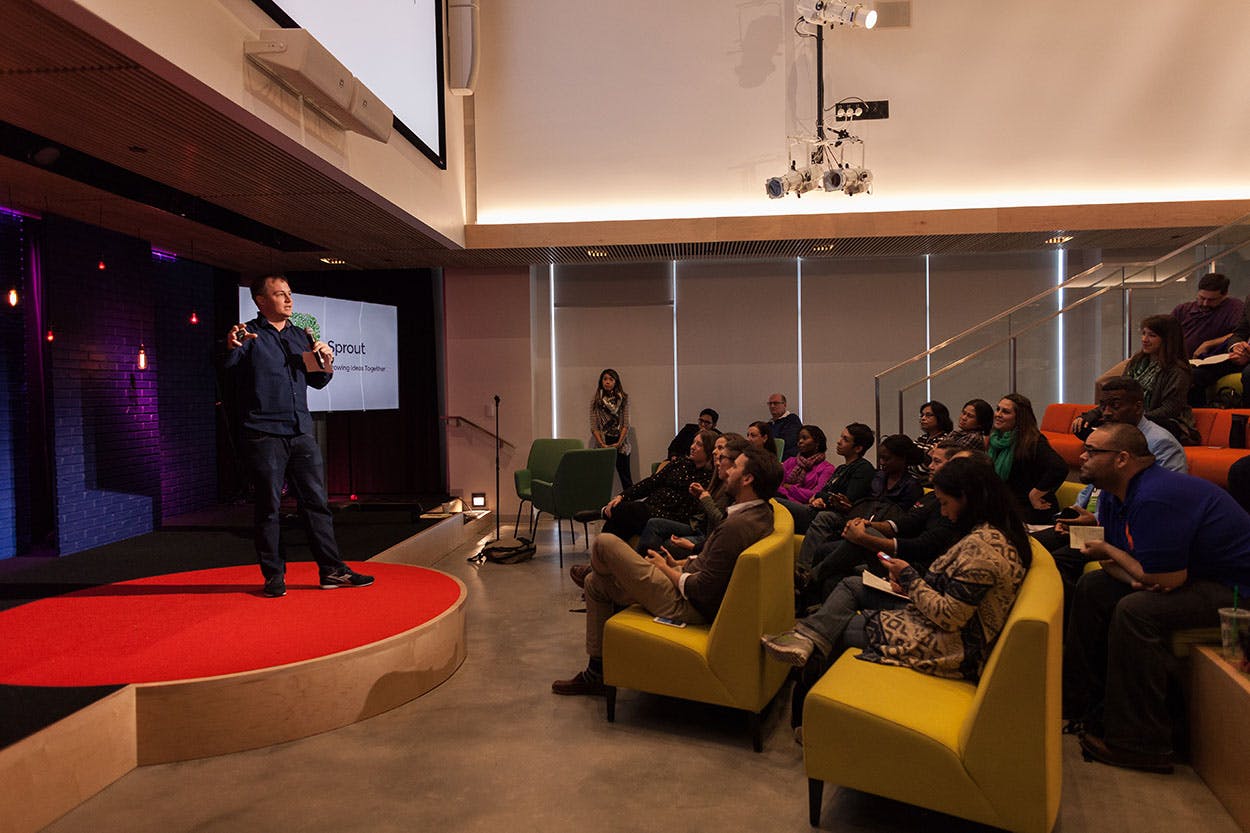 The world is watching
Six years later, TED-Ed is a finely tuned operation with 15 employees who work with hundreds of animators and millions of teachers around the world. They publish three videos a week, with each one taking about four months to produce; several are in various stages of production at any time. Smalley and his coworkers also tag the main TED talks to optimize content subjects for teachers using the site, and they manage an offshoot program called TED-Ed Clubs, which gives kids from around the world access to training and a platform to create their own TED Talk. Through this experience, Smalley says, he's found that kids will do their best work when they know the world is watching.
"We're trying to build the preeminent platform for student ideas," he says. "We're trying to leverage on modern publishing dynamics. We have a network that gets thousands of students from across the world in touch with each other every week. They talk about everything—because kids are not afraid to go there—and everyone has the power to do hard work and put their passion into something. Now we see it every week—if you put a good idea out into the world, it will be heard."
TED-Ed is also a great resource for teachers like Kim Preshoff, an environmental science teacher in Williamsville, New York, who has had four of her lessons turned into animations. Her most recent lesson about parts per million was created live during a TED conference. "It was astounding. Everyone amazed me with their creativity," she says. "It's a magical process to watch your lesson come to life."
And it's a joy to work with Smalley, she says, who is "the real deal." "It's an amazing resource for a teacher, and the best part about it is, it's always safe—I'm really protective of my kids, and I never want to put anything in front of them that's bad. But it's safe, valid, and up-to-date on the most recent topics."
Make the call
While Smalley has settled into his story with TED-Ed, he recently launched a new one about, well, stories.
What started out as a conversation at a bar among friends—"What's your favorite opening line of a book?"—turned into a side project that can now be found in bookshops and libraries in New York, Boston, Seattle, and even Athens.
"'Call me Ishmael' was the first sentence of 'Moby Dick,'" says Smalley. "That one came up and we said, what if we gave Ishmael a phone number? So we did, and we launched a website and shared it among our literary friends. Thousands of people have called and left messages about their favorite books."
As co-founders of Call Me Ishmael, Smalley and his partner, Stephanie Kent, transcribe the calls and make them into fun videos. Last year, they upped the ante, hacking an old pay phone to allow librarians or booksellers to program buttons with audio of any of Call Me Ishmael's 2,000 messages, then set up a display with the corresponding books.
The project is fun and a bit bizarre, Smalley says, but the response to it reaffirms his passion for good storytelling—and how it can be used to educate and inspire.
Smalley had a passion to help tell the story of his friend Weems, who died from complications related to Duchenne Muscular Dystrophy in October 2016. Today Smalley continues to teach others about his friend's activism while pursuing other creative outlets.
"The universe is not made of atoms, it's made of stories. Stories are how humans connect and grow and live enriched lives," he says. "And also, I have this problem where I feel like if I'm in the presence of a great story, be it Darius Weems or these incredible teachers I get to work with at TED-Ed, or this character from the 1800s who is the front door of the most difficult novel ever, I just feel like a good story really wants to be told. It's hard to know when it's a good one, but when it's a good one, it's hard to let it go."