Program explores links between language and social justice
It's a balancing act for teachers of multilingual students—how do you teach in a predominantly English-speaking school while still respecting a student's native language?
The issue is fraught with angst for many educators, while also intertwined with issues of social justice, equity, prejudice and grade-level benchmarks often only set in English.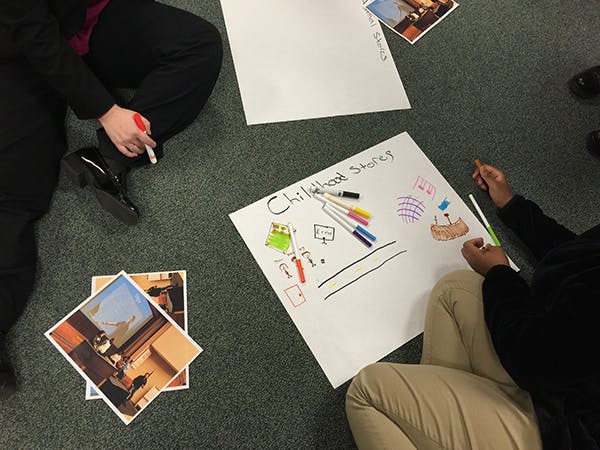 While there's no clear solution, a UGA College of Education research program that incorporates local middle schoolers may hold some insights. The program, called ARTS!YOUTH, is also getting attention from WIDA, a national organization that develops strategies and assessments to support bilingual learners nationwide.
Ruth Harman, associate professor in the department of language and literacy education, said ARTS!YOUTH is an after-school program that incorporates the languages and dialects of all students in generating knowledge and literacy in a collective way. "It connects with WIDA theoretically and also it's what they are trying to do at WIDA."
The opportunity to visit the program gave Ruslana Westerlund, an associate researcher for WIDA, a chance to see students take part in an arts-based "youth participatory action research," a process with roots in theater that helps students of different linguistic backgrounds to explore issues of identity and community together.
For example, students might pair up to direct one another how to show a specific emotion—and then freeze while other partners have a chance to see the results. Or, students form groups to explore the built environment of their school with urban planners, discussing what they like or would change about their surroundings.
As a result of the activities, students not only learn about each other and their community, but they expand their communication skills and knowledge as well. This program, which takes place at Coile Middle School and will soon be offered at Parkview Homes neighborhood near downtown Athens, is a resource for researchers such as Westerlund.
"I'm steeped in systemic functional linguistics well enough to understand theory. I want to know how it's interacting with multilingual youth in concrete ways," said Westerlund, who spoke earlier this year during a visit to the College of Education. Along with her talk, Westerlund visited Art!Youth to see how UGA faculty and students are embedding language learning within social contexts—a key element of systemic functional linguistics.
"There is so much more than language use," added Westerlund. "When I'm explaining systemic functional linguistics, I want to see how much is enacted, and see more concrete things."
During a talk before her visit to Arts!Youth, Westerlund spoke to College faculty and students about the organization's updated philosophies. WIDA works in 39 states to support language development and learning.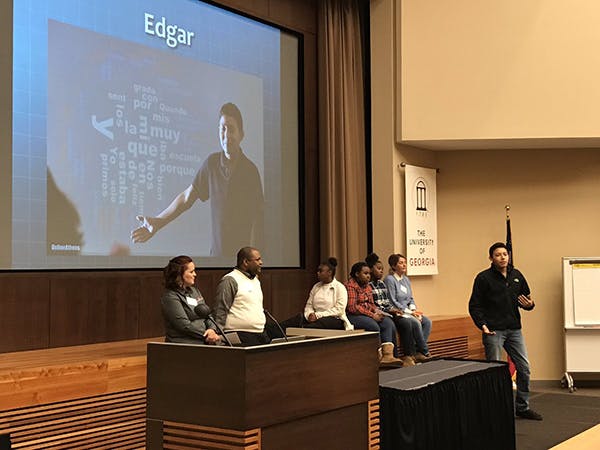 "WIDA is a direct response to federal regulations," she said, noting a new inclusion of social justice in WIDA's mission. "WIDA is now looking at ways to implement change, both internally and externally, in how it works toward social justice."
Over the years, she said, WIDA trainers who worked with teachers found themselves always asking: Why are these kids left behind? The answer, she said, often pointed to a school's structure and the tendency to pull some language learners out of their regular classroom.
While some view this as essential intervention, Westerlund said, more often it translates to inequitable education for English-language learners.
"We have been saying, draw on the students' assets and bring them into the classroom. Draw on this because they bring a lot of assets—but we found it didn't go far enough," she said. As a result, the organization has added social justice as one of its core values to help challenge linguistic discrimination, cultural biases and racism in education. "Social justice is about actions, and we infuse it in everything we do."
The next steps, she added, were for the organization to be more coherent and organized, and engage in more reflection and action. The visit with the action-research site at Coile Middle School, she said, would help WIDA see first-hand how social justice played a role in language learning.
"So instead of seeing a hierarchy of language—for example, academic versus colloquial English—we're showing that language use shifts to be appropriate for a particular situation and context," said Harman. "If you stop code switching, you're impairing cognitive and knowledge development."