First artist-in-residence blends sustainability with education
Lost and left in a watery grave, the future was bleak for Timothy the Chair.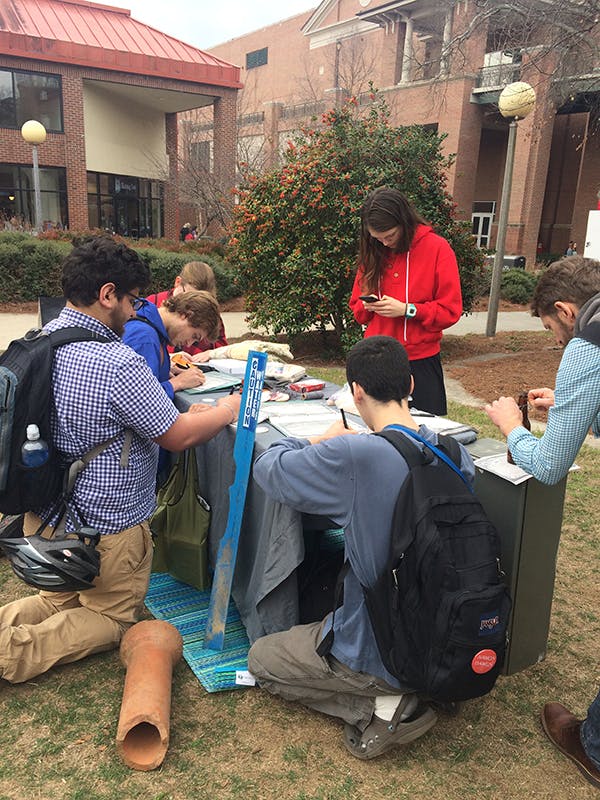 But one day, during a Watershed UGA clean-up project at Tanyard Creek, Timothy was plucked out of the water and placed on display outside the Tate Student Center. The chair, along with dozens of discarded items that were cleaned out of the creek, became part of an art installation created by Kira Hegeman, a Ph.D. student in art education and the very first artist in residence for the UGA Office of Sustainability.
The idea for an artist in residence was modeled after a similar program in place at the Natural Resources Defense Council, said Kevin Kirsche, director of the Office of Sustainability. The position gives the office one more way to creatively explore ideas of waste on campus, and find new solutions.
That's how Timothy the Chair became a solution to the problem of waste in Tanyard Creek. Hegeman was asked to work with interns from Watershed UGA to create an art installation for an event the organization was planning last fall. The result was an interactive piece, the "Athens Home for Discarded Products," that asked students to "adopt" the castoff items.
"I wanted people to connect more intimately with the projects instead of just looking at them," said Hegeman, who collaborated with Abigail West, an undergraduate art major and another intern with the Office of Sustainability, to create the installation. "I wanted to really get an idea of what they were and how they ended up in the river."
Students could pick up an item from off the ground, give it a name and date of birth, and then tell its story. "The idea was to get them thinking about what its life was like before it ended up in the river and how it got there," she added. "So the installation was something that was constantly changing throughout the day, and once they had given it a story, they would give it a home on the bookshelf. But one thing I was surprised by were the number of things people wanted to take home. There seemed to be something in each story that people really connected with."
This is how Timothy the Chair found a new home, adopted by a student who returned to the exhibit after class to take the chair with her.
The art installation outside Tate was one of several ways Hegeman created new uses for castoff items. In her time at the Office of Sustainability, she has visited UGA's surplus warehouse, talked with officials with facilities management and the Athens-Clarke County recycling program, and investigated makerspaces around campus. The idea is to investigate materials, how they are being used on campus, and where they go when they are no longer needed.
Hegeman also collaborated on a project at Coile Middle School to re-use materials into new landscape features. Working with undergraduates Abigail West and Janie Day Whitworth, along with items and support from UGA's Material Reuse Program, they helped students envision structures that could be useful on the school grounds.
The project, which took place this past spring, combined creativity, engineering concepts and building techniques to construct pieces such as a composting station, a giant loom, raised-bed gardens, a large-scale wind chime and a giant game board. The experience, Hegeman said, was also useful from an art education perspective—it's a way to not only reinforce sustainability, but also incorporate STEM lessons into an art-based project.
Also this spring, Hegeman set up a papermaking station outside Tate as a way to consider new uses for the mountains of paper that are created each year at UGA. Using syllabi and old homework papers, passers-by were invited to make something new out of something destined for the recycling bin. "In this process we had a lot of great conversations about how you might take and repurpose materials," she added. "So many people were talking about ideas they had that they might do at home, and my favorite was someone who wanted to take old homework and turn it into graduation announcements."
Kirsche said he worked with Mark Callahan, artistic director for the interdisciplinary initiative Ideas for Creative Exploration at the Lamar Dodd School of Art, to help conceptualize and fund the artist-in-residence program. The position at the National Resources Defense Council, which inspired Hegeman's internship, paired artists with researchers. Here, Kirche said, they took a similar approach but paired Hegeman with staff as a way to do creative problem solving for the issues they deal with daily—specifically, removing and managing waste.
"How do we, from an artist's perspective, come up with creative ways to maybe repurpose the materials we generate on campus?" he noted, citing how Hegeman is expanding the reach of his office. "It was an experiment, and a very successful one, so we decided she's going to stick around in the fall and our hope is to continue to maintain and hopefully grow the program."
Looking back on the projects over the past year, Hegeman says they are just a start. Working without a template, she had to forge her own path of blending art, education and sustainability. This fall, she says, she hopes to build more connections through her work.
"It was about beginnings rather than complete projects," she said. "So I'm excited to see how these connections will build in the fall, and what we can do with some of these projects."