Doctoral student receives BFSO Founders' Award from UGA
Brittany Williams, a doctoral student in the department of counseling and human development services, recently received the 2017 Black Faculty and Staff Organization Founders' Award from the University of Georgia in recognition of her achievements as a graduate student.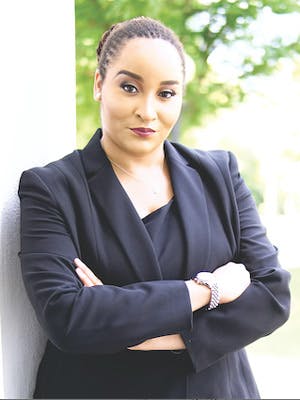 She received the award at the organization's 15th annual BFSO Founders Award Scholarship Luncheon on Oct. 23.
"I feel honored to come behind a long legacy of Black graduate students at Georgia who've been recognized for their service to UGA and beyond," said Williams, who will graduate in 2019 with a PhD in college student affairs administration.
Williams' research focuses on the experiences of Black women in higher education and student affairs. Her passion for understanding how Black women, particularly high-achieving Black women, navigate higher education environments is based on her own experiences, as well as those of her friends.
"When I first came to student affairs, my first position ended so negatively that I nearly left the field," said Williams. "As a scholar and researcher though, understanding whether this was a one-off or something Black women experience across the board became of interest to me."
Recently, Williams collaborated with Joan Collier, a visiting assistant professor at the University of Texas at San Antonio, to develop #CiteASista, a project that cultivates a community for Black women in response to misogynoir, or misogyny directed towards Black women, and white supremacy.
"The movement also provides space to give recognition and acknowledgement to the often used, but rarely credited emotional, mental and physical labor of Black women," said Williams. "In developing this digital space, what began as a hashtag dedicated to a one-time discussion of whiteness and white supremacy has evolved into a space for monthly online dialogues and perhaps movement."
After she receives her degree, Williams plans on working for a student affairs program in higher education or a related field where she can help prepare the next generation of socio-culturally competent college administrators and leaders.
"As a Black woman who is intentional about centering the experiences of Black women and the intersectional ways we navigate time and space in U.S. contexts, it is affirming to feel that there are organizations and groups interested in my work, research and personal commitments," she said.