Camp DIVE makes a splash for a second summer
The Camp DIVE (Discover, Inquire, Voice and Explore) summer program, designed to reduce summer learning loss, had a second successful session this past June. Housed at Alps Road Elementary School, this multi-faceted collaboration between the Clarke County School District, the UGA College of Education and the Athens-Clarke County community epitomized the idea of a community of learners and a win-win environment.
Everyone who participated in the camp came away with a new appreciation for the power of experiential learning and contributed to the positive energy that characterized the month-long summer camp. Nearly 50 of the 75 Clarke County students who took part in 2016 returned in 2017, and the 80 students who attended this summer engaged in academically-focused enrichment activities along with field trips to Washington Farms, the Center for Human and Civil Rights, and Lanier World Water Park.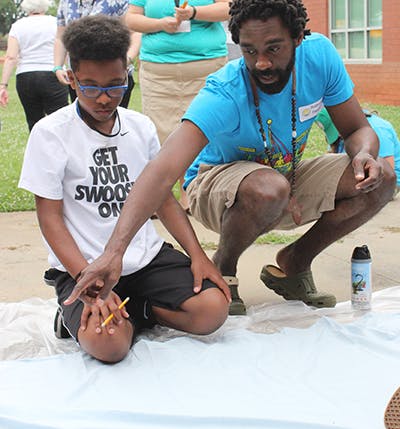 Campers in kindergarten through second grade took part in reading and writing workshops, math games, and a variety of play-based activities designed to foster feelings of self-efficacy and social skills. Designing and building scale models of "tiny houses" was a central feature of the program for third- through fifth-graders, who also investigated scientific phenomena through hands-on experiments and literature-based writing and art activities like mask-making. The middle school students were members of book groups of their choosing and engaged in participatory action research about the meaning and creation of a community.
UGA undergraduate and graduate students served as volunteers, helping with breakfast and lunch, chaperoning field trips and sharing in the fun during the morning energizers. In addition, 62 UGA students earned course credit while they worked with the campers—students learned about the development of reading and writing in young children, the complexities of teaching history today, and supporting children's interest in math and science.
The College of Education departments of language and literacy education, educational theory and practice, and communication sciences and special education sponsored Camp DIVE courses, which were taught by 14 faculty and graduate students. Six Clarke County School District teachers also taught at Camp DIVE, and four high school students in the early childhood education career pathway worked as interns.