2017-2018 College of Education Distinguished Alumni Awards honor six for their achievements
Athens, Ga. - Six graduates of the University of Georgia's College of Education will be recognized for their career achievements and community leadership at the College's 13th annual Distinguished Alumni Awards Dinner on April 6 at the State Botanical Garden of Georgia.
The Distinguished Alumni Awards honor graduates who, through their service, contributions and accomplishments, bring distinction and honor to the College of Education and beyond.
Congratulations to this year's award winners: Candice N. Hargons (Ph.D. '15), Marc Grimmett (Ph.D. '03), Rubye Sanders (Ed.D. '77), Johnny Sanders (M.Ed. '75, Ed.S. '76, Ph.D. '78), Rebecca Miller (B.S.Ed. '04) and Matt Arthur (B.S.Ed. '83, M.Ed. '91, Ed.S. '93).
To attend the alumni award ceremony, please purchase your tickets online no later than March 23.
Outstanding Young Alumni
Honoring graduates of the College who are 40 or younger at the time of the nomination and have made outstanding contributions to the profession.
Candice N. Hargons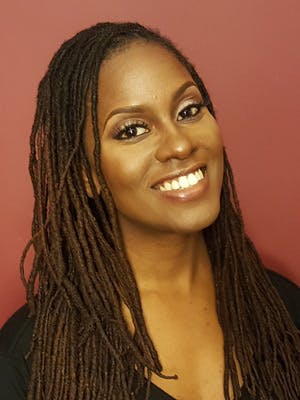 Dr. Candice Nicole Hargons is an assistant professor of counseling psychology at the University of Kentucky, where she studies sex, social justice and leadership as a researcher, teacher and leader. At UK, she directs the RISE2 Research Team, a group of student researchers studying relationships, intimacy, sexual enrichment and social justice engagement.
Additionally, Hargons is the creator of the Ally + Accomplice Meditation for Cultivating an Anti-Racist Mindset and the Black Lives Matter Meditation for Healing Racial Trauma, which has been featured in the Huffington Post and used by universities across the U.S. She also created How to Love a Human, an open-research podcast project that focuses on the lives of marginalized people.
Hargons has worked with several sororities and fraternities, including Delta Sigma Theta, Alpha Kappa Alpha and Omega Psi Phi, as well as several universities, including Georgia Tech, Emory and Howard University, on enhancing sexual health awareness, building social justice competence, healing from racial trauma, leadership development and creating a culture of courage. She co-created the Psychology Students of Color Workshop Series, a mentoring initiative for undergraduate and graduate psychology students and has served on the Kentucky Psychological Association Board, the Society of Counseling Psychology Executive Board and the American Psychological Association Council of Representatives. She is also an APA Minority Fellow.
A graduate of Spelman College, Georgia State University and the University of Georgia, where she received her Ph.D. in counseling psychology, Hargons is married to Ramon Hargons and has been featured in several publications, including the APA Monitor and gradPsych magazine.
Outstanding Educator Award
Honoring individuals in K-12 or higher education who have made a significant impact on their students, school, school district and beyond.
Marc Grimmett
Dr. Marc A. Grimmett was born and raised in historic Tuskegee, Alabama, a community he credits with preparing him to be an engaged and socially responsible world citizen. He serves in several roles at North Carolina State University, including as an associate professor, the coordinator for clinical mental health counseling and founder and co-director of the Community Counseling, Education and Research Center.
The conceptual framework of his research is called RADICAL scholarship, which stands for Research Action to Deconstruct Institutionalized Cultures and Advocate for Liberation. This framework includes four areas of concentration, including preventing gender-based violence through education, activism, male engagement, transformative masculinity and community partnerships; facilitating access to preventive community mental health counseling services; transforming contextual and systemic factors to promote the healthy development of African American people; and developing multicultural and social justice counselor education teaching and research methods.
Grimmett earned his doctoral degree in counseling psychology from the University of Georgia's College of Education and completed a post-doctoral fellowship at the University of South Carolina's Counseling and Human Development Center, where he focused on multicultural counseling, marriage and family therapy, substance abuse counseling and sexual trauma. Additionally, he is a licensed psychologist with over 20 years of professional mental health experience working in a range of settings, from university counseling and community mental health to substance abuse treatment and in-home counseling and private practice.
Grimmett lives in Raleigh, North Carolina, with his partner Juliette and their two sons Harper Sting Obama and Sky Biko Hardy.
Outstanding Service Award
Honoring individuals who demonstrate outstanding and continued dedication in service or philanthropy to the College of Education.
Johnny Sanders Jr. and Rubye Coleman-Sanders
Earlier this year, Johnny Sanders Jr. and Rubye Coleman-Sanders, who both received advanced degrees from the University of Georgia College of Education, created the Teacher Education Scholarship Fund in the College of Education to help first-generation college students from underrepresented populations become educators. Their scholarship fund will assist students who wish to teach in communities that typically struggle to retain quality teachers. For the couple, creating the fund was a way to give back to the university that helped them achieve successful careers, and they look forward to doing the same for the next generation.
Originally from Alabama, Sanders and Coleman-Sanders grew up in large families that valued education. After earning undergraduate degrees from Alabama State University, where they met, the couple went on to earn advanced degrees from the University of Georgia. Since their educational pursuits helped elevate their careers, the award-winning educators decided to provide similar opportunities to future students pursuing teaching careers.
As a professor of counseling and development in Winthrop's College of Education in Rock Hill, South Carolina, Sanders was the first African-American man to become a tenured full professor, and the first counselor educator at Winthrop University to receive the South Carolina Counseling Association's Counselor Educator of the Year award.
After spending 30 years teaching business and education courses in higher education, Coleman-Sanders retired from Lander University in Greenwood, South Carolina, where, like Sanders, she was the first African-American woman to become a tenured full professor.
Without the help of their graduate assistantships, the couple said their advanced degrees would have been harder, if not impossible, to earn. They want others to achieve the same level of success with the help of their scholarship fund. Their family consists of son, Dr. Quentin J. Sanders; daughter-in-law, Dr. Precious Elmore Sanders; and granddaughter, Violet Denise Sanders.
Professional Achievement Award
Honoring individuals in the mid-point of their career who have demonstrated significant achievements in their field.
Rebecca Miller
A native of Blue Ridge, Georgia, Rebecca Miller received her degree in health promotion and education from the College of Education in 2004. While at UGA, she held several internships, including working in Australia for a local health department and for the global HIV/AIDS program at the Centers for Disease Control and Prevention. In 2004, Miller earned the Outstanding Undergraduate Award in Health Promotion from UGA and later received her master's degree in behavioral sciences and health education from Emory University's Rollins School of Public Health in 2006.
During her time at Emory, she served as the senior health educator for Georgia's Lead Poisoning Prevention Program and was later accepted into the Presidential Management Fellowship, a competitive program that places individuals with high leadership potential at federal agencies. She selected the CDC as her assignment and started in 2006.
During her 12 years at the CDC, Miller worked on a range of topics, including birth defects, HIV/AIDS, global disease detection and infectious diseases. Her work focuses on policy, communications, program development and Congressional interactions. Because of her work, she has traveled all over the world, including Mozambique, Tanzania, South Africa, Guatemala, Haiti, Madagascar and Guyana. She spent nine years working with CDC's global health programs, leading efforts to grow the center's budget and Congressional recognition of HIV, malaria, polio and tuberculosis. In 2015, she was named director for policy for the CDC's National Center for Emerging and Zoonotic Infectious Diseases.
To promote and protect these programs in Washington, D.C., Miller leads all policy decisions, Congressional interactions and partnership efforts on foodborne diseases, healthcare acquired infections and dangerous diseases like Ebola, Anthrax and Zika. She also works to grow and develop partnerships between CDC programs and foreign governments, foundations, such as the Bill and Melinda Gates Foundation, non-governmental organizations, think tanks and policy influencers.
Lifetime Achievement Award
Honoring those who hold a distinction in their field and have demonstrated outstanding success in their work. The recipient must be a recognized leader and have made a significant impact in the education community.
Matt Arthur
Born in Athens, Georgia, Matt Arthur grew up with his brother and sister in Warner Robins, where his father, Matthew C. Arthur, was an industrial arts teacher, principal and superintendent and his mother, Sarah Bob Arthur, was a fourth-grade gifted program and music teacher.
From a young age, Arthur knew he wanted to attend the University of Georgia like his parents, and in 1979, his childhood dream came true. That same year, Arthur also earned a spot on UGA's football team, which he was a part of for the 1980 National Championship. While at UGA, he met his wife Margie and they were married on April 7, 1984-a year after he graduated.
Arthur quickly discovered that education was his passion and started teaching in 1983. His dedication to public education was recognized by his peers when he served as principal from 1994 to 2001. He also served as superintendent for the Rabun County School System for 13 years during which he was named a finalist for the 2014 Georgia School Superintendent of the Year.
Additionally, in 2014, Arthur was asked by Governor Nathan Deal to serve as the executive director of education reform. He has held leadership roles with the Georgia School Superintendents Association and Georgia's Education Reform Commission and is a member of the Georgia Children's Cabinet, the REACH Georgia Foundation Board of Directors and the Georgia Center for Early Language and Literacy Board. Arthur was recognized as a post-graduate scholar by the National Football Foundation and received his master's degree and specialist degree from the University of Georgia's College of Education.
Today, he serves as the fifth commissioner for the Technical College System of Georgia and is responsible for the 22 technical colleges across the state along with Georgia's Adult Education Programs and Georgia Quick Start.
Arthur and his wife live in Rabun County and have two daughters, Jessica and Meagan.