College is home to year's top UGA advisors
If working out your class schedule with an award-winning academic advisor gives you an edge, then students in the University of Georgia College of Education have double the leg up.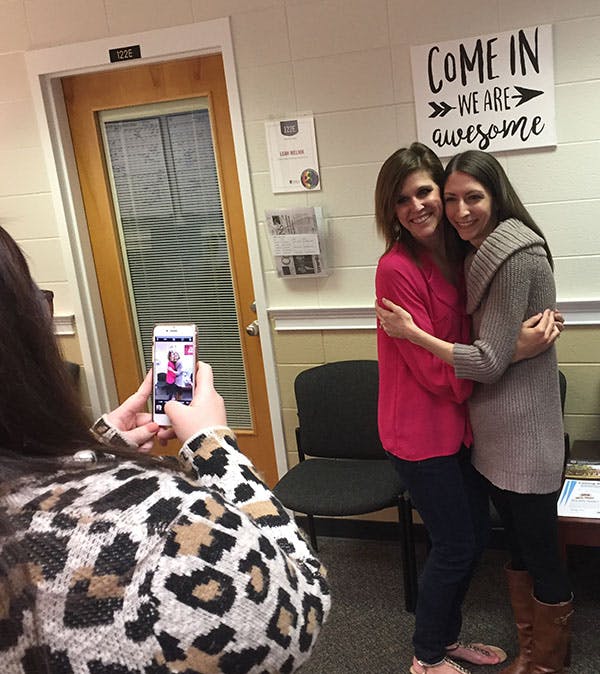 That's because two advisors in the College, Lindsay Dickerson and Samantha Pattillo, have been named Advisors of the Year for UGA. Dickerson, who has been working in the Office of Student Services for less than two years, received the Outstanding New Advisor Award while Pattillo, who has been with the College for almost four years, received the Outstanding Professional Advisor Award.
The awards are chosen from among nominations across UGA and represent the expertise and commitment advisors have for their students.
"I was just taken aback; I never expected to win this award," said Dickerson. "I'm just very honored."
Pattillo was equally stunned by the Wednesday morning announcement.
"When you just think about how many wonderful advisors there are at the University of Georgia, and to be selected, I just can't explain how honored I am, and how great the College of Education has been in supporting us," she said. "Our students are great, our faculty are great, and I couldn't have done it without the support system that I have."
The advisors learned about the honor from a surprise visit by Rahul Shrivastav, UGA's vice president for instruction who is also a faculty member in the College's department of communication sciences and special education. But instead of announcing the award as part of a meeting or official gathering, Shrivastav upped the drama with a surprise announcement.
"We have a serious advising situation," said Shrivastav to Dickerson, Pattillo and coworkers who had gathered in the College's Office of Student Services. They had been summoned there by Stacey Neuharth-Pritchett, associate dean for academic programs, and walked in to find the College's interim dean, Denise Spangler, as well as staff from Shrivastav's office.
The advisors stood together, speechless and confused.
"We have a serious advising problem. And so I called the interim dean and associate dean just to announce that you both are the advisors of the year and winners of a big award from the University of Georgia," Shrivastav continued. The room erupted into laughter and applause as Dickerson and Pattillo, stunned, took in the news.
As winners, they each receive a cash award and will be honored at advisor events throughout the year.
Dickerson advises more than 300 students in the middle grades, social studies education and special education programs. She also connects with her students on a more personal level, starting with displaying signs promoting LGBTQ+ equality, mental health advocacy and suicide prevention and continuing with her own willingness to show vulnerability and honesty about herself. Her approach to advising addresses the underlying factors in a student's life that are affecting their academic performance.
She has also partnered with the College's Office of Diversity, Equity and Inclusion to host conversations about mental health, and led a session at the office's recent Diversity, Equity and Inclusion Conference. Dickerson also received the Office of Student Service's "Inspirational Staff Member of the Year" award last spring.
Pattillo, a former advisor to pre-med students in UGA's Franklin College, now works with students pursuing degrees in communication sciences and disorders. The experience adds to her expertise as she helps about 300 students each year navigate the complicated requirements of this highly competitive degree program.
"She understands that her job has two parts: academic advising and student investment," said Jacqueline Miner, one of Pattillo's students. "The decision to let her invest in me was one of the best decisions I made freshman year. She wants to know how you are doing beyond school."