Associate professor receives 2018 Graduate School Outstanding Mentoring Award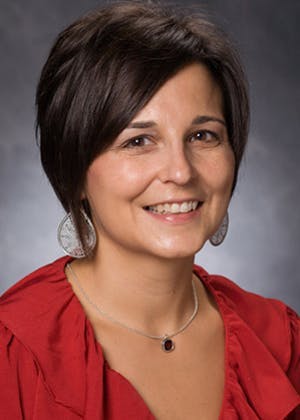 Chris Linder, an associate professor of counseling and student personnel services in UGA's College of Education, was recently honored with the 2018 Graduate School Outstanding Mentoring Award in the professional and applied sciences.
The award encourages and rewards innovation and effectiveness in the mentoring of graduate students at the University of Georgia by faculty. Linder was recognized for working with her graduate students to develop their own identities and their knowledge and skills for building a more inclusive environment.
With a doctoral degree in higher education and student affairs leadership from the University of Northern Colorado, Linder worked as a student affairs professional for 10 years in both Greek Life and Women's Centers at the University of Missouri and Colorado State University.
Her research interests include creating and maintaining equitable campus environments with an explicit focus on race and gender. Specifically, Linder researchers intersectional and power-conscious approaches to addressing sexual violence on campus and student activism.
Her selection for this award is an indication of her time and effort helping graduate students successfully complete their program of study and preparing them for their future careers.
Linder will receive her award at the Faculty Recognition Banquet on April 16.