Doctoral student honored by professional development school district organization
A graduate student instrumental to the partnership between the College of Education and the Clarke County School District was recently honored by the national organization that supports such collaborations.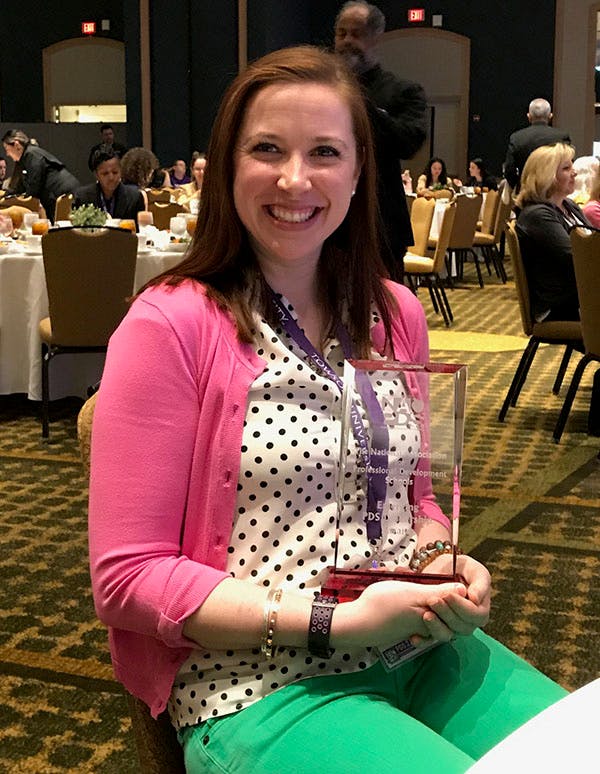 Ashley Nylin, a third-year doctoral student in middle grades education, was named an "Emerging Professional Development School Leader" by the National Association for Professional Development Schools. Nylin was one of three student members honored during the organization's recent annual conference in Jacksonville, Florida.
Nylin works as a graduate assistant in the College's Office of School Engagement, where she helps coordinate the work of the Professional Development School District. Along with serving as a graduate teaching assistant in on-site courses at local schools, she has been instrumental in the success of Camp DIVE, the partnership's 2-year-old initiative to reduce summer learning loss.
"It is Ashley's commitment to and support of Camp DIVE that is perhaps her most noteworthy accomplishment," wrote Kathy Thompson and Janna Dresden in Nylin's nomination letter. Thompson is Nylin's major professor and a clinical professor in the department of educational theory and practice; Dresden is the director of the Professional Development School District.
"During the summers, Ashley has worked tirelessly to create systems and structures that have enabled the camp instructors to focus on creating innovative and engaging programming for the campers. She has also worked directly with the campers to ensure the smooth operation of the camp."
Nylin is also involved in developing and disseminating scholarship associated with the Professional Development School District, and plans to use Camp DIVE as a resource for her own dissertation work.
The National Association of Professional Development Schools promotes the development of PreK-12, higher education and community relationships. The organization also sponsors two scholarly journals, and its annual conference draws more than 800 educators from across the United States and several foreign countries.