Faculty member's work launched powerful partnership to prepare teachers
When she was hired in 2007 as the College of Education's first director of the new Office of School Engagement, Janna Dresden was charged with "increasing the quality and quantity of relationships with local school districts."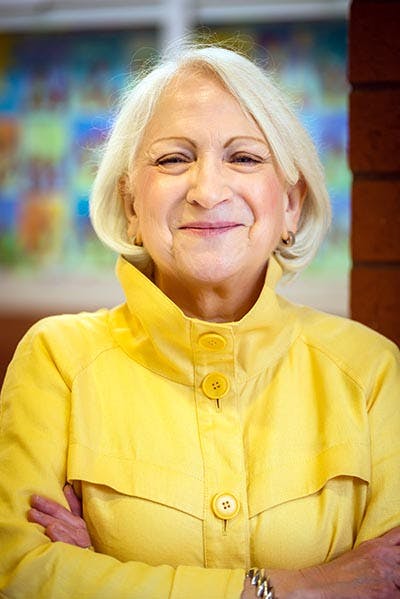 Dresden came into the position with a teaching background in K-12 and higher education that prepared her for facilitating school-university partnerships. With support from the Clarke County School District and College of Education leadership, Dresden, along with other College faculty, began meeting with district administrators and community members to explore partnership models, including the Professional Development School model.
In September 2008, they visited partnerships at DePaul University, the University of Chicago and the University of Wisconsin-Madison. According to Dresden, the trip was a turning point. "Traveling together was inspiring and clarifying—it gave substance to the studying we had been doing and gave us shared experiences that we could build on," she said.
"Everyone involved recognized the power of this way of preparing teachers," said Dresden. "We were all excited by the idea of mutual benefit—we were clear about that from the beginning and committed to that."
By the spring of 2009, the group decided to open the new J.J. Harris Elementary School as a professional development school. Dresden was the first person to teach an on-site course and continued to teach her early childhood methods course on-site for 5 years.
In 2011, the partnership expanded to become a Professional Development School District that included all 21 schools. From that point forward, the partnership continued to grow and became the primary focus of the College of Education's Office of School Engagement. The Professional Development School District now involves more than 200 professional teachers who serve as mentors, 25 faculty members who serve as professors-in-residence or on-site instructors, 20 College courses taught at schools and more than 500 UGA students in the schools each semester.
Throughout all these years, Dresden supported and advocated for the growth and development of the partnership.
"This work is continually engaging, interesting and fun, and it's always changing. I love watching people come up with ideas and get excited and then helping to facilitate the work that is meaningful to them and benefits the people around them. It's like being a teacher—people grow in ways you couldn't have predicted," she said. "My greatest joy is the people I work with and the opportunity to creatively engage with a community to make positive contributions to public education."
All partnerships are not without challenges. For the Professional Development School District, Dresden said the biggest challenge is maintaining trust. "We believe that the partnership is mutually beneficial for both institutions, but it is hard for everyone to believe that we are all contributing equally," she said.
Despite the challenges, Dresden is most proud of the fact that "people keep coming to the table. Through this partnership we have provided better preparation for many of our teacher candidates, and we have put more positive energy out in schools for the Clarke County School District students," she said.
Dresden is also proud of the new initiatives that have resulted from the partnership, such as Experience UGA (a field trip program) and Camp DIVE (a summer learning program).
After stepping down, Dresden will stay on as a faculty member in the early childhood education program until the fall of 2019. After retirement, she plans to relocate to the Washington, D.C., area, where she will advocate for teacher education and public education, work for causes close to her heart, and continue to read and write about professional development school work.