Faculty research looks at link between eggs and bone health
Increasing the consumption of healthy foods in children is a worldwide challenge that can be addressed, in part, through the development of more functional food products. While past studies have shown the benefits of dairy consumption on skeletal strength, less is known about the effects of egg intake on children's bone.
Additionally, because eggs contain a high concentration of choline—a precursor of acetylcholine that crosses the blood-brain barrier—egg consumption may also improve attention and memory in children.
To study these effects, a $564,302 grant from the American Egg Board will fund a two-year study to determine if eating egg-rich formulated food products can improve bone strength and cognitive function in obese and normal weight children between the ages of 9 to 13 years old.
In collaboration with the University of Georgia's Food Product Innovation and Commercialization (PIC) Center, UGA researchers in the College of Family and Consumer Sciences, the College of Education and the College of Agricultural and Environmental Sciences, will conduct the first long-term feeding trial of its kind.
"The protein and bioactive compounds in eggs such as lutein and zeaxanthin are thought to be advantageous to bone mineralization in children during growth," said Richard Lewis, UGA Foundation Professor in the department of foods and nutrition and principal investigator of the study. "This project will be interesting because it is a nine-month feeding study in children, and so we felt the need to explore the possibility of creating food products that children may like over the long term to prevent burnout."
For the first and recently-completed phase of the study, UGA's FoodPIC developed several food products with whole eggs, including eggy pancakes, macaroni and cheese and ice cream, for children to consume during the nine-month feeding trial.
With a total of 180 participants, the second phase of the study will split the children into three distinct groups. One group will consume 10 egg products per week for nine months, while the other two groups will consume either whole milk-based products or gelatin to serve as the control.
"We should have a pretty good model to answer the question about how egg intake influences bone and cognition," said Lewis, who also serves as director of UGA's Bone and Body Composition Lab. "If eggs are superior to milk, then maybe there are some unique bioactive compounds in eggs beyond just the protein."
In addition to enhancing skeletal growth and muscle development, several compounds in eggs, such as lutein, zeaxanthin and choline, may also improve memory and cognitive function. By using software developed by the National Institutes of Health, researchers can assess whether egg consumption has an effect on children's brain health.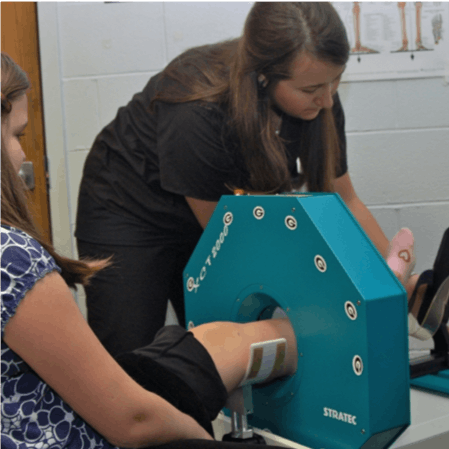 "I think it's important to mention that it's biologically plausible for egg consumption to act on brain nerves and improve cognitive functions in kids whose brains are developing," said Patrick O'Connor, a professor in the College of Education's department of kinesiology and a co-principal investigator on the project. "The kinds of things we'll measure include the children's working memory and ability to sustain attention and how quickly they can respond to these tests. We'll know if they're performing well, poorly or in an average way compared to other kids in the U.S. of the same age and sex."
O'Connor, who studies exercise psychology and the psychological effects of nutrients, will guide the study's cognitive assessments by conducting various tests and evaluations with the NIH-developed software presented to the children on an iPad. By comparing the test results with age-based norms before and after the feeding trial, the study will determine whether egg consumption improves memory and mental control.
"There's certain aspects of health that we don't necessarily or normally relate to cognition," said Lewis. "So, I think the two aspects of the study, the skeletal growth development and the cognition, will really make a nice contribution to pediatric literature."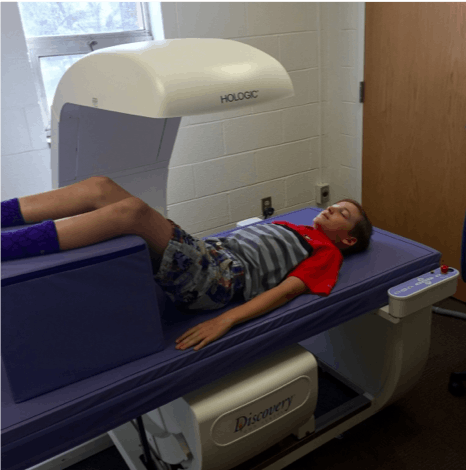 While bone and brain function are rarely studied together, obesity—a global epidemic—has been shown to diminish both bone and brain health due to chronic inflammation. By drawing blood and conducting a variety of tests using imaging equipment in the Bone and Body Composition Lab, including a dual energy x-ray absorptiometry scanner and peripheral quantitative computed tomography, UGA researchers will be able to measure participants' bone mineral density and body composition.
"This will be an important study because there are only a few nutrition bone trials that have been conducted with the time needed to detect changes in bones, which is about nine months," said Lewis. "The cognition part will make an important contribution as well."
Other researchers working on this grant include the College of Family and Consumer Sciences' Emma Laing, a clinical associate professor and director of dietetics in the department of foods and nutrition; Assaf Oshri, an associate professor in the department of human development and family science; the College of Agricultural and Environmental Sciences' Kirk Kealey, director of FoodPIC in the department of food science and technology; food and nutrition graduate student Lauren Coheley.
For more information about the study or to participate, please contact principal investigator Richard Lewis.