Keynote speakers for 50th anniversary of Conference on Children's Literature
Five notable, award-winning authors will speak at the 2019 Georgia Book Awards and Conference on Children's Literature.
Newbery Medal Winner/ Coretta Scott King Honor Award Winner
Kwame Alexander is a poet, educator, and the New York Times Bestselling author of 28 books, including "Swing," "Solo," and "Rebound," the follow-up to his, Newbery medal-winning middle grade novel, "The Crossover." Some of his other works include "Booked," a National Book Award Nominee, "The Playbook: 52 Rules to Aim, Shoot, and Score in This Game Called Life," and the picture books "Out of Wonder," "Surf's Up," and "The Undefeated."
A regular contributor to NPR's "Morning Edition," Kwame is the recipient of numerous awards, including The Coretta Scott King Author Honor, The Lee Bennett Hopkins Poetry Prize, Three NAACP Image Award Nominations, and the 2017 Inaugural Pat Conroy Legacy Award. He believes that poetry can change the world, and he uses it to inspire and empower young people around the world through The Write Things, his K-12 Writing Workshop. The 2018 NEA Read Across America Ambassador, Kwame is the founder of VERSIFY, an imprint of Houghton Mifflin Harcourt, and the host and producer of the literary variety/talk show, "Bookish," which airs on Facebook Watch. He's led cultural exchange delegations to Brazil, Italy, Singapore, and Ghana, where he built the Barbara E. Alexander Memorial Library and Health Clinic, as a part of LEAP for Ghana, an international literacy program he co-founded.
2018 GCBA Picturebook (Gr. K-4) Winner: Author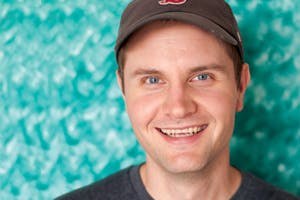 Ben Clanton is a children's book authorstrator as well as an editor-at-large for the Little Bigfoot imprint of Sasquatch Books. His books include "It Came in the Mail," "Something Extraordinary," "Rex Wrecks It!," "Mo's Mustache," "The Table Sets Itself," "Vote for Me!" and "Rot, the Cutest in the World." He has spent most of his time on this planet reading, drawing, playing basketball, gardening and eating waffles. He lives in Tacoma, WA with his wife, Kelsey (a photographer and designer!), son, daughter, and a wild Goldendoodle named Gigi.
2018 GCBA Book (Gr. 4-8) Winner: Author
Alan Gratz is the New York Times bestselling author of a number of novels for young readers. His first novel, "Samurai Shortstop," was named one of the ALA's 2007 Top Ten Best Books for Young Adults. His second novel, "Something Rotten," was a 2008 ALA Quick Pick for Young Adult Readers, and was followed by a sequel, "Something Wicked," in October 2008. His first middle grade novel, "The Brooklyn Nine," was one of the ALA's Top Ten Sports Books for Youth and Top Ten Historical Books for Youth, and his middle grade Holocaust novel "Prisoner B-3087" was one of YALSA's 2014 Best Fiction for Young Readers and has won eight state awards. He is also the author of the YA thriller "Code of Honor," a YALSA 2016 Quick Pick for Reluctant Readers, the middle grade historical thriller "Projekt 1065," and the "League of Seven" trilogy. His latest books are "Refugee" and "Ban This Book."
Pablo Cartaya
Pablo Cartaya is an award-winning author whose books have been reviewed by The New York Times, featured in The Washington Post, received starred reviews from Kirkus, Booklist, Publisher's Weekly, and School Library Journal, as well as been among the Best Books of the Year for Amazon, Chicago Public Library, NYPL, and several state award lists. He is the author of the critically acclaimed middle grade novels "The Epic Fail of Arturo Zamora" (a 2018 Pura Belpre Honor Book) and "Marcus Vega Doesn't Speak Spanish." His next novel, "Each Tiny Spark" will debut on the new Kokila Penguin/Random House Imprint, which focuses on publishing diverse books for children and young adults. He teaches at Sierra Nevada College's MFA program in writing and visits schools and colleges around the country. Pablo is proudly bilingual in Spanish and English.
Local Author Spotlight
Aisha Saeed is a New York Times bestselling author. She wrote "Written in the Stars," which was listed as a best book of 2015 by Bank Street Books and a 2016 YALSA Quick Pick For Reluctant Readers. She is also the author of the middle grade novel "Amal Unbound," a summer 2018 Indie Next Pick, an Amazon Best Book of the Month that has also received starred reviews from Publisher's Weekly and Kirkus and is a Global Read Aloud for 2018. Her forthcoming picture book is "Bilial Cooks Daal." Aisha is also a founding member of the nonprofit We Need Diverse Books. She has been featured on MTV, the Huffington Post, NBC, and the BBC, and her writings have appeared in publications including the journal ALAN and the Orlando Sentinel. She lives in Atlanta, Georgia, with her husband and three sons.