Doctoral student honored by Sarasota, Fla., NAACP
College of Education graduate student Raven Cokley was recently honored by the Sarasota chapter of the NAACP.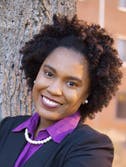 Earlier this month, Cokley received the Go Forth and Prosper award from the chapter during its 33rd annual Freedom Awards at Sarasota's Hyatt Regency Hotel. The event drew more than 400 guests for honors given to individuals, organizations and companies that have made significant contributions to the community while also advancing the goals of the NAACP.
The Go Forth and Prosper award is presented to a young adult who excelled academically and is successfully pursuing their career goals. In 2008, Cokley received the organization's Rising Star award.
She is a doctoral student in the College's department of counseling and human development services, where she is pursuing a degree in counseling and student personnel services. After earning her Ph.D., Cokley plans to continue researching and teaching as a faculty member, and also plans to practice as a consultant in secondary school settings.
Earlier this year, Cokley received a federally funded fellowship from the National Board for Certified Counselors Foundation, the premier credentialing body for counselors.
In an emotional speech, Cokley accepted the NAACP award in memory of her grandfather. "Papa, I miss you so much and hope that I have made you proud," she said.