Doctoral student receives two awards for mental healthcare work
Daniel Balva is passionate about creating a sustainable healthcare system that serves the needs of marginalized and underserved populations. And as a doctoral student in the department of counseling and human development services, he hopes to do just that.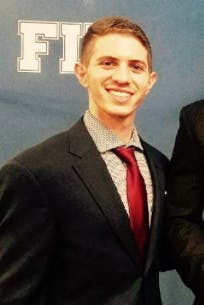 Balva recently received the Meddy Award for Excellence in Medical Missions from Jose's Hands, a nonprofit organization that helps students studying in health-related fields attend medical missions, for his work with Emmaus Medical Mission in Guatemala after Volcán de Fuego erupted in June 2018.
"The work that we do is truly a collaborative effort," said Balva. "As such, I am grateful to serve among a wonderful team of selfless doctors, nurses, students and volunteers who work tirelessly to help those requiring medical care and attention."
Additionally, he received the Florida Counselors Association's (FCA) Pete Fisher Humanitarian Award for his contribution to the betterment of humanity and the human condition. As president of the Florida Association for Multi-Cultural Counseling and Development (FAMCD), a division of FCA, Balva is dedicated to helping professionals use their expertise to shed light on inequalities.
"Minorities and marginalized populations continue to be discriminated against, mistreated and underserved—not only by other individuals, but by society as a whole," he said. "Our job as multicultural competent counselors, psychologists and educators is to provide authentic and culturally sensitive care to our clients and individuals within the community."
Balva's research aims to better understand the international work of professionals in the counseling and psychology field. He hopes to assess where the gaps and strengths are, while working to unite professionals of all backgrounds to engage in global and sustainable mental healthcare.
From there, Balva will focus on collaborating with professionals abroad to create sustainable mental health-focused training programs to teach community workers about mental health via task sharing. His goal is to encourage these individuals to learn the foundational responsibilities of mental healthcare workers where such services are inaccessible.
"We have to continue fighting for global and sustainable mental healthcare until it's done," said Balva. "It's the least we can do to serve those in need of services that are either too difficult to obtain or that simply do not exist."