Doctoral student wins 2018 Georgia Women's Chess Championship
As a child growing up in Belarus, Alisa Scherbakova attended chess classes to improve her problem-solving and thinking skills.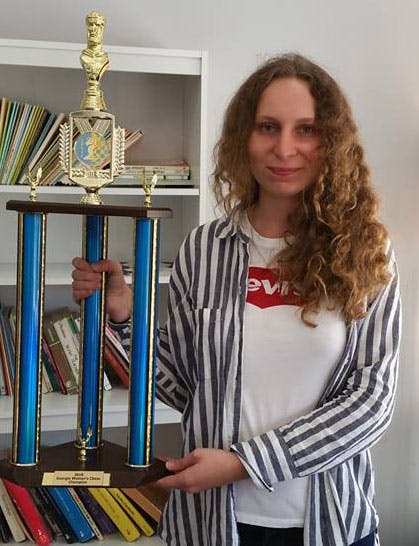 She won her first chess championship at 10 years old, and today, the third-year doctoral student in the College of Education's department of educational psychology is the 2018 Georgia Women's Chess Champion.
"For me, chess has always been a way to express my creative thinking and personal traits," said Scherbakova, who also serves as a teaching assistant for courses on giftedness and creativity. "As I have a bad memory and never liked to study openings, I always rely on my thinking skills and creativity. I like attacking chess and always want to win."
The Georgia Women's Chess Championship is a four-round event with a time control of 90 minutes, plus a five-second delay. Participants must be a resident of the state and a member of both the U.S. Chess Federation and the Georgia Chess Association.
Scherbakova, who will represent Georgia at future national women's chess events, won with 3.5 points out of 4 and credits her three chess coaches for boosting her sports career. Her most recent coach and role model is Viacheslav Dydyshko, a Belarusian grandmaster who won the Belarusian Chess Championship 11 times.
She advises female chess players to study the history of women's chess and familiarize themselves with other female chess champions, so they can find a role model in the sport.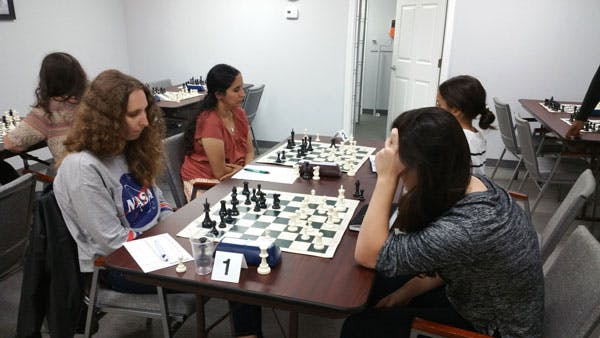 "You have to devote 10,000 hours of practice to become an expert in any field," added Scherbakova. "However, the practice has to be deliberate, not rote. It means that you have to constantly analyze your weaknesses and strengths and improve important chess skills."
Over the years, Scherbakova has attended various chess events, including the European and world championships in Montenegro, Bulgaria and Turkey, as well as international championships in Russia, Belarus, Ukraine, Poland and Lithuania. Children and youth world championships are often held in different countries, so players can familiarize themselves with other cultures.
Having taught students of all ages for the past five years, Scherbakova is interested in studying chess players' creative thinking for her dissertation topic.
"As a former competitive chess player, I like to problem solve, which is why I decided to pursue a career in a research field," said Scherbakova. "Having a background in educational psychology helps me understand mistakes I make as a player and chess coach."