Alumna becomes first woman to lead APEC Secretariat
Rebecca Fatima Sta. Maria (PhD '00), an alumna of the College of Education and former International Trade and Industry Secretary-General of Malaysia, became the first woman appointed as executive director of the Asia-Pacific Economic Cooperation (APEC) Secretariat.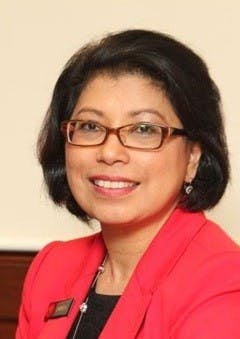 Based in Singapore, the APEC Secretariat is a regional economic forum that promotes trade, investment and sustainable economic growth in the Asia-Pacific. Sta. Maria, who received her doctoral degree in adult education from the department of lifelong education, administration and policy, will begin her three-year term on January 1, 2019, after the conclusion of Alan Bollard's tenure as the current executive director.
"Her decades of experience and her record of academic and professional excellence make her an excellent choice to take on such a challenging position during a period of great change in the region and globally," said Rimbink Pato, the Foreign Affairs Minister of Papua New Guinea, where Sta. Maria was officially appointed to the position by APEC Ministers.
As executive director, she will serve a membership that accounts for half of global trade and 60 percent of world GDP, as well as for incoming hosts, Chile, Malaysia and New Zealand.
"Building consensus is what drives the implementation of all successful negotiations, and that principle is at the heart of what APEC does so well," said Sta. Maria, who will be the third executive director appointed to a fixed three-year term.
In addition to serving in various administrative and human development roles for 35 years, Sta. Maria was the recipient of the UGA College of Education's 2013 Professional Achievement Award, which honors individuals who have demonstrated significant achievements in their careers.
Her role from 2010 to 2016 as Secretary-General of the Ministry of International Trade and Industry exposed her to bilateral, regional and multilateral conventions, where she often took the lead in negotiations involving APEC, the Association of Southeast Asian Nations and the World Trade Organization.