New graduate's overseas teaching puts an unexpected twist in her career path
When she took off for New Zealand, the two-month teaching experience was just that: Some added experience that Alicia Burgum could take with her to a new job this winter after her graduation.
What Burgum didn't expect, though, was how deeply the experience would move her—and how it would profoundly change her professional career. Now, Burgum, who just graduated from the University of Georgia College of Education with a bachelor's degree in early childhood education, is prepping the paperwork to go back and work at a New Zealand school full time.
"I definitely will miss my family—they're like four plane rides away," said the Suwanee native. "But I have people there who will help me, and I have a decent amount of support there. Not everyone who goes abroad gets a job—I am very lucky."
Burgum picked New Zealand as a destination because of its unique educational system, as well as the connection UGA provided. The country is one of more than a dozen offered as part of the teaching experiences for College of Education students; New Zealand is one option offered through the Consortium for Overseas Student Teaching.
For her final semester, Burgum elected to spend part of it teaching locally, in a school in Clarke County, then shifted gears and spent two months of the semester in a New Zealand elementary school. In Clarke County, she gained experience working with one-to-one technology in classrooms; when she arrived at her New Zealand school, she suddenly realized what an asset that was.
"I knew a lot of things to do with technology in the classroom that are still emerging there, and that helped me get the job because the school where I was hired is very technology based," she said. As it happens, the ESOL endorsement she received along with her degree also gave her an edge. "They are very culturally responsive in New Zealand; I had students who spoke Afrikaans, Chinese, Spanish—they were from all over the world," she added.
Burgum didn't start college planning to be a teacher. Originally enrolled at Georgia Institute of Technology, she was studying industrial design but often found herself enjoying helping her fellow students instead of designing. She transferred to UGA's teacher prep program and has found a way to blend her aptitude for technology with working with kids—something she always wanted to do.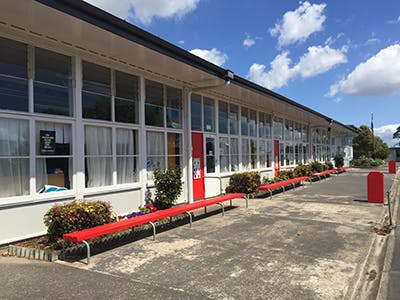 In New Zealand, Burgum will be working at a technology-focused elementary school. It's equipped with gadgets such as a 3-D printer and dedicated media spaces, as well as outdoor areas and an open flow to the building. In New Zealand teachers typically teach to small groups rotating throughout the day, but they are also responsible for teaching subjects such as physical education or art. Time outside is also a priority.
"Schools are very different in New Zealand. They have a nationwide curriculum but the standards are very broad," she said. "Pretty much how someone describes how the educational system should be is how it is there."
While she went for the experience and is now returning for the job, Burgum knows her time there is limited. She plans to work in the country on a temporary visa, giving her one year in the country (with the possibility of a one-year extension). Leaving UGA is bittersweet, she said, but knowing she has a new adventure waiting halfway around the world makes graduation and the move a lot easier to swallow.
And when she returns to the states, it's a unique experience that adds to her teaching repertoire.
"When you go abroad, you get a whole new look. Being able to see new teaching practices—good or bad—always strengthens you as a teacher," she said. "The more things you take in as a teacher will better you as a teacher. So being able to go to a different country, it opened my eyes to so many ways it benefits children."
Burgum recommends teaching abroad to any student considering it as a career. You experience the country in a new way, by seeing it through the eyes of the people who live there, and you gain the perspective of a different educational system.
"If you can, it's definitely worthwhile. I learned so much in the two months I was there," said Burgum. "So when I return, I hope to find a school that will allow me to apply what I learned in New Zealand."