2019 College of Education Distinguished Alumni Awards honor seven for their achievements
Seven graduates of the University of Georgia's College of Education will be recognized for their career achievements and community leadership at the College's 14th annual Distinguished Alumni Awards Dinner on April 5 at the State Botanical Garden of Georgia.
The Distinguished Alumni Awards honor graduates who, through their service, contributions and accomplishments, bring distinction and honor to the College of Education and beyond.
Congratulations to this year's award winners: Jamie Scheidt (B.S.Ed. '11), Colin Muething (B.S.Ed. '07, M.Ed. '09), Kim Osborne (Ph.D. '06), Ashraf Gorgey (Ph.D. '05), Tim Brown (M.Ed. '90), Earl Ginter (Ph.D. '83), Jimmy DeLoach (B.S.Ed. '82).
To attend the alumni award ceremony, please purchase your tickets online no later than March 28.
Early Career Alumni Awards
Practitioner
Honoring graduates of the College who have demonstrated significant achievement as a practitioner in the early years of their career.
Jamie Scheidt
Passionate about helping students with severe intellectual disabilities succeed both in and out of the classroom, Jamie Scheidt has been teaching for the past eight years since graduating from the College of Education with a degree in special education in 2011. She is currently in her first year of teaching students with complex needs at the middle school level in Barrow County. Previously, Scheidt taught special education in Gwinnett County for seven years at Rock Springs Elementary School where she was named the 2017 Gwinnett County Public Schools Teacher of the Year and was a top 10 finalist for the 2018 Georgia Teacher of the Year.
In the past, she has represented special education teachers by giving speeches at events and conferences around Georgia, including a keynote speech at the Georgia Parent Mentor Conference and the closing keynote speech at the Institute Designed for Educating All Students (IDEAS) Conference, the state's annual special education conference.
Working with students and their families brings Scheidt profound joy. She believes there is a deep need for people who are passionate about loving, believing in, and teaching students with multiple disabilities. As a result, she strives to instill a sense of worth, importance, and capability in all of her students. Over the years, Scheidt's personal teaching style has developed out of a belief that nothing is impossible for her students no matter their diagnosis. While her students may not learn the same way as their typically developing peers, Scheidt is committed to helping them grow and evolve in the most collaborative and engaging learning environment.
Recently, Scheidt married her husband, Isaac, and moved to Statham, Georgia, just outside of Athens. They welcomed their first child to the family this past February.
Researcher
Honoring graduates of the College who have demonstrated significant achievement in a research field in the early years of their career.
Colin Muething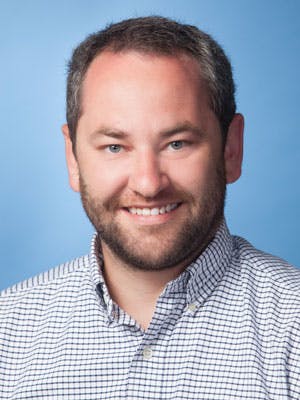 Double Dawg Colin Muething received both his bachelor's and master's degrees in special education from the College of Education in 2007 and 2009, respectively, and later earned his doctoral degree in school psychology from the University of Texas at Austin in 2016. Muething serves in several positions, including as a licensed psychologist at the Marcus Autism Center in Atlanta, a program manager of day treatment in the Center's Severe Behavior Program, and an assistant professor in Emory University's Department of Pediatrics.
At the Marcus Autism Center—one of only five National Institutes of Health Autism Centers of Excellence in the country—he specializes in treating the most severe forms of problem behavior, such as aggression, self-injury, and destructive behaviors. In some cases, he treats children from across the country if other practitioners are unwilling or unable to work with these children.
Recently, Muething was nominated and elected as president-elect of the Georgia Association for Behavior Analysis. He serves on the editorial boards for the Journal of Behavioral Education and the Journal of Developmental and Physical Disabilities. He has also served invited reviewer of more than 40 manuscripts in several top-tier behavior analysis journals, including the Journal of Applied Behavior Analysis, Behavior Analysis in Practice, Journal of Behavioral Education, and Journal of Developmental and Physical Disabilities. Muething's research interests include novel treatments for severe problem behavior, mechanisms that mediate their effectiveness, and reporting large outcomes from novel treatments. To recognize his contributions to the field, the University of Texas at Austin's Department of Special Education named him as a Next Generation Researcher in 2018.
Additionally, Muething is the co-author of two book chapters and the author or co-author of 16 published or accepted peer-reviewed articles in journals, such as the Journal of Applied Behavior Analysis, Behavior Modification, Developmental Neurorehabilitation, and The Psychological Record.
Mid-Career Alumni Awards
Practitioner
Honoring graduates of the College at mid-career who have made outstanding contributions as a practitioner.
Kim Osborne
Recognized as a national and international authority in strategic communication and leadership development, Kimberly Osborne received her doctoral degree in adult education from the College of Education in 2006. Over the years, she has been an advisor to senior leaders of U.S. and foreign militaries, intergovernmental organizations, Fortune 500 companies, institutions of higher education, and nonprofit organizations.
Among her numerous projects, Osborne taught communication, leadership, and disaster management in Myanmar's Ministry of Social Welfare, relief and resettlement as a Fulbright specialist, and served as the chief strategic communications advisor to the Afghan National Security Forces in Kabul during Afghanistan's second democratic presidential elections. As a corporate executive, she directed record-setting business launches for companies like Kelly Services Inc., which led to the public launch of Kelly Educational Staffing, the fastest-growing unit in the company's more than 50-year history. Additionally, Osborne helped improve communications efforts for leading organizations, such as the University of Georgia, American Honda Motor Company, ABC/Capital Cities, the U.S. Department of Transportation, the National Science Foundation, the American Association for the Advancement of Science, and more.
Osborne is an accomplished presenter and award-winning writer whose academic experience includes media literacy, cultural studies, qualitative research methods, and program planning. In 2015, she was named the inaugural C-SPAN endowed chair at Purdue University's Brian Lamb School of Communication and recently served on the planning committee for UNESCO's 2018 Global Media and Information Literacy Week, the Board of Directors for the National Association for Media Literacy Education, and the Jeannette Rankin Women's Scholarship Fund. This year, she was honored as a distinguished alumna during the 50th anniversary celebration of the College of Education's Learning, Leadership, and Organization Development program and was the recipient of the Academy of Human Resource Development's 2019 Laura Bierema Award for Excellence in Critical Human Resource Development.
Currently, Osborne is a reviewer for the National Science Foundation and a volunteer with the American Red Cross in disaster services. On April 15, she will become the new professor and director of the Center for Leadership Development at the Defense Language Institute Foreign Language Center in Monterey, California.
Researcher
Honoring graduates of the College at mid-career who have made outstanding contributions in a research field.
Ashraf Gorgey
Ashraf Gorgey is currently the director of spinal cord injury research at Hunter Holmes McGuire Veteran Administration Medical Center in Richmond, Virginia, and associate professor in the Department of Physical Medicine and Rehabilitation at Virginia Commonwealth University. He holds both bachelor's and master's degrees in physical therapy and received his doctoral degree in exercise physiology from the University of Georgia College of Education in 2005. After graduation, he completed a postdoctoral fellowship at the University of Michigan with a special focus on studying the adaptations in cardio-metabolic consequences after a spinal cord injury (SCI).
Today, Gorgey investigates rehabilitation strategies that can improve the quality of life of individuals with SCI and minimize SCI health-related secondary complications. He is interested in the applications of electrical stimulation and the capability of using exercise intervention to evoke skeletal muscle hypertrophy, favorable body composition, and metabolic profiles in persons with chronic SCI.
His work in cellular and molecular adaptations to unloading and hypertrophy, which many people experience post SCI, has received national recognition by different organizations, including the U.S. Department of Veteran Affairs and the Department of Defense. Over his career, Gorgey has published nearly 100 peer-reviewed articles on electrical simulation, body composition, metabolism, and exercise in persons with SCI and presents nationally and internationally at various scientific meetings.
Lifetime Achievement Alumni Awards
Practitioner
Honoring graduates of the College who have demonstrated outstanding success in their work as a practitioner.
Tim Brown
Born and raised in Marietta, Georgia, Tim Brown received a marketing degree from Kennesaw State University in 1987 before switching his focus to education. After teaching swimming lessons and working three summers with the Georgia Governor's Honors Program, Brown decided to enroll in the UGA College of Education's master of education program in business education and served as a graduate teaching assistant. He began his public-school teaching and coaching career in Douglas County, and later Paulding County, before returning to Marietta City Schools in 1993.
For 13 years, Brown served as the district career, technical, and agricultural education director and CEO of the Georgia College and Career Academy. Through this academy that was built on Marietta High School's campus in 2017, he helped thousands of students by equipping them with the skills they need to enter the workforce directly after graduation. Brown worked with local and regional business and industry leaders to provide students with the necessary training to obtain paid internships while they were still in high school.
Over the years, he received numerous awards and honors, including being named Administrator of the Year by the Georgia Association of Career and Technology Education and receiving the Mack Henderson Public Service Award from the Cobb Chamber of Commerce. In the past, he served on the boards of the Rotary Club of Marietta, Georgia SkillsUSA, the Marietta Business Association, the McClesky-Northeast Cobb YMCA, and the Georgia CTAE Resource Network, a consortium that serves all public systems in Georgia with career pathway professional learning opportunities and instructional resources. He is the current treasurer of the Georgia Council for Career and Technical Administrators. Recently, Brown retired from Marietta City Schools, but continues to work for the Career, Technical, and Agricultural Education unit of the Georgia Department of Education in Atlanta.
Brown and his wife, Karen, live in Cobb County with their two children, Matthew and Rebecca, and their rescue dog, Jasper.
Researcher
Honoring graduates of the College who have demonstrated outstanding success in their work in a research field.
Earl Ginter
Earl Ginter received his doctoral degree in counseling and student personnel services from the College of Education in 1983. As a professional counselor and licensed marriage and family therapist, Ginter maintained a private practice until 2006 when he became the director of UGA's Division of Academic Enhancement, one of several academic units within the Office of Instruction. During his tenure, Ginter was recognized for helping faculty and staff identify and apply their strengths toward the Division's goals of providing academic skill-building courses and support services for both undergraduate and graduate students at UGA.
As director, Ginter was responsible for writing and submitting grant proposals to fund several programs, including Education Talent Search, Student Support Services, and Upward Bound. Over a 10-year period, the Division received $14 million from the U.S. Department of Education to support first-generation college students. Additionally, Ginter helped move the Division from focusing on remediation to retention, progression, and graduation of UGA students. One effort that emerged from this new focus was the CARE initiative that required students on academic probation to participate in a program to help them identify and apply the required skills for academic success. This new focus also led to a modification of the Division's courses and an expansion of its services to reach a greater number of students, including international students and students from underrepresented minority groups interested in pursuing STEM-related disciplines.
Many of Ginter's changes can be traced back to his expertise in counseling and therapy, as well as his research interests in performance anxiety, mental health counseling, loneliness, and human development. He is particularly interested in healthy human development and its link to wellness-based forms of counseling and therapy. In 2016, Ginter was honored with the title of professor emeritus from UGA upon his retirement.
Ginter and his wife, Jackie, currently reside in Athens. He believes that without Jackie's undying support, assistance, and love, very few of his research goals would have been achieved. They have three sons, Matthew, Michael, and Mark, all of whom contributed artwork in Ginter's fourth textbook.
Outstanding Service Award
Honoring individuals who demonstrate outstanding and continued dedication in service or philanthropy to the College of Education.
Jimmy DeLoach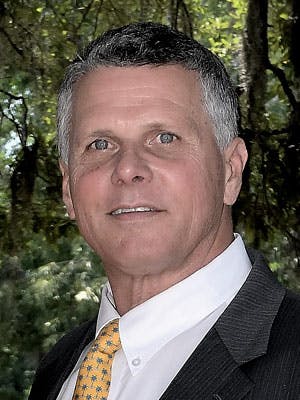 In 1982, Jimmy DeLoach graduated from the University of Georgia College of Education with a degree in business education and was later recruited by coach Erk Russell to serve as Georgia Southern University's football linebacker coach and recruiting coordinator. During his time with the Eagles, he received his master's degree in education and marketing and also helped the university win two National Championships in Division I-AA football. The systems and strategies DeLoach learned while working with coach Russell—including repetition, reaction, and recognition—translated seamlessly into his position as owner and vice president of the Tidewater Group.
In 1987, DeLoach joined his brother, Eddie, president of Tidewater Group, to help grow the company name. Founded in 1984, the company consists of six different entities, including Tidewater Landscape Management, Cleansweep Parking Lot Maintenance, Grow Masters Lawn Applications, Tidewater Government, Waymons Investments, and MountainShore. With more than 25 years of experience in grounds management and over 30 years with Tidewater Group, DeLoach is responsible for overseeing all military and government development, while offering management and development counsel to the entire company.
In memory of his daughter, Abbie, and through his desire to teach and encourage the local community, DeLoach established the Abbie DeLoach Foundation in 2015. The foundation supports scholarships for students, as well as several of Abbie's favorite charities around the world. In 2018, the foundation—which DeLoach views as his lifetime achievement—served as the title sponsor of the True Blue 5K Run hosted by Georgia Southern University during Homecoming Weekend. The event achieved its highest participation last year with over 500 runners.
Today, the Abbie DeLoach Foundation has funded 24 scholarships and an international home for women bearing his daughter's name. DeLoach's passion for education, his football and business careers, as well as his daughters, Abbie and Anna, all play a significant role in his designations for the foundation and its impact over the next generations.