Building community with technology
Doctoral students William Fassbender and Brad Robinson needed a collaborative space for their writing group.
So, during the first two years of their graduate program in the College of Education's department of language and literacy education, the two met up at various locations to study, from Donderos' Kitchen and local coffee shops to the Health Sciences Library and the Miller Learning Center. However, all of these venues had one thing in common: they were offsite and required them to leave their offices in Aderhold Hall.
To address and help resolve these issues—not just for graduate students, but for undergraduates and faculty alike—four multifunction huddle rooms featuring state-of-the-art technology were installed in the building last fall.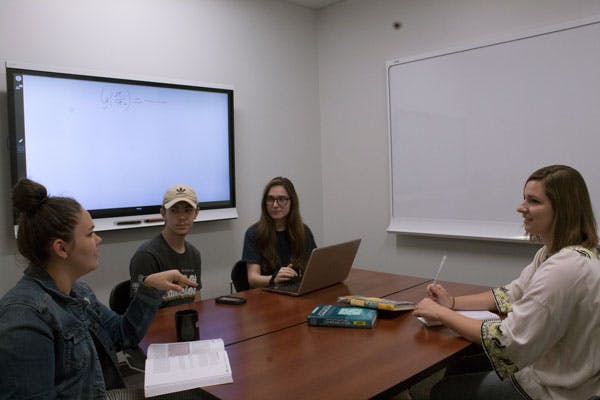 "We used to meet at Donderos' my first year, and it was one of those sessions where we'd show up and chit chat about our weekend, and it was not productive," said Fassbender, a fourth-year doctoral student. "I don't necessarily blame the space, but I think we've done a better job of figuring out what we need to do, and huddle spaces really help alleviate some of those problems."
Featuring collaborative technologies already available in a majority of classrooms in Aderhold—including wireless screen-sharing devices and interactive whiteboards—enclosed study rooms equip students with the tools they need to excel in their field as future educators, while simultaneously serving as a meeting space for breakout sessions and interviews.
"Adding technologies that are already used in our classrooms can help students become more familiar with these tools," said Ralph Knapp, director of the Office of Information Technology in the College of Education. "Not only are we giving students the resources to work together, but we're also providing those who are going to be teaching a space to practice, so they feel comfortable going into a classroom with technology."
Located on the second floor of Aderhold, each huddle room seats up to six students and contains two movable tables, a flat panel Smartboard, a SmartKapp whiteboard capture device and a Mersive Solstice Pod for wireless screen sharing.
Smartboards with interactive displays feature web-browsing capabilities and are designed to support collaborative learning experiences without any wires, cables or manual software. Alternatively, SmartKapps enrich small group collaboration by allowing students to capture and transfer notes to their mobile devices, so they can focus on their work rather than copying notes.
"Dean Spangler has a high priority in building community, and we see students writing things on the boards about their programs or about the College. It was like they were putting things on the board for future people in the room to see," said Knapp. "It's almost like graffiti in a way, and it seems to have helped this community building initiative."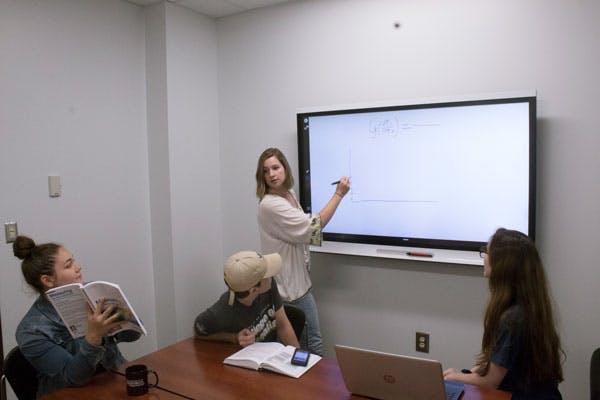 In addition to providing collaborative technologies, the huddle rooms also serve as a general space for students and faculty to conduct research interviews, record podcasts and rehearse presentations. For Robinson, who, like Fassbender, serves as a teaching assistant, the rooms are a convenient space for him to meet with pre-service teachers and discuss their field experiences.
Similarly, Theodore Kopcha, an associate professor in the department of career and information studies, uses the rooms and technologies to help graduate students solidify their dissertation prospectus methods.
"I really love having the extra privacy and a space to explore ideas on the whiteboard," he said. "The really nice part is having the space to 'think' on the walls and then take a photo of that work, which can then be put into a digital format elsewhere."
Having the option to collaborate in a space that encourages discussions—in contrast to student lounges that are primarily meant for quiet work—students and faculty, like Fassbender, Robinson and Kopcha, can come together and enhance their research and guidance of students right in the heart of Aderhold Hall.
"Having a communal space where people can meet and interact, especially in a college of education where that's so much of what we talk about, is super important," said Robinson. "I think there's a big demand for these spaces, and they're always packed. As teachers, so much of what we do with our students involve collaborative work."