Assistant professor receives award for research on computerized adaptive testing
Shiyu Wang, an assistant professor in the department of educational psychology, recently received the 2019 Early Career Researcher Award from the International Association for Computerized Adaptive Testing (IACAT).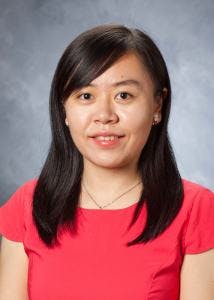 As an IACAT early career scholar, Wang will receive a $2,500 grant to attend and present her research on computerized adaptive testing (CAT) at the 2020 IACAT Conference. Formed in 2010, IACAT is committed to advancing the science of adaptive testing in all fields of applied psychological and educational measurement.
"I hope my research can help improve and enhance personalized assessment and learning in education," said Wang. "CAT can estimate test takers' abilities based on their performances on test questions in real time before using this information to select the most appropriate questions for each test taker."
Currently, no operational CAT allows for test takers to review and revise their responses. This inability to change answers can cause test-taking anxiety and stress in students, which is a potential threat to test validity. According to Wang, because of the adaptive nature of CAT, incorporating response revision can be a controversial and difficult task.
"I continued to expand my research in this direction and proposed a series of analytical and methodological frameworks that mitigate the clash between adaptivity and flexibility, preserving the statistical efficiency of the traditional CAT, while allowing test-takers to revise their previous answers at any time during the test," she said.
Wang hopes to develop a CAT system, which can be administered at the beginning of the semester to assess students' knowledge and provide instructors with an understanding of their background. The resulting data can be used by instructors to recommend different materials for students who need to review certain lessons for class or, in some cases, more advanced materials if they already have the prerequisite knowledge.
"I expect the CAT system to help individualized instruction," said Wang. "I think this project will provide evidence of the benefit of combining teaching and research to support the application of CAT in classroom instruction."