Leaving a footprint in the Latinx community
While Patricia Arredondo was pursuing her degree in school counseling during the 1970's, she became aware of the lack of ethnic knowledge in individual counseling. Arredondo went on to become recognized for her efforts to develop the area of multicultural counseling and founded the National Latinx Psychological Association (NLPA) in 2002.
Each year, the organization awards students who continue Arredondo's vision to advance psychological knowledge for the benefit of the Latina/o population. Two doctoral students in UGA College of Education's counseling psychology program were honored at the 2019 NLPA Conference on Oct. 17-20 in Miami, Florida.
Marlaine Monroig Garcia was awarded the Distinguished Student Service Award and Rebekah Ingram Estevez received the Cynthia de las Fuentes Dissertation Award. The two, along with Ed Delgado-Romero, associate dean and professor in the department of counseling and human development services, 13 current counseling psychology students, and five alumni made up the largest group to attend the conference, where they spent several days presenting and leading.
Ingram Estevez's dissertation aims to explore the resilience processes cultivated and used by the Latinx trans and non-binary community to resist and thrive in the face of stressors that stem from the intersection of racism and trans-prejudice. "This dissertation is a qualitative project, meaning I will undertake in-depth interviews with Latinx trans and non-binary individuals to hear from their life experiences what helps them to be resilient," she said.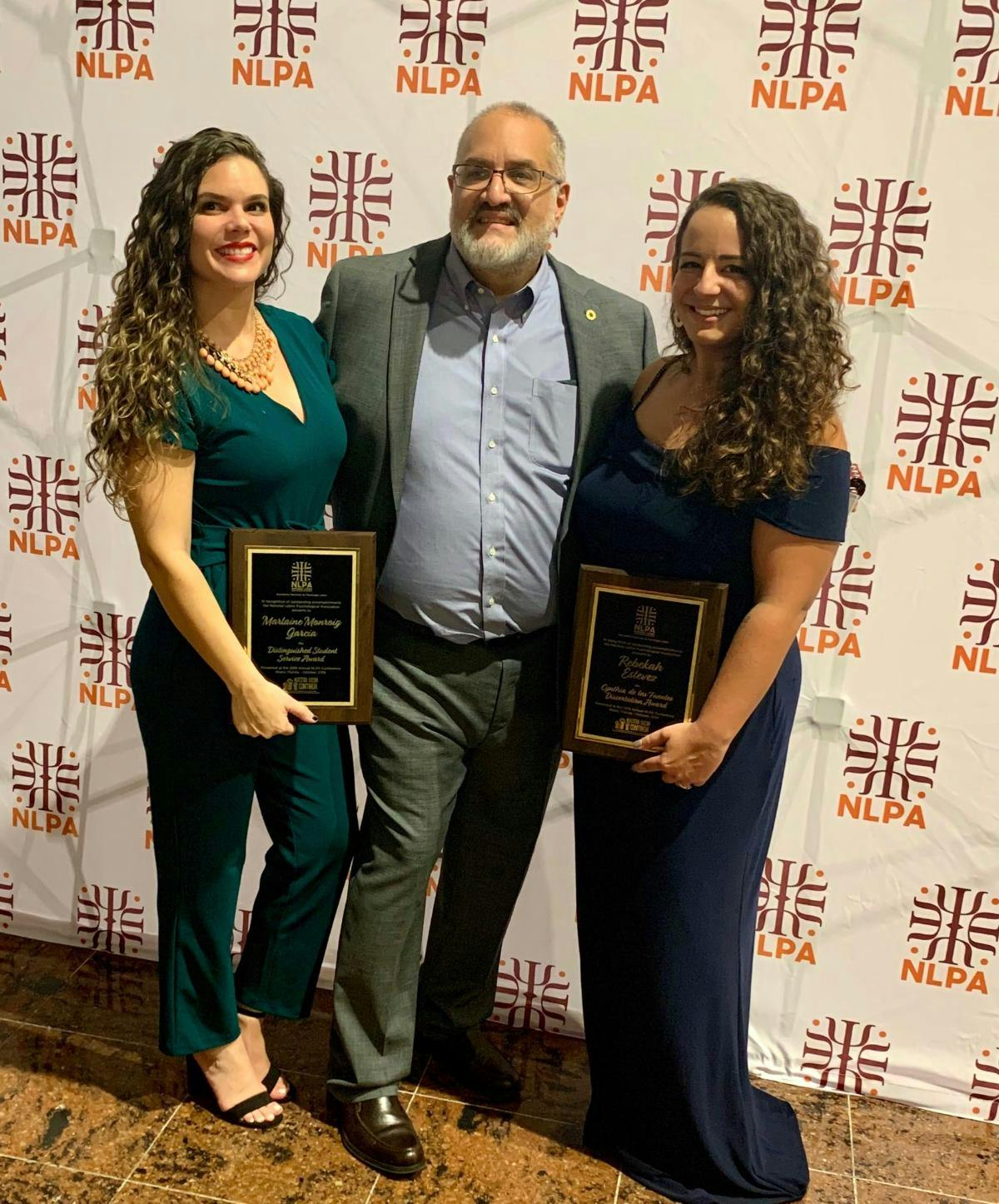 Latinx trans and non-binary people face barriers to their health and wellbeing from issues of power and oppression in a cisgender normative society. Studies show that 41% of trans and non-binary people have attempted suicide at some point in their life.
"In the face of these barriers, Latinx trans and non-binary people can and do live full, healthy lives," Ingram Estevez said. "It's on us as persons in the helping professions to investigate not only what the drivers of risk to wellbeing are for minoritized communities, but also what helps people resist, thrive, and succeed in life despite these barriers."
Originally from Puerto Rico, Monroig Garcia is a first-generation college student and the first of her family to be in the U.S. Currently, she's a predoctoral intern at West Palm Beach VA Medical Center in Riviera Beach, Florida. She received the service award for her contributions to the U.S. Latina/o community.
"I had no idea what the future would hold, but I knew I had to change the generational cycle of poverty and abuse in my family," she says of leaving Puerto Rico at 17. "I know what it's like to struggle navigating an unfamiliar academic system without guidance. I know what it's like to feel like an imposter and I know the sacrifices I've made and that I'm making aren't easy."
Monroig Garcia will finish up her second and final year as the NLPA student representative—an elected position with a two-year term—this December. In her role, she is the only student to serve on the Executive board and the Leadership Council, where she helps develop and lead the NLPA Student Committee. She is also the founder of UGA Relief for Puerto Rico and a member of UGA's College of Education Students of Color Mentoring Program and the American Psychological Association's Division 35 and Division 45.
"My personal experiences motivated me to work with vulnerable and marginalized populations, especially those who have needed to overcome significant trauma," Monroig Garcia said. "My strong Latina identity has also influenced my desire to give back to the Latinx community by providing much needed bilingual and bicultural counseling services. A degree in counseling psychology, particularly because of its social justice focus, was a great fit."