Forging a way to help athletes across the country
This month's amazing student is Nicholas Yanek, who is studying to become an orthopedic surgeon to help athletes like himself across the country.
Major: Exercise and sport science (pre-med track)
Other degrees: Minors in biology and health policy management
Graduation: May 2022
Hometown: Bettendorf, Iowa
Why did you choose to attend UGA?
I run cross country and track, and I spoke with a lot of the coaches here. I really liked the athletic program and all the resources they had. Georgia is in-state, which is a huge help too, but academics are a priority here as well. On our team, academics are also a priority, and the honors program is a great thing to get involved with. It's a combination of athletics and academics, so I can pursue everything.
What inspired your love of exercise and sport science?
Running, which I started in seventh grade, inspired my love of exercise and sport science. In junior high, my parents said I had to pick an extracurricular activity, and I chose running because my sister ran too. I did more things to make running better, like strength training and focusing on healthy eating. I always liked math and science, and exercise and sport science combined both. In the future, I want to become an orthopedic surgeon, preferably geared towards athletes to help them become as fit as they can be and heal from whatever injury they might have.
What do you do when you have free time?
I like to watch TV—it's a mindless activity that allows me to calm down. I also like baking and cooking. My sister and I have a food Instagram called @theskinnypiggy, which we share and post to as often as we can.
If money was not an issue, what would you do?
If money wasn't an issue, I would probably do something related to running. I don't know if my teammates would ever all want to run a marathon, but I would pay for all of us to go to Athens, Greece and run a marathon there together—that's where the Olympics started.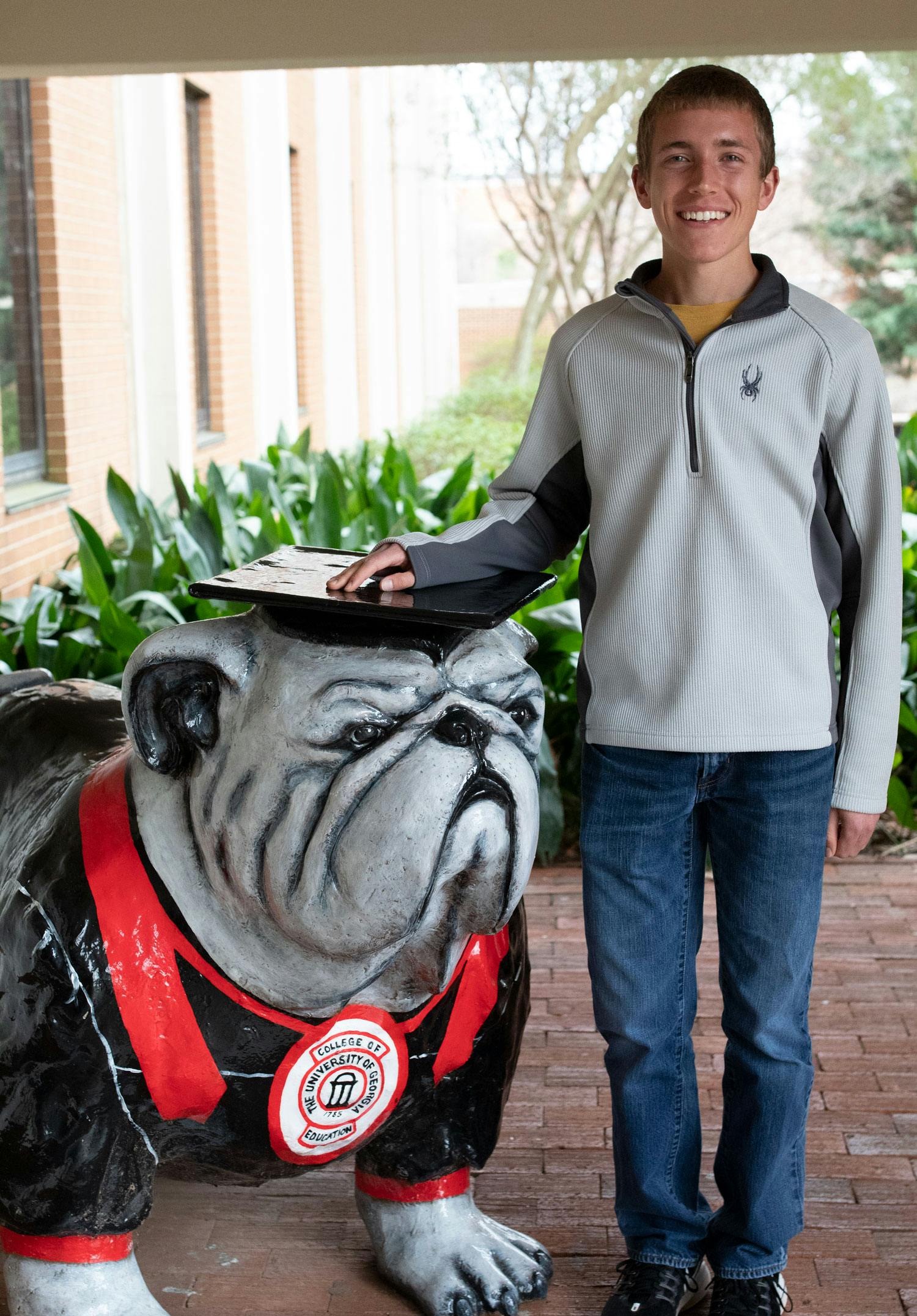 What are your plans after graduation?
I will be here for a fifth year because of athletics, and I want to get my STEM MBA. It's a one-year accelerated MBA program through Terry College that is geared toward science majors. That way, I'll be better suited for hospital administration or owning my own practice.
What extracurricular activities are you involved in?
I'd say the activities that requires the biggest time commitments are cross country and track. We practice every day for hours, and I love it a lot. But I'm also a part of the Tate Honor Society, and it's awarded to the top 12 male and female freshmen every year. I'm also vice president of the Student Athlete Advisory Committee—we help voice the concerns of student athletes and bring it up to our athletic administration to try and make our lives as smooth as they can be between athletics and academics. Also, I'm the operations chair of the Student Alumni Council.
I'm also conducting research in the department of kinesiology with Dr. McCully. My focus is on the diaphragm muscle and measuring fatigue over five minutes by studying the phrenic nerve.
The one UGA experience I will always remember will be…
On one exciting day, I was walking to practice, and I saw Kirby Smart in the hallway, and he said "hi" to me. Then later that same afternoon, I was walking to grab a snack in the weight room, and I ran into Uga in the loading dock of the Coliseum and got my picture taken with him! Another cool experience I've had at UGA was running at the Pan American U20 Championships in Costa Rica.