UGA Speech and Hearing Clinic offers curbside services; teletherapy
A patient of the UGA Speech and Hearing Clinic desperately needed to fix his broken hearing aid. After spending two weeks at home with several grandchildren and limited hearing, he decided to pay the clinic a visit after the city's stay-at-home orders were lifted.
When he arrived at Aderhold Hall, he met with Alison Morrison, a clinical assistant professor and audiology clinic coordinator in the Mary Frances Early College of Education, who took his hearing aid from him in the parking lot and ran the device upstairs to the clinic. Twenty minutes later, the patient's device was fixed and cleaned—all while he waited from the safety of his car.
Due to the COVID-19 pandemic, UGA's Speech and Hearing Clinic has discontinued face-to-face services. However, the clinic is supporting audiology patients through a new curbside service model, which reduces physical contact between patients and audiologists. Additionally, speech-language patients can engage with the clinic via telepractice.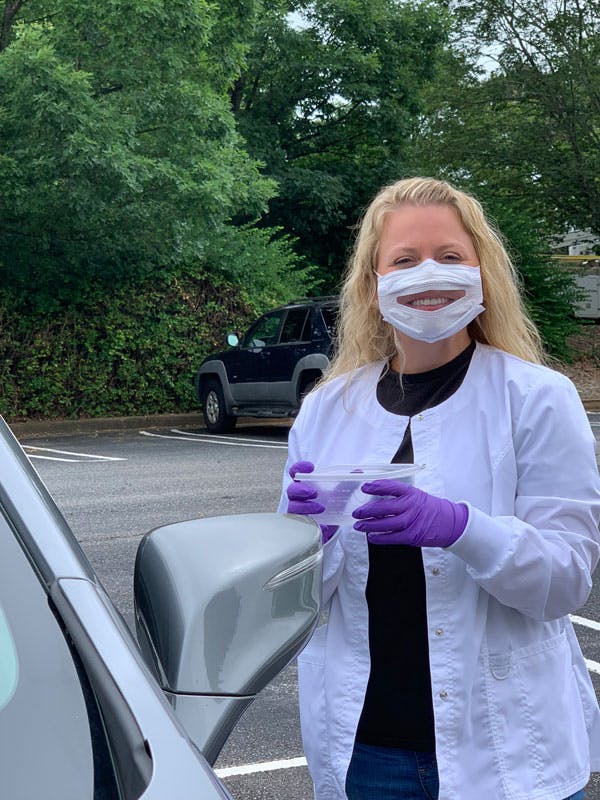 "The curbside model is actually being done across the country by several audiology clinics, but we also looked into what our university, local, state and CDC guidelines allowed when developing the model," said Morrison. "We're wearing masks and gloves and minimizing as much face-to-face contact as possible."
When patients make an appointment with the clinic, they will receive a COVID-19 symptom screener either over the phone or as an email questionnaire 24 hours before their appointment. Once they arrive to Aderhold Hall's parking lot off of East Green Street, a clinician will meet patients at their car to collect their devices. Depending on the services required, patients typically receive their devices back within 15 to 20 minutes.
"In general, a lot of people with hearing loss have struggled during this time because everyone's wearing masks, and when you're talking about good communication strategies, that is a challenge," said Morrison. "When you're wearing a mask, it not only takes away facial cues, but it also muffles sound a little bit. I think it's just forced us all to get more creative, so we can continue serving our patients and community in different ways."
By wearing clear face masks, practitioners and patients can communicate with facial cues and lipreading. Additionally, all devices are collected with a tray to minimize contact. For patients who are unable to travel during this time, the clinic offers mail-in services for hearing aid repair, maintenance, cleaning, adjustment and more.
In addition to ensuring service continuity with patients, the clinic also developed new methods for students to continue their clinical training. All master-level students in the College of Education's communication sciences and disorders program must fulfill just over 400 direct client contact hours to graduate. As a result, the clinic developed a telepractice model to not only serve patients, but to minimize disruption to experiential learning.
Normally, students receive these hours in the clinic under the supervision of state-licensed and nationally certified audiologists and speech-language pathologists. While students are now administering services online, they are gaining the same hands-on training with patients through telepractice, where face-to-face sessions are held virtually.
"Our student clinicians have been so very flexible, industrious and creative in their efforts to deliver teletherapy," said Alisa Fountain, a clinical associate professor in the department of communication sciences and special education and clinical education coordinator. "I believe it has really stretched them in how they think about their services and how they ensure quality of service, regardless of delivery mode."
Ultimately, the telepractice model has proved successful for both practitioners and students, as well as patients who have limited transportation options to campus. So far, the clinic has experienced several breakthroughs using the telepractice model, including successfully evaluating and treating two young patients who stutter via Zoom; providing ongoing therapy for a preschooler to enhance his ability to produce speech sounds and form sentences; and providing teletherapy for a pre-K patient who was falling behind with language and literacy skills due to school closures.
"Our clinical faculty and graduate students are a super strong team, and much collaboration and teamwork were a requirement to get this model of service off the ground," said Fountain. "It was helpful for everyone to know that this was a new adventure for everyone—students and faculty—so no one felt lost or alone. We managed to lift each other up amid the flurry of learning and transition, making us grateful for each other and for all of the many talents that everyone contributed to the telepractice effort."
To schedule a curbside appointment for audiology services with the UGA Speech and Hearing Clinic or for more information about clinic services and fees, call 706-542-4598.