Six Edudawgs to compete at 2020 Tokyo Olympic Games
Six athletes with ties to the UGA Mary Frances Early College of Education will compete at the 2020 Summer Olympic Games in Tokyo this month.
This year, 31 members of the Georgia athletic community will compete for 13 different nations in five different sports at both the Olympic and Paralympic Games. It is the second-largest Georgia contingent in Olympic history, trailing only the 2016 Rio de Janeiro Games at 36.
Edudawgs competing this summer include hammer thrower Denzel Comenentia (B.S.Ed. '20) for the Netherlands; swimmer Chase Kalisz (B.S.Ed. '19) for the U.S.; triple jumper Keturah Orji (M.S. '19) for the U.S.; tennis player Ellen Perez (matriculated B.S.Ed. '19) for Australia; long jumper Chanice Porter (M.S. '18) for Jamaica; and golfer Sepp Straka (matriculated M.S. '17) for Austria.
Setting records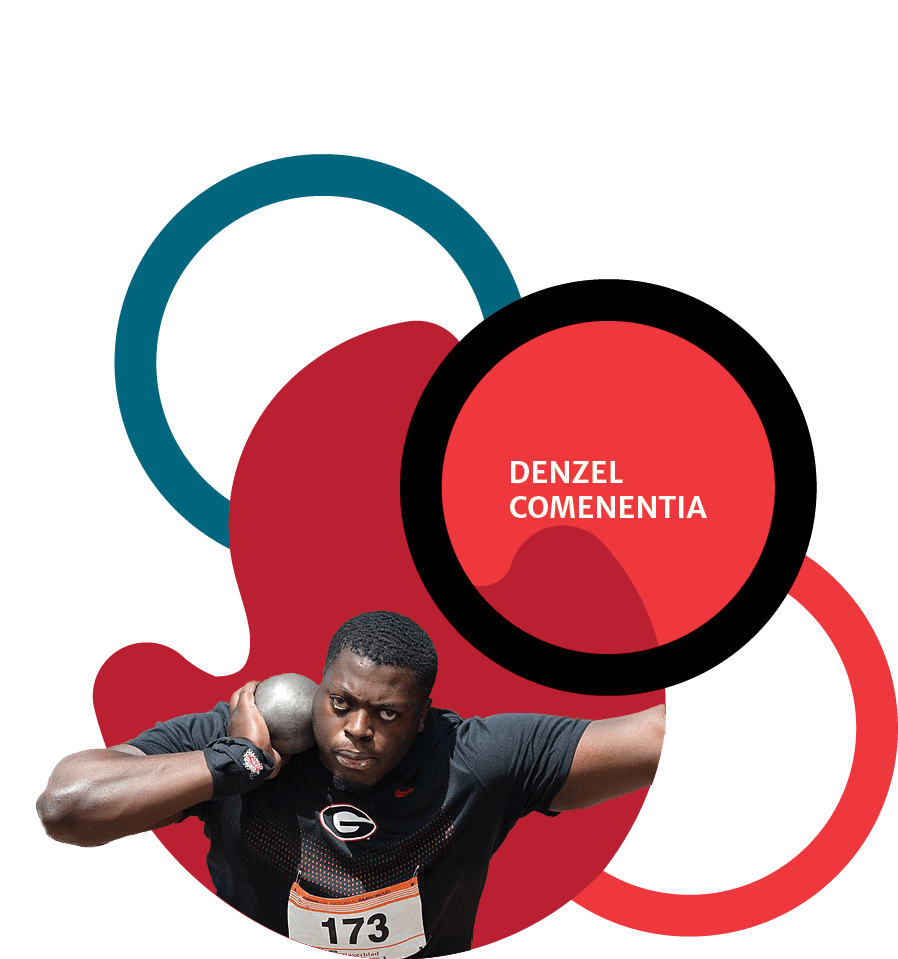 Denzel Comenentia's list of national achievements in both shot put and hammer throw is extensive.
In 2018, the Bowerman Award semifinalist received the SEC Outdoor Commissioner's Trophy as a high point scorer.
That same year, Comenentia made history by becoming the third collegiate athlete ever to sweep both the shot put and hammer throw at the same NCAA Championships. His title in the hammer was UGA's first NCAA outdoor title since 2015 and the second best winning throw in the past 16 years.
During his time at UGA, Comenentia helped captain the track and field team to their first national championship in program history, garnering the meet's highest individual score of 20 points with titles in the shot put and hammer throw.
Additionally, he won silver medals for the shot put at the 2014 World Junior Championships and 2017 European U23 Championships. His personal best—and the current national record—in the hammer is 76.81 meters in 2019.
Photo courtesy of Erik van Leeuwen
Striking gold
This past weekend, Chase Kalisz struck gold in Tokyo for the men's 400-meter individual medley.
This achievement was made even sweeter for the swimmer as he also won the first gold medal of the Games for the U.S. During the event, the two-time World Aquatics Champion pulled away from the pack just after the halfway mark, cruising to victory in 4 minutes and 9.42 seconds.
"This is my lifelong dream," Kalisz told the New York Times. "I've accomplished everything else in the sport—world titles, NCAA titles, an American record—and this was the last thing I wanted to check off."
In 2016, Kalisz won silver for the same event in Rio de Janeiro. He specializes in the individual medley, but also competes in breaststroke and butterfly events.
During his time at UGA, Kalisz competed for the swimming and diving team where he was a three-time NCAA Champion and American record-holder in the 400-yard individual medley.
Photo courtesy of JD Lasica
Jumping back in
Keturah Orji is a woman of many firsts.
She is the American indoor triple jump record holder, the outdoor triple-jump collegiate record holder and the only woman in history to be a three-time Bowerman finalist.
In 2019, she was named the NCAA Woman of the Year, recognizing her excellence in academics, athletics, community service and leadership. That same year, she also received the Bowerman, the highest accolade given to the year's best student-athlete in American collegiate track and field.
This year, UGA's Bulldog track and field program will send the largest number of athletes to the Olympics, contributing 16 current and former athletes. Orji, who received her master's degree in kinesiology, will be returning for her second Olympics.
In 2016, she triple jumped 14.71 meters at the 2016 Summer Olympics in Rio de Janeiro, Brazil, to place fourth.
Photo courtesy of jenaragon94
Double threat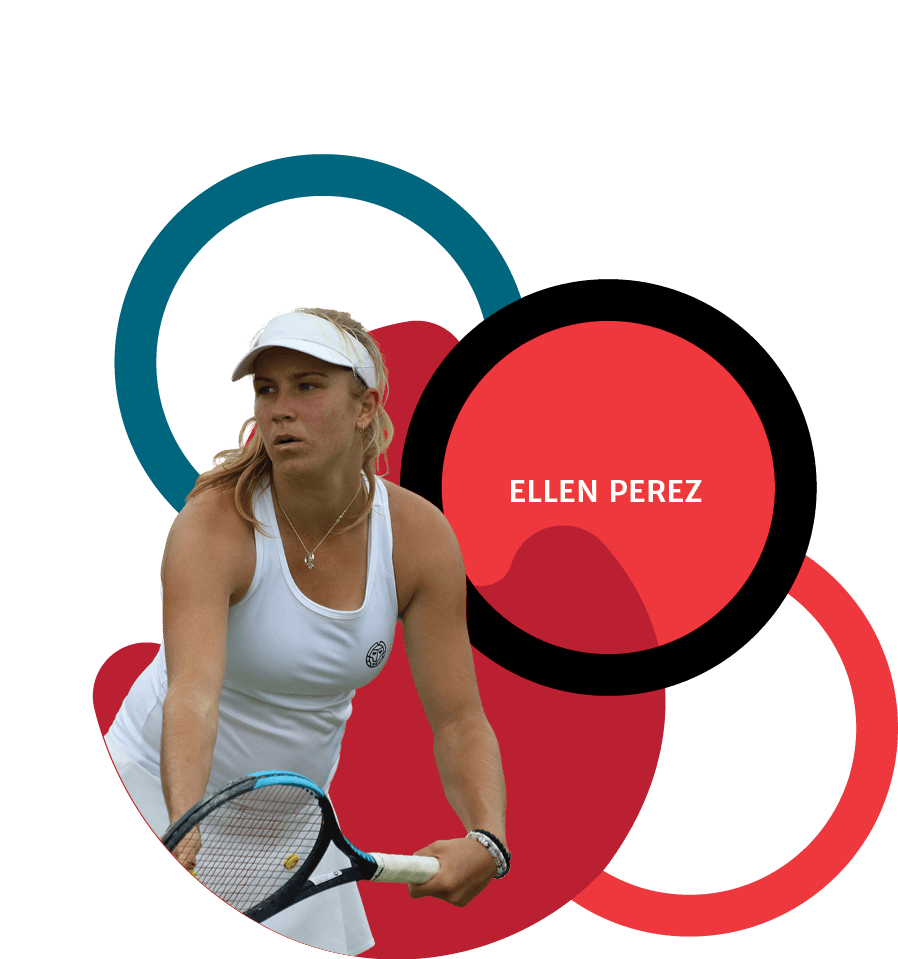 As a kid, Ellen Perez idolized Olympians and dreamt of one day competing against the world's best athletes.
The former All-American will do just that this summer in Tokyo with team mate Samantha Stosur. Together, they will compete for Australia in the women's doubles competition. Perez recently played in both the singles and doubles draw at Wimbledon, making her career debut in singles.
"It feels unreal to be an Olympian," said Perez, who started playing tennis at age 7. "To me, there is no higher honor then to represent your country and wear the green and gold. I've dreamt of this moment as a kid, so to finally be able to go shows dreams can come true."
After Wimbledon in June, Perez flew to Lisbon, Portugal for one last tournament before the Olympic Games. Her career-high rankings in singles and doubles are 162 and 40 respectively, achieved in August 2019 and August 2020.
Perez made her Grand Slam main-draw debut at the 2016 Australian Open in doubles with Belinda Woolcock and her first singles Grand Slam appearance at the 2016 US Open after winning the Australian Wildcard Playoff.
Photo courtesy of Si.Robi
Long jump to victory
For Chanice Porter, qualifying for the 2020 Olympics is still a surreal accomplishment.
The track and field athlete, who specializes in long jump, received her master's degree from the College of Education's department of kinesiology. She currently serves as a compliance coordinator for UGA's Athletic Association and will compete for Jamaica at the games this summer.
"It has always been a dream for me to be an Olympian," said Porter. "Back in 2016, I missed making the team by 3 centimeters and that has been a great motivation for me to compete in these games. To see my little sister look up to me, proud of what I have accomplished, gives me the drive to always compete with the best in the world."
Porter represented Jamaica at the 2019 World Athletics Championship, competing in the women's long jump. She reached the 6-foot mark for the first time in her career for the indoor high jump at UGA, and in 2016, was named the Southeastern Conference Women's Athlete of the Week.
Photo courtesy of UGA Track & Field
A family sport
Sepp Straka's friendly competition with twin brother Sam sparked his passion for golf.
This summer, both of them will head to Tokyo with Sepp representing Austria and Sam—a fellow UGA alumnus—assisting him as his caddy. Golfing runs in the family—their mother owns a pro golf shop and their father played the sport, which eventually inspired the twins to start playing at age 11.
"It's such a great honor to represent Austria in the Olympics," said Sepp. "I think anytime we can play for something bigger than ourselves, it's very rewarding and just means so much more. The Olympics is definitely a motivating factor to get your game in the best shape you can."
After graduating from UGA, Sepp turned professional and played a number of tournaments on the 2016 PGA Tour Canada. His best finish in 25 events was 7th in the El Bosque Mexico Championship.
Sepp is the first Austrian golfer to earn a PGA Tour card and is currently finishing up the 2021 tour. In his first season, his best finish was 3rd place at the 2019 Barbasol Championship. In 2018, he secured his first professional victory after winning the Web.com Tour's KC Golf Classic by one stroke.
Photo courtesy of John Weast/UGA Sports Comm