Immersive learning
Despite a pandemic, the University of Georgia's Russian Flagship Program continues to see record-high enrollment as students engage in culturally immersive experiences while learning a language considered vital to national security.
"I'm continuously amazed that students in their freshman year are adventurous enough, ambitious enough and foresighted enough to say during their first semester, I want to sign up for four years of intensive Russian, spend a year abroad and work towards professional-level proficiency in Russian to pursue a global career," said Russian Flagship director Victoria Hasko, an associate professor in the Mary Frances Early College of Education's department of language and literacy education.
"We have external assessment data at this point to show that our students' proficiency achievements are nothing short of impressive, and I think that's also reflective of the quality of the program itself," she added. "Our students are excited to be involved in a program that can offer so many opportunities."
This past summer, one of these many opportunities for cultural enrichment included a retreat to Sapelo Island where students stayed in the historic Reynolds Mansion. In place of studying abroad in Kazakhstan during the pandemic, students spent four days discussing ecological and social justice issues and attended guided tours in Russian about the ecosystem, community and historical significance of coastal Georgia.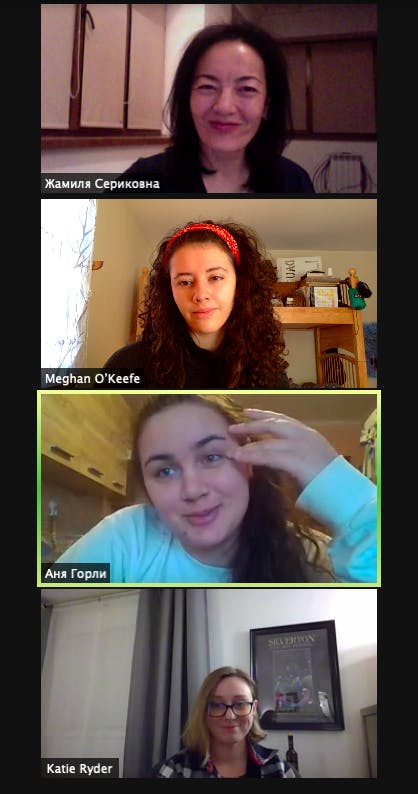 Former Flagship student and alumna Megan O'Keefe completed her capstone year completely online and acquired new skills in Russian by incorporating fun elements of language use—such as conversation practice, listening to music and watching films in Russian—into her coursework.
"I found that my virtual capstone year provided unexpected opportunities to improve my Russian in unconventional ways," said O'Keefe, who landed her dream job in Washington, D.C. this fall. "My listening skills really improved as I attended class in a Zoom environment where close listening is imperative."
The Russian Flagship Program will resume study abroad in summer 2022 with a new option for students to study in Riga, Latvia as part of the Immersion in the Russian Language, Culture and Communities in the Baltics Program.
"This program will allow students to gain understanding of the Russian sphere of influence in the Baltics," said Hasko. "We hope that having conversational partners from Latvia will give our students an edge in being able to discuss the Russian-speaking world from a more informed standpoint. It's also a culturally and linguistically rich environment in the heart of Europe where students will be able to explore life and visit the Czech Republic, Estonia and Sweden, while exploring Russian historical ties to Europe that date back to the Viking rule."
UGA also offers a study abroad program in Moscow and St. Petersburg, Russia, which is directed by Olga Thomason, Russian Flagship assistant director and senior lecturer in the Franklin College of Arts and Sciences.
"This six-week summer program offers students an opportunity to improve their Russian language skills and experience Russian culture firsthand," said Thomason. "In addition to visiting world-renowned attractions like the Hermitage, Peterhof Palace, Moscow Kremlin and the Museum of Cosmonautics, program participants spend several days in Suzdal, Russia, famous for its avoidance of industrialization and preservation of Russian architecture."
This past summer, 17 Flagship students participated in UGA's STARTALK Intensive Russian for Future Global Professionals program. This domestic program, funded by the National Security Agency and directed by Hasko, is designed to strengthen students' understanding of Russian language and culture and connect language development with academic content using authentic materials and oral interactions.
For five weeks, students spent mornings in class, dedicated the afternoons to tutoring and cultural enrichment and participated in evening and weekend extracurricular activities including:
Field trip to Atlanta with a Russian-language tour of the historic Swan House
Dinner at Atlanta's premier Russian restaurant and banquet hall
Russian-language tour of the Russian collections at the Georgia Museum of Art
Live virtual tours in Russian of St. Petersburg, Moscow, Irkutsk, Kyiv, Bishkek and Vladivostok
Cooking demonstrations in Russian featuring authentic Russian recipes
Weekly game clubs featuring chess and other board and word games
Tea nights featuring authentic Russian teas and sweets
Craft clubs featuring Russian pyrography styles and techniques
Screenings of popular Russian movies and an escape room activity in Russian
Presentations on Russian mushroom collecting and cooking traditions, contemporary Russian music and classic Soviet cartoons
"Our students form friendships because they are learning together as a cohort and some live together in the
Russian Learning Community
," said Hasko. "In a post-pandemic world, our hope is that they'll travel the world together, complete summer and capstone year abroad and find internships together. This is such a wonderful experience for students to go through as a close-knit community sharing uniquely ambitious professional goals and passions, and we strive to foster this sense of community throughout all of our programming.
The Russian Flagship Program is a collaborative initiative between the Department of Language and Literacy Education in the Mary Frances Early College of Education and the Department of Germanic and Slavic Studies in the Franklin College of Arts and Sciences. The program is funded by a competitively awarded Language Flagship grant from the Institute of International Education sponsored by the Defense Language and National Security Education Office of the Department of Defense.
By enrolling in the Flagship program, students join an elite cohort of peers; qualify for study abroad funding and an internship in a foreign country; enjoy personalized instruction and advisement; earn a prestigious federal-level NSEP Russian Flagship certification; and gain intercultural awareness and superior proficiency in a language deemed of critical importance to the U.S.
---
Russian Flagship Program by the numbers for FY21
71
Number of students participating in Russian Flagship coursework
22
Number of students enrolled in First-Year Intensive Russian
7
Number of ROTC cadets enrolled in the program
2
Number of
Fulbright Foreign Language Teaching Assistants
(one from Russia and one from Kazakhstan), whose positions were awarded to the Russian Flagship Program by the Institute of International Education to help with teaching, tutoring and cultural exchange