Preserving intercollegiate athletics
Earlier this year, college basketball player Geo Baker shared an unexpected link with his followers on Twitter.
Amid thousands of posts about upcoming games and highlights on the court, Baker tweeted a link to an upcoming law review article—an article he was paid $100 to post.
With this exchange, the four authors of the paper, "Reimagining the Governance of College Sports After Alston," made history as the first scholars to commission a college athlete to promote their research on social media.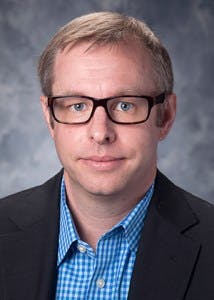 Co-authored by Thomas Baker, a professor in the Mary Frances Early College of Education's department of kinesiology, the paper offers a roadmap for reimagining the governance structure of college athletics to better protect and promote the rights of college athletes from an ethical, legal and medical standpoint. The paper is set to be published in the Florida Law Review.
"We believe that the NCAA needs to be an educational driver and focus on the educational aspects of intercollegiate athletics," said Baker. "I think if it does, it can really preserve the integrity of the country. We see nothing wrong with promoting and protecting education, educational endeavors and educational integrity. There's nothing wrong if a school wants to take a position opposing reckless or dangerous conduct because that's for these athletes' own safety and protection, and that makes sense."
In 2019, California became the first state to give college athletes the ability to market their name, image and likeness (NIL), and by mid-June 2021, at least 11 other states, including Georgia, passed similar bills giving college athletes the right to sign NIL deals.
Additionally, during the summer of 2021, several states passed laws granting college athletes the right to endorse products after nearly half a century of both federal and state governments taking a hands-off approach to college sports reform.
"The NCAA right now is in the process of reimagining its governance," said Baker. "The current model is unsustainable, and quite frankly, the NCAA needs to read the room. What it has now can't be maintained for that much longer, so we have some proposals, which are mostly focused on getting the NCAA back to its original mission of protecting student athlete welfare."
Baker, along with the paper's lead author John Holden, an assistant professor in the Spears School of Business at Oklahoma State University, propose bringing the NCAA back to its sole purpose of promoting education and protecting student athletes and their welfare.
To accomplish this goal, the authors suggest the NCAA:
End all restrictions on athlete compensation
Improve the medical care afforded to athletes
Create a functioning system for athletes to report abuse
Craft a new dispute resolution model
Allow athletes full access to professional representation
Enhance autonomy for athletes to transfer schools
Improve access to educational programs chosen by athletes
While all college athletes stand to benefit from these changes, female athletes are especially impacted as there are less commercially viable opportunities for them to secure careers in professional sports.
Additionally, Baker found in another study that female athletes often see more popularity on social media—a source of revenue for college athletes—since many men's football and basketball teams prohibit their players from using Twitter and other social media platforms. Since women athletes are not restricted in the same way, they often serve as social media brand leaders.
"Often, women athletes are at the peak of their popularity in college, and that is when they need to capitalize," said Baker. "This is why so many athletes get pushed out of universities once they become successful."
For example, before the recent changes to NCAA policies on endorsement deals, competitive swimmer and seven-time Olympic gold medalist Katie Ledecky left Stanford University short of graduation to market herself following the games in Rio de Janeiro.
"If she was unable to receive an education, I would say that's a great tragedy," said Baker. "Imagine if we could have kept her in intercollegiate athletics. It would have promoted women's swimming even more, and people—including little girls—would have showed up to the pool to see her compete. That's a good thing. Except we kicked her out of the collegiate pool because she wanted to cash in and she needed to."
If Ledecky remained a student athlete with Stanford, she would not have been able to promote herself at the Olympics. In fact, the most recent 2020 Olympic Games in Tokyo marked the first time college athletes could stay in school and profit from their popularity at the Olympics.
While no schools have fought back against these new policies yet, Baker is waiting for the first challenge: For instance, what happens if a college athlete partners with a competing brand or tries to strike a deal with another sports betting firm? No school wants to be the first to challenge these laws and be the "bad guy," added Baker.
"We advise the NCAA to get out of the economic business and let schools negotiate with athletes directly," he said. "The NCAA should focus on being an active organization that exists to keep student athletes safe, and if we do that, I think we can go a long way towards preserving intercollegiate athletics for the future."