Amazing Student: Meg Kowalski
Meg Kowalski (B.S.Ed. '21, M.S. '23) balances academics and athletics at the University of Georgia. On the court, she represents the university as an NCAA All-American tennis player, while in the classroom, she recently graduated with her bachelor's degree and began her master's coursework through the Double Dawgs program for sport management.
Hometown: Chicago, IL
Degree objective: Sport Management
Degrees: B.S.Ed. '21, M.S. '23
Why did you choose to attend UGA?
I verbally committed to attend UGA my sophomore year in high school to play on the tennis team and further my education. With my mind and heart set on a national championship, I was unsure of what the next chapter would have in store for me following my tennis career.
Although I wasn't set on a career or a major coming into UGA, I knew that I couldn't make a wrong decision as UGA has various nationally recognized departments and programs. What made me first fall in love with the University was the rich tradition it has and all the incredible people here.
What drew you to sport management, and what made you choose the Double Dawgs program?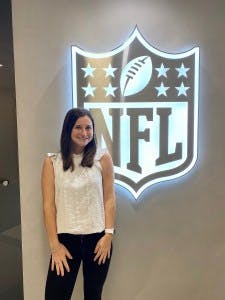 Growing up an elite athlete, I always thought that after my tennis career, my job would — in some way, shape, or form — touch the sports industry. Sport management was the perfect major because it allowed me the opportunity to learn about all the different parts that make up the sports industry.
My decision to apply for the Double Dawgs program exposed me to more advanced material and get a jump start to earn my master's degree. Being on a five-year, full-ride scholarship through tennis, I knew I wanted to make the most of my experience.
You have had several internships at athletic organizations including UGA Athletics and the National Football League. What are some of the highlights of your internship experiences?
I am so grateful for all the experiences that I have had in the sports industry thus far, which have all stemmed from alumni at UGA who I reached out to. One of my most recent experiences was at the NFL headquarters in New York City while serving as the football communications intern.
In this position, some of my responsibilities included assisting with creating league-wide publications, preparing media briefings for the commissioner and senior executives, and contributing to developing promotional plans for youth football, player engagement, and legends community efforts. Through this experience, I was connected with the Atlanta Falcons and aided in the press box during game days this season.
Along with academics, you also play tennis at UGA and are an NCAA All-American this year. How do you balance academics and athletics?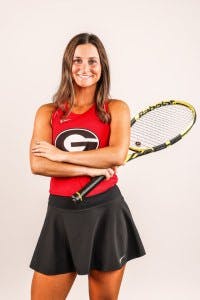 It is definitely a lot to juggle. However, I am extremely passionate about all that I am involved in, which helps get me out of bed every morning and push through the days when I really just want to take a long nap. I am so fortunate for the incredible experience that I have had at UGA as well as the UGA staff members who have made my time here worthwhile. Rather than looking at my schedule as super busy and overwhelming, I see it as a privilege to participate in so many amazing things while wearing the "G" on my shirt.
What was your favorite class at UGA?
My favorite class at UGA was Intro to Sport Management because it was one of the first classes I took for my major; it really got me so excited to learn more about the industry. One of my favorite professors, Professor David Schmidt, taught that class!
What accomplishment are you most proud of achieving?
I am most proud of being inducted into the Blue Key National Honors Society. I am so pleased to be a Georgia Bulldog, and it is a true honor to have my hard work and efforts be acknowledged. Although my team has won a national championship and SEC titles, Blue Key is just as special because I have been honored off the court for the university that I love so much.