Johnson-Bailey receives Zenobia Hikes Award from the Faculty Women of Color in the Academy
Juanita Johnson-Bailey recently received the 2022 Zenobia L. Hikes Woman of Color in the Academy award from Virginia Tech. She is a Josiah Meigs Distinguished Teaching Professor, director of the Institute for Women's Studies, and a professor of adult education in the Mary Frances Early College of Education's Department of Lifelong Education, Administration, and Policy.
The award honors women of color in higher education whose careers encompass scholarly or professional achievements. It is named for Zenobia Lawrence Hikes, Virginia Tech vice president of student affairs from 2005 until her passing in 2008.
"Dr. Hikes was the consummate servant leader who gave unselfishly to her university community, and it is a great honor to be recognized with an award named in her memory," Johnson-Bailey said.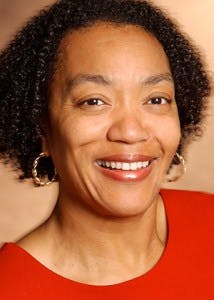 In her award nomination letter, Dean Denise A. Spangler said Johnson-Bailey worked to create inclusive environments throughout her career in the College and the Institute for Women's Studies through conducting research, developing courses, and founding student organizations and campus conferences.
"Dr. Johnson-Bailey is a change agent who has significantly impacted the academic community at UGA and beyond during her outstanding 26-year academic career," Spangler said. "Dr. Johnson-Bailey has provided leadership through her teaching, curriculum development, and academic leadership as she has integrated her research agenda, instructional praxis, and service efforts."
Johnson-Bailey's research contributions extend to more than 100 publications, including journal articles in the Harvard Educational Review and Journal of Higher Education, and authoring and co-editing books. She is the author of "Sistahs in College: Making a Way Out of No Way" (2001), which received the Phillip E. Frandson Award for Literature in Continuing Higher Education and the Sadie T. Mossell Alexander Award for Outstanding Scholarship in Black Women's Studies.
Additionally, she has received several honors and awards from national educational and professional organizations, including the Eleanor Roosevelt Fund Award from the American Association of University Women in 2015, and the Career Achievement Award from the American Association for Adult and Continuing Education Commission of Professors in 2018. In addition, Johnson-Bailey is a member of the International Adult and Continuing Education Hall of Fame, a Houle Scholar, and a Lilly Teaching Fellow.
She said she was honored and humbled to receive the Zenobia Hikes award.
"It has been one of my life's blessings to have had women educators and administrators in my life like Dr. Hikes, who provided words of encouragement and a helping hand to me on my journey to becoming an academic," Johnson-Bailey said.
Johnson-Bailey's areas of expertise include adult education, Black feminism, qualitative studies research and women's studies. These areas, along with her work to cultivate inclusive spaces on campus, align with the Faculty Women of Color in the Academy's mission to engage and connect women of color in higher education.
"In tribute to these heroines and in answer to their challenge to give back, I have tried to be a positive force in the lives of students and junior faculty, especially students and faculty of color at the University of Georgia and throughout the academy," Johnson-Bailey said.
Johnson-Bailey was presented with the award at the Faculty Women of Color in the Academy Conference on Saturday, April 2.