Learning through language
Time flies when you're having fun, especially when you're immersed in a second language.
This May, several fifth graders at Oglethorpe Avenue Elementary School will become the first students to graduate from the school's dual language immersion (DLI) program—a program they first enrolled in as kindergarten students.
Oglethorpe Avenue's DLI program is the first and only Spanish-English language immersion program in Athens. Originally developed as an after-school offering, the program—which was created in part by clinical associate professor Lou Tolosa-Casadont—quickly transitioned into a full-fledged, in-school program.
"My inspiration for the DLI program came from multiple sources," said Tolosa-Casadont, who teaches in the Mary Frances Early College of Education's Department of Language and Literacy Education. "First, my desire to impact learners in the Clarke County School District by providing free language classes and also my own experience as a language teacher and learner. My experiences working in immersion settings in the past helped me understand how very powerful these experiences can be for learners."
Launching a collaborative program 
Under the leadership of former CCSD Superintendent Philip Lanoue and with the support of the school's former principal Scarlett Dunne, instructional coach Marilyn Murphy, and a team of staff and teachers, Tolosa-Casadont launched the program in 2015, adding two new teachers and classes at the next grade level every subsequent year.
"From the moment we found out that OAES was going to start a DLI program, we didn't hesitate to enroll our son in it," said CCSD parent Viviana Paez. "Even though his first language is Spanish, and home, as a family, we speak Spanish, we knew that it was important for him to study both languages simultaneously."
To keep up with demand, the program—which enrolls a balance of native English and native and heritage Spanish speakers—also hired several paraprofessionals and UGA graduate assistants to provide extra support in the classroom.
During the first four years of the program, Tolosa-Casadont provided job-embedded professional development for DLI teachers in each classroom, while simultaneously supporting parents, students and school administrators involved with the program.
As the DLI classrooms grew, she added other components, such as teacher support for assessments and individual and small group work for students to support a variety of their interests and needs.
Students in the DLI program spend at least half of the day at school learning content in Spanish using lessons typical of their grade level in various subjects, including math and science with the added value of having English and Spanish language arts time. The Georgia Standards of Excellence are applied to the curricula and teachers across all grade levels come together to collaborate and plan lessons.
Six years later, families continue to show interest in the program, which has a waiting list and grows exponentially through the use of language, songs, celebrations and literacy. Some English-speaking families have even opted to keep their children back a year, so they could take advantage of the bilingual program.
"Being able to communicate with a diverse group of people is one of the most important aspects of being able to live a full life dedicated to creating a better society," said Jemelleh Coes, whose daughter Gabby is a participant in the DLI program. "I wanted Gabby to have as many tools at her disposal to serve the community. Another element that was of interest to us was gaining a deep and firsthand appreciation of other cultures and people."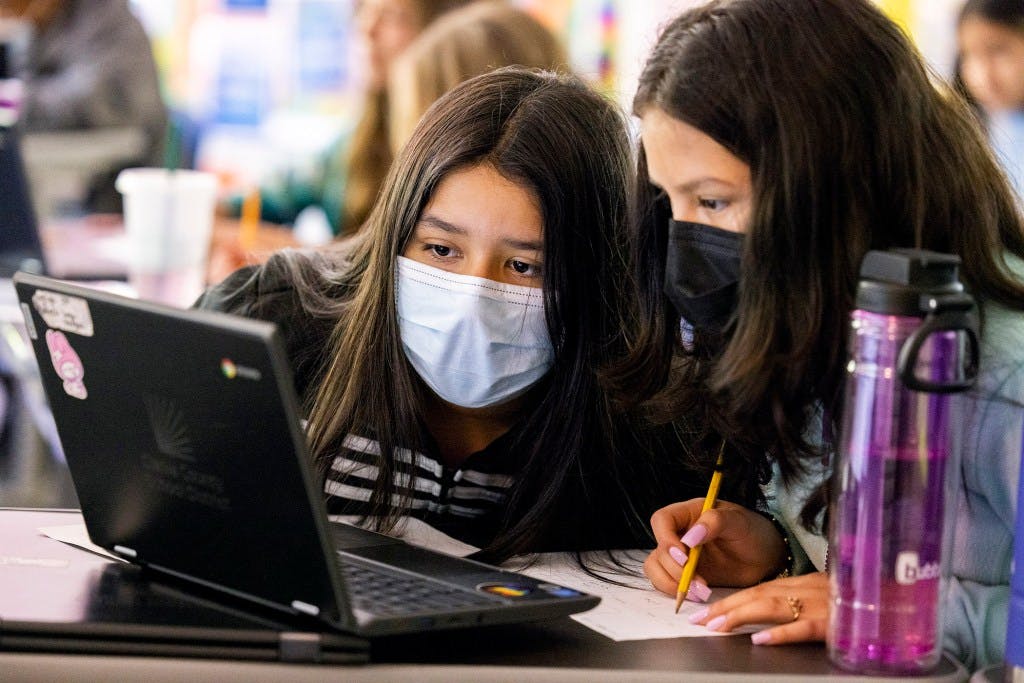 Immersive learning for students 
By promoting the program in the community and educating parents of the many benefits of bilingualism/multilingualism, Tolosa-Casadont and her team successfully recruited a balance of interested Spanish- and English-speaking families to support the program.
"Children and families who participated in this program have enriched their public-school experience, as well as their understanding of the world around them," said Tolosa-Casadont. "Being bilingual and bicultural is more than just knowing a language and how to act within one or more specific cultures—it means understanding the self and others and becoming more compassionate and empathetic to the needs of other people."
On top of providing an immersive learning experience for students, Oglethorpe Avenue also offers opportunities for both undergraduate and graduate students in the college to teach, observe and give back to the school community by teaching not only Spanish and English, but other languages that are not taught at the school.
Doctoral students who receive a 20-hour teaching assistantship through the DLI program can write their dissertation on a specific aspect of the program, while providing support for teachers, learners, support staff and administrators.
For Tolosa-Casadont, the most rewarding part of working with the program is watching the children grow and succeed in the language from year to year.
"Programs such as this one have an amazingly positive​ and powerful impact on children and their families," she said. "Like a pebble thrown in the water, its beneficial ripple effects continue to expand many years after these children and their families leave the program."