Two College advisors win UGA's inaugural Transfer Advocate Award
Two academic advisors in the Mary Frances Early College of Education were recently recognized for their exemplary work with transfer students.
Emily Robinson, an academic advisor for intended elementary education and special education students, and Debbie Hargrave, a senior academic advisor for in-major elementary education and science education students, both received UGA's inaugural Transfer Advocate Award.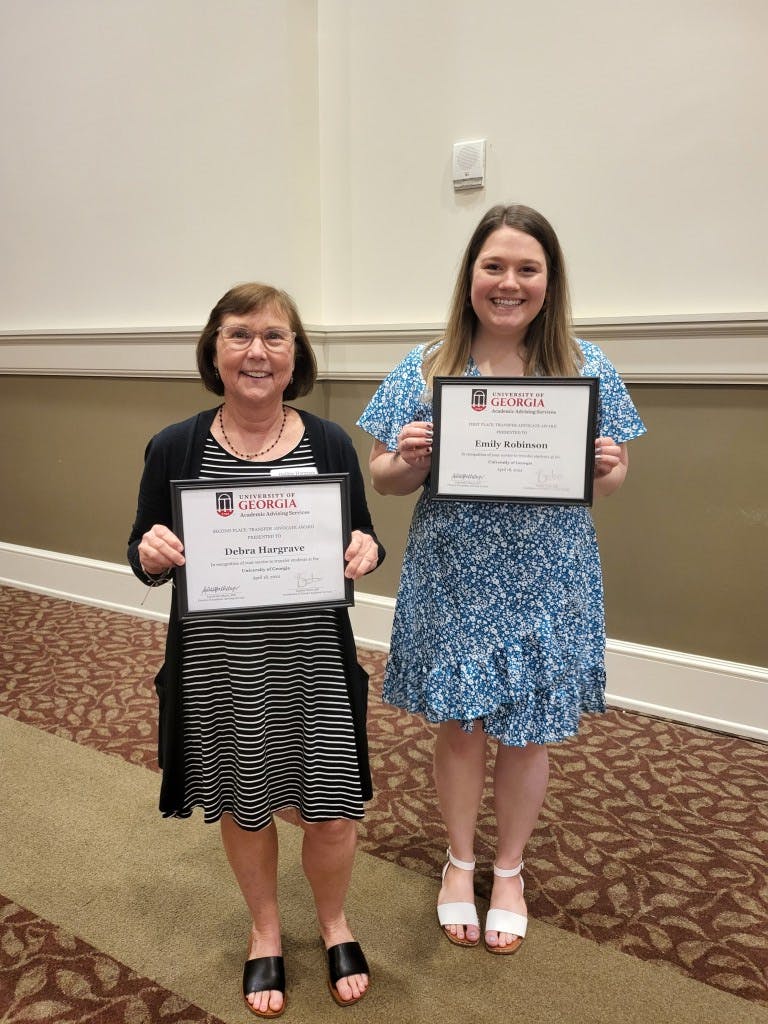 The award, which originated in the Franklin College Office of Transfer Academic Services as the Transfer Champion Award, provides students with the opportunity to recognize an advisor or staff member who played an instrumental role during their transition to UGA.
Robinson, who won first place, graduated from UGA in 2017 and received her master's degree from the University of West Georgia. Before coming to UGA, Emily served as the graduate assistant for peer tutoring at the Center for Academic Success at the University of West Georgia and interned for the Advancement Division at Dartmouth College.
"Transfer students often find themselves in a unique position where they're expected to easily understand and adapt to UGA's policies, culture and academics upon arrival," said Robinson. "I endeavor to help make the transition to UGA as smooth as possible, while providing empathy, knowledge and affirmation. It is an honor to be recognized for the effort I put forth when working with transfer students, not only by the University, but by students themselves."
Hargrave, who won second place, earned her bachelor's degree in health and physical education from UGA in 1983. After graduation, she taught elementary and middle school in the Athens area for over 10 years. In June 2017, she joined the College, working with students in various programs, including early childhood education, English education, music education and workforce education.
"I am honored to receive the 2021-22 UGA Transfer Advocate Award in my fourth year of advising," said Hargrave. "Advising transfer students is a priority for me as I place the utmost importance on making transfer students feel welcomed and confident in their transition to our university. My goal is for my students to have knowledge of courses, resources, the community and endless opportunities that are available to them as students at UGA."
Robinson and Hargrave were recognized during the Academic Advising Coordinating Council's 2022 Spring Workshop on May 3.