Amazing Student: Rebekah Bobo
With a multitude of volunteer experience, Rebekah Bobo (M.Ed. '23) aims to make a difference in people's lives as a speech-language pathologist.
Hometown: Woodstock, Georgia
Degree objective and graduation date: M.Ed. in communication sciences and disorders, spring 2023
Degree(s) earned and graduation date: B.S. in audiology and speech pathology, University of Tennessee, spring 2021
What made you choose to attend UGA?
I chose UGA because the Communication Sciences and Disorders program provided instruction that related to my personal interests. I knew this specialized instruction would help me better understand my passion and provide me with the resources/connection needed to succeed.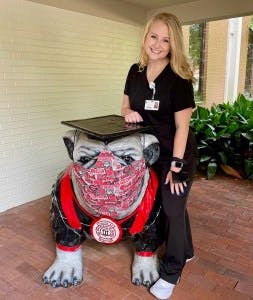 What have been some of your favorite classes in the Mary Frances Early College of Education?
My favorite classes/personal interest courses include augmentative and alternative communication (AAC), multicultural issues within SLP, and acquired cognitive-communication disorders.
Why are you passionate about speech language pathology?
I am passionate about speech language pathology because of the connections and impact I can make on others' lives. The relationships I have built through my clinic experience are ones I think about daily.
 Tell me about your campus involvement and internship experiences. How have they helped prepare you to become an SLP?
UGA has provided me a multitude of experiences, both on campus and within the community. A few of them include volunteering at Porchfest, volunteering at an AAC camp called Camp SPEAK, completing speech-language and hearing screenings at local elementary schools, presenting about supporting speech and language at the local library, participating in training for SPEAK OUT!, LOUDCrowd, and Orton Gillingham, as well as completing my fiberoptic endoscopy certification. These are just a few of the many things UGA has done to prepare me.
Each of these opportunities has provided me with the exposure and experience I need to feel confident in myself, even when I am still learning. Additionally, UGA has provided me with my cohort—a group of individuals who support and will continue to support one another throughout our careers. These connections make for lifelong confidants and continued education, which can arguably be the most important thing.
What are your plans following graduation?
Following graduation, I hope to pursue a clinical fellowship year in the Greater Atlanta area—specifically focusing on AAC.