Amazing Student: Shawntell Pace
Shawntell Pace (M.Ed. '19, Ph.D. '24) engages people across campus by creating a mental health space for Black women at UGA as well as facilitating workshops and care sessions for various campus and community groups.
She holds an assistantship as the doctoral student clinical coordinator for the Center for Counseling and Personal Evaluation, serves as president of UGA's Chapter of Association of Black Psychologists Student Circle, and recently received the Graduate Founders Award from the Black Faculty and Staff Organization at its annual luncheon.
Hometown: Birmingham, Alabama
Degree objective and graduation date: Ph.D. in counseling psychology, summer 2024
Degree(s) and graduation date: B.A. in radio, television and film, Auburn University, spring 2011; M.Ed. in higher education administration, Auburn University, spring 2013; M.Ed. in clinical mental health counseling, University of Georgia, spring 2019
What made you choose to attend UGA?
I initially chose UGA because the master's in mental health counseling program emphasized social justice, and it was important to me that I received training that aligned with my values. I decided to stay at UGA for my doctoral degree because, during my master's program, I witnessed how the counseling psychology faculty cultivated a community-oriented environment to help students grow professionally and personally. It was this beautiful balance of challenge and support from psychologists who embodied social justice, inclusion, and equity. Their students loved them and spoke highly of them.
I also had the opportunity to be guided by the phenomenal Dr. Linda Campbell, who has a stellar reputation for recruiting, retaining, and graduating Black women. Dr. Campbell also encouraged me to continue my work with the amazing Dr. Collette Chapman-Hilliard. I honestly could not have made a better decision.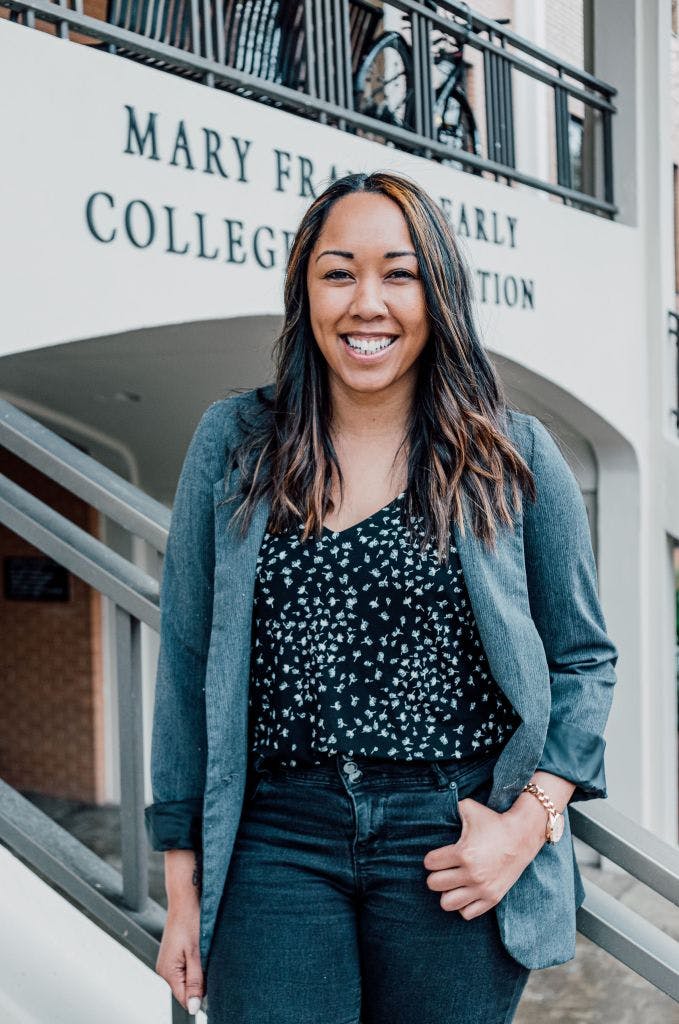 What are your primary research interests, and why are you passionate about them?
My primary research interests focus on how racial trauma, history, and colonization impact the mental health of people of African descent as well as CHamoru descent (e.g., indigenous Pacific Islanders). They say that research is "me-search." As a biracial woman of African and CHamoru descent, liberation is at the core of who I am. I want my communities to not just survive, but to live well and flourish. I hope that my research provides mental health practitioners with the strategies to work with clients of my communities across the individual, systemic, and cultural levels to help them prevent, heal, and resist racial trauma.
You founded The Healing Circle, a weekly support group designed for Black women at UGA to share their experiences, in 2019. How has the group evolved over the past three years?
The Healing Circle has completely evolved since its inception. It has truly become a place where Black women can come and just be authentically themselves to engage with their emotions and own their identity as a healer alongside community. We started off as one group trying to figure it out to now having a curriculum. It has also transformed into, most times being able to run two groups simultaneously, and now, I am even training other Black women clinicians to lead the group. We even transitioned to having groups online during COVID-19, which proved to be powerful and healing for participants who had to remain isolated during trying times.
It is beyond powerful what happens in this space. My favorite part about The Healing Circle is that participants stay in contact with one another after their time in the group ends. I still have past participants stop me and tell me how healing and restorative The Healing Circle was for them.
A lot of your involvement on campus and in the community comes through creating spaces and facilitating groups that support students and community members of African descent. How do you take care of your own mental health?
This is a great question, and the answer changes depending on what type of season of life I am in. Currently, taking care of myself looks a lot like asking myself "How will I continue to restore what is in my cup?" Being a fourth-year Ph.D. student means I am applying for internships, coordinating a clinic, and writing my dissertation, so taking care of myself is pivotal to being able to sustain and thrive. It's a lot of being in my sacred spaces with my community, engaging in grounding practices, going to therapy, and having people in my life who will hold me accountable for taking care of myself. People always talk about self-care, but for me, it's vital to have practices that replenish and restore you emotionally, mentally, physically, and spiritually.
Your work in student affairs also involves cultivating strong relationships with students in high school and college campus settings. How do you create those relationships and connect with students across age groups?
I take the time to listen and understand their lived experiences. I do not take the stance of being the expert. I know some things…I don't know all things. I truly believe that students, no matter their age, have so much to offer. So, I take the time to listen, and I ask questions. I also am my full authentic self in every space which then sends a message that they too can be themselves. I genuinely want to build relationships which takes intentional effort and being open. This is at the heart of the connections that I make with students.
Last year, you gave a talk at TEDxUGA with fellow counseling psychology doctoral candidate Tanisha Pelham (Ph.D. '23) titled "Sacred spaces: A source for Black healing." How was that experience, and what was the process of putting the talk together?
This experience was transformative in so many ways. You watch TED Talks all the time, but never really know what happens behind the scenes. Putting the talk together happened in a matter of weeks with constant practice, feedback, and late nights. We had a wonderful TED Talk team, Esther Kim and Nolan Winter, who coached us.
People don't realize that we didn't use a teleprompter—we had to memorize the entire talk after it was finalized the week before. The only time I got it right was on stage that night. It was crazy. Looking back, I am so happy I had the opportunity to do that with not just a colleague but my sis, Tanisha. It also reiterated the importance of ensuring that the work that I do does not just stay in academia but is accessible to the communities I serve.
What has been your favorite class as a student in the Mary Frances Early College of Education?
I actually have two favorite classes that take the number one spot. The first is the social justice and advocacy class taught by Dr. Collette Chapman-Hilliard. This class challenged me to consider interventions that extend beyond the therapy space and into systems and society. That entire course was a call to action, and I often reflect on what I learned and incorporate it into my work.
The second class was ethics taught by Dr. Linda Campbell. I really loved the debates we had in class regarding the American Psychological Association's Ethics Codes. I just never thought ethics could be so fun! Also, you really cannot get any better than having someone who helped write them teach you about them.
What are your plans following graduation?
Following graduation, my plan is to take the Examination for Professional Practice in Psychology to become a licensed psychologist. My hope is to teach future psychologists and create a pathway for other psychologists of color. I am also open to whatever life brings. The great thing about being a psychologist is that you can do many things, and I hope to create a life where I use all my talents and skills.