Exercise and sport science student receives 2022-23 Black Alumni Scholarship
Zaria Hart (B.S.Ed. '26), an exercise and sport science student in the department of kinesiology, recently received the University of Georgia's 2022-23 Black Alumni Scholarship.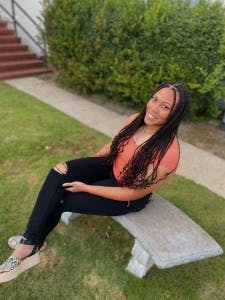 The scholarship recognizes first-year UGA students who exhibit dedication to racial equality through previous experience, initiative and creativity in improving race relations in the community. The scholarship is renewable for up to three years if the student maintains a cumulative 3.0 GPA.
"I am extremely honored to be a recipient of the 2022-23 Black Alumni Scholarship," said Hart. "I view this scholarship as an investment in my future, and it has been rewarding to see that the Black Alumni Leadership Council thinks I am worth investing in."
The scholarship offers Hart, who plans on attending physical therapy school after graduation, the opportunity to focus on her studies rather than her finances.
"This scholarship gives me hope and encouragement for the future," said Hart. "Having been awarded this scholarship, I have come to realize that there are people at UGA who truly want me to succeed. The individuals that I've met on the Black Alumni Leadership Council are true cheerleaders of their scholarship recipients. I am very grateful that I will have their support for the rest of my college career and beyond."
Hart developed a passion for exercise and sport science after sustaining numerous injuries growing up and noticing how hard-working, patient, caring and passionate each of her physical therapists were in helping her recover. Her physicians taught her not to limit herself, and that she could do anything she put her mind to.
"They encouraged me to never give up, and I want to do the same with other people," said Hart. "I plan on using my degree to further my academic career in physical therapy school. From there, I would like to work with professional athletes as a sport physical therapist."