Doctoral student receives public policy fellowship
Catherine Citta (B.S.Ed. '14, Ph.D. '24), a doctoral student in the department of communication sciences and special education, was recently selected as a 2023 Public Policy Fellow by the Joseph P. Kennedy Foundation (JPKF).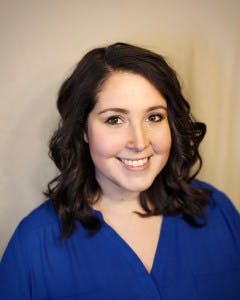 Founded in 1946, the foundation invests in research, federal policy and programs, such as the Special Olympics, to raise awareness and benefit those with intellectual and development disabilities (IDD).
Each year, one public policy fellow is selected by the foundation after a rigorous application and interview process and is given the opportunity to work alongside federal lawmakers on public policy benefiting the IDD community.
"The opportunities to engage in research and leadership in the state of Georgia and nationally throughout my doctoral program ignited a passion in me to pursue policy with a focus on disability," said Citta. "I am excited to head to Washington, DC, and to bring the experiences of myself and others to the federal policy making process."
As a JPKF Fellow, Citta will support the U.S. Senate Health, Education, Labor and Pensions Committee with a focus on disability policy.
Currently, Citta is a member of the U.S. Department of Education's Office of Special Education Programs and the Early Childhood Intervention Doctoral Consortium, which brings together scholars from leading institutions across the nation to focus on research, policy, leadership and the education of young children with high-intensity support needs.
As a doctoral student, her research efforts focus on the implementation of the Individuals with Disabilities Education Act; collaboration highlighting family participation across agencies and sectors at the state and local levels; and systems thinking for early childhood special education research, policy and practice.
Citta—who is an individual with disabilities herself with years of experience teaching in early childhood education—is committed to the Disability Rights Movement and aims to highlight the voices of caregivers, educators, providers, families and individuals.
"Going through the application and interview process with the foundation and being supported by leaders in the field of IDD will be something I am forever grateful for," said Citta. "I am looking forward to this year in the fellowship!"