Twins graduate from College as First Honor Graduates
Twins Chloe Reid (B.S.Ed. '23) and Kristi Reid (B.S.Ed. '23) didn't originally plan to attend the same university.
"After high school, we originally wanted to go our separate ways, but after being accepted to the University of Georgia, neither of us wanted to give up the opportunity," said Chloe Reid.
Three years later, they will graduate together as First Honor Graduates–a designation for students graduating with a cumulative 4.0 grade point average in all UGA and college-level transfer courses.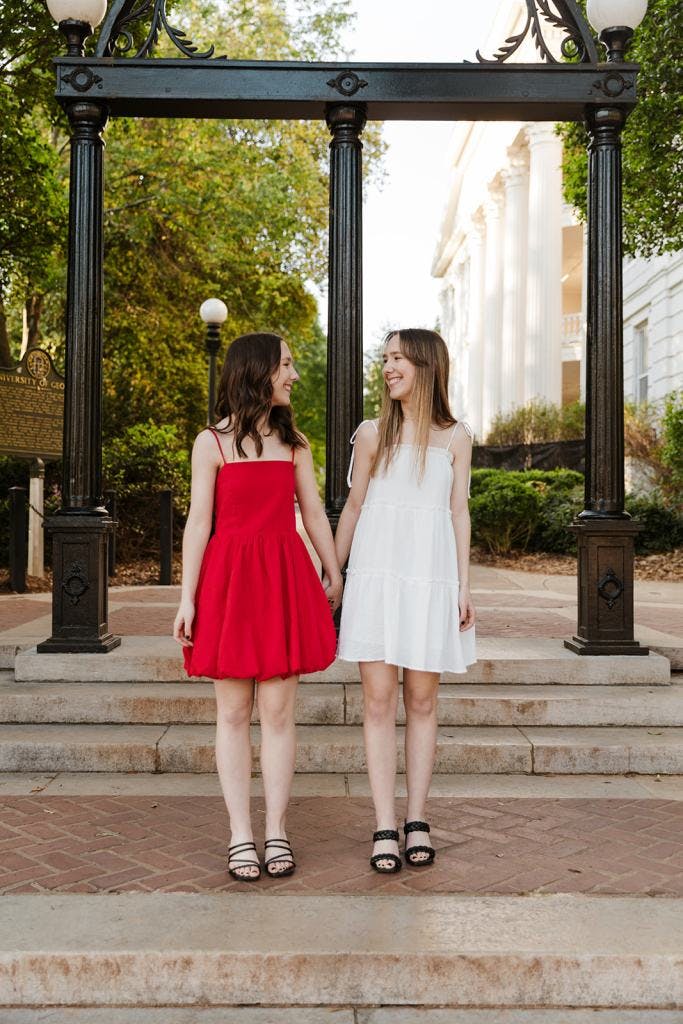 Hailing from Cedartown, Georgia, the Reids came to UGA for its diversity, opportunities, and the strength of their programs.
"It just has so many groups where even though it's big and there are so many opportunities, you can really find your people here, and I was so excited to join a university like that," Chloe Reid said.
Beyond attending the same university, the sisters both enrolled in the Mary Frances Early College of Education, where Kristi majored in communication sciences and disorders and Chloe majored in exercise and sport science.
Kristi said she became interested in studying speech therapy from her older sister, who is an occupational therapist, and from an internship in high school.
"For me, I realized I want to be a speech therapist because I think communication is key, no matter what modality that's in, whether it's AAC or verbal speech, I think everyone deserves to have their voice heard and share their opinions, connect with others, so that's why I want to be a speech therapist," Kristi Reid said.
Though she originally planned to major in biology, Chloe said that she learned about the exercise science program in her anatomy classes and made the switch.
"I'm passionate about physical therapy because I've always been interested in the human body, but being able to go into a field where I can help others achieve their goals and maintain their functional goals in life, I think, is really important," Chloe Reid said. "The opportunities I've had to work with people, it's really solidified that passion, and getting to know clients and maintaining those long relationships, I look forward to that in this field."
The sisters credit several factors to maintaining their GPAs with campus involvement and part-time jobs, including prioritizing tasks, staying organized, and the support of faculty and students.
"I would also say scheduling time for yourself honestly helps you do better when working on schoolwork, so I think that's key, and also just connecting with peers," Kristi Reid said. "My major is cohort style, so I've really gotten to know everyone there, and they're very helpful. We all help each other and work together."
Though they began college amid the COVID-19 pandemic, transitioning from online to in-person classes, Chloe said understanding priorities helped to keep them on track.
"I would say the faculty are just so supportive if I've ever had questions, I felt comfortable going to them, and that helped, and then just staying organized and understanding it's all about a balance," Chloe Reid said.
Following graduation, Chloe will attend University of North Georgia for physical therapy school, while Kristi will continue at UGA in the speech language pathology master's program.
"We are so excited to go our separate ways and use what we have learned at UGA to enter the next steps of our careers," said Kristi Reid. "We will be supporting each other from afar!"