Speaking with intent
Once a week in the UGA Speech and Hearing Clinic, a small group of patients engage in a series of voice exercises, ranging from a recital of "may-me-my-mo-moos" to a resounding declaration of "ahhhhhhhhs."
These voice exercises make up only a small portion of the services and activities offered to members of the clinic's Parkinson LOUD Crowd Support Group.
In 2021, Nina Santus, a clinical assistant professor in the College's Department of Communication Sciences and Special Education, applied for and received a grant from the Parkinson Voice Project to begin SPEAK OUT!, an evidence-based protocol that consists of 12 individual voice therapy sessions.
The Parkinson LOUD Crowd—which serves as an extension of the clinic's SPEAK OUT! program—is entering its third year of combining education with speech therapy and daily home practice for patients with Parkinson's disease.
The SPEAK OUT! program focuses on helping patients regain their speech skills individually, while the LOUD Crowd helps those same patients retain those skills in a group setting after they complete SPEAK OUT!
"The goal of the Parkinson's support group is twofold," says Santus. "Research shows that support groups are beneficial and that relationships are important, especially when you have medical diagnoses. But it's also about training our clinicians who get to work with the geriatric population."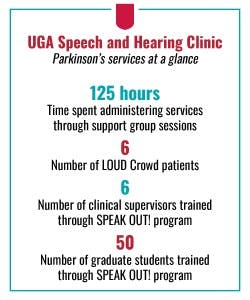 Parkinson's disease is a brain disorder that causes unintended or uncontrollable movements, such as shaking, stiffness, and difficulty with balance and coordination. Other symptoms may include decreased vocal volume, imprecise articulation, difficulty with swallowing, writing changes, as well as overall slowed movement.
The Parkinson LOUD Crowd Support Group currently supports six members across the state of Georgia, as well as members in the northeast who join the group online via Zoom.
Together, patients work on a range of exercises and activities, including vocal warm-ups, cognitive exercises like crossword puzzles, engaging in casual conversations with other members or clinicians, dry swallow exercises, and more.
"Our patients learn strategies individually, and then we keep practicing those strategies, so they maintain their skills," says T.J. Ragan, clinical associate professor and director of the Speech and Hearing Clinic. "So, this is a way to add some motivation and social pressure like, 'Did you do your voice strategy work last week?'"
Earlier this year, Santus and Ragan received UGA's Bobbi Meeler Sahm Service and Outreach Award in recognition of their work with another local Parkinson's support group in Athens.
With funds from the award, the clinic plans to hold a seminar on April 5, 2024, at the Hilton Garden Inn in Athens, Georgia, to bring together researchers, speech-language pathologists, neurologists, and community members for discussions and presentations.
At the event, graduate students will also engage in experiential learning by screening participants for cognition, voice, speech, and swallow function—one of many real-world learning opportunities for students studying communication sciences and disorders in the College.
Students 'speak out' and learn from experience
Every semester, the SPEAK OUT! and LOUD Crowd programs prepare graduate students in communication sciences and disorders to work with patients with Parkinson's disease.
For several students, this service-learning experience carved out an entirely new career path, including master's student Charis Barnett (B.S.Ed. '21, M.Ed. '24), who worked as a graduate clinician for the Speech and Hearing Clinic last year.
"LOUD Crowd completely changed the trajectory of my career," says Barnett. "I was excited to earn some clock hours and experience in adult voice therapy, but I never imagined the immeasurable impact that the LOUD Crowd group would have on me, both personally and professionally."
Before working with the Parkinson's support group, Barnett was set on pursuing a career in pediatrics. She never imagined her aspirations would shift after spending a summer helping adults with neurological disorders work on a wide variety of speech-language skills, including articulation, phonology, language, literacy, fluency, and more.
Barnett later applied what she learned working with more advanced patients in the support group to another clinical position at Augusta University Health Center, where she worked with patients who were just beginning their Parkinson's journey.
"My clients taught me so much about perseverance and grit," says Barnett. "Speech therapy is not easy. I know voice and cognitive exercises are challenging because I'm doing them alongside the patients every day. I really appreciate our clients showing up with a positive attitude each week and exerting their maximum effort. This motivated me to work harder too."
Through her experience working with the LOUD Crowd group, Barnett—who now plans to work in an acute-care hospital or rehabilitation clinic for adults with Parkinson's disease or other neurological disorders—gained more than just the clinical skills needed to assess and treat patients.
She also learned how to be a curious learner and an authentic source of encouragement for her patients.
"It was unnatural to hear my own voice at 75 decibels gliding up and down the scales," says Barnett. "But the UGA LOUD Crowd is a safe space to learn new things. My biggest takeaway is that nobody needs to walk through a medical diagnosis such as Parkinson's disease alone. I would encourage that if anybody or their loved one has received this diagnosis to get involved with a support group."'