Associate professor named 2023-24 AERA Congressional Fellow
Walker Swain, an associate professor in the Department of Lifelong Education, Administration, and Policy, was recently named a 2023-24 Congressional Fellow by the American Educational Research Association (AERA).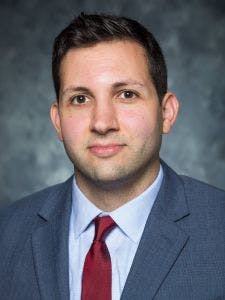 Each year, AERA's Congressional Fellowship Program invites up to three education researchers to Washington, D.C., to work closely with policymakers and staff on Capitol Hill.
The program offers professional development by embedding education researchers in congressional offices as they participate first-hand in the policymaking process.
"I'm really excited for the opportunity and contributing directly to policymaking," said Swain. "I look forward to learning a lot about the process. Education researchers talk about policy implications and try to conduct research that will reach people in policymaking positions, so it's a uniquely special opportunity to walk down the hallway and discuss with them instead."
One of two Fellows this year, Swain will work on the staff of a Congress member or a congressional committee and contribute scientific expertise on issues central to the priorities and agendas of Congress.
Fellows will also benefit from a comprehensive two-week orientation, as well as professional development and networking opportunities targeted specifically to education researchers throughout the year.
"Part of the idea is that Fellows are involved in some issues that are hot on the agenda right now," said Swain. "People are talking about student loans or early childhood pay or things like that, but there may be other things that we have a serious conversation about. The fellowship should be fun, and at a minimum, I will learn."
Swain is an interdisciplinary quantitative policy researcher focused on issues of educational equity, poverty, and inequality. His recent work examines the intersections of education and health, teacher policy, early childhood education, neighborhood change, and school choice.