Signing with confidence
This summer, a group of UGA students spent nearly two weeks in Paris, France, visiting an array of historic sites and immersing themselves in the city's rich Deaf culture.
Now in its second year, the Mary Frances Early College of Education's 10-day study abroad program gives American Sign Language (ASL) students the opportunity to learn about Deaf culture and history and discover new ways to immerse themselves in ASL.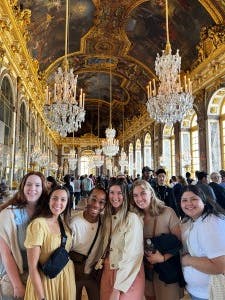 Lecturer Brian Leffler in the Department of Communication Sciences and Special Education worked with Hands on Travel, a deaf-owned company that specializes in crafting immersive and enriching travel experiences for the deaf and hard-of-hearing community, to create the program's itinerary.
"I want students to experience Deaf culture and to communicate without their voice while learning the history of ASL and how it's connected to France," said Leffler. "After studying abroad, students learn little by little how to negotiate different cultures and languages. At the same time, they keep in mind that we are the same—we just have different communication and cultural aspects."
Guided by local deaf Parisians, students with at least level 3 competency readiness in ASL communicate solely through sign language to not only practice their signing skills but to experience what it's like to travel as a deaf or hard-of-hearing person.
The group visited the birthplaces of deaf educators Laurent Clerc and Ferdinand Berthier in southern France, as well as the St. Jacques Deaf School, the deaf-owned International Visual Theatre, and the Deaf Museum. Other destinations included the Louvre, the Eiffel Tower, Notre Dame, Versailles, and more.
Because the history of ASL is closely tied to French Deaf culture and French Sign Language (LSF), students could compare, contrast, and interpret the differences and commonalities between French Deaf culture and American Deaf culture.
"People might think that ASL is universal, and that's not the case," said Leffler. "Students got an idea of what it is to be deaf and how it is to navigate this world being deaf. They're just really scratching the surface and learning to be more competent in their signing skills. There were so many different people in the French Deaf community we were able to have conversations with, and it was such a great experience."
Deaf culture and history
During the trip, students took bonding over food to a whole new level.
At a deaf-owned Moroccan restaurant called 1000 & Signes, students applied what they learned using ASL to order food and converse with one another.
"This was one of my favorite locations, first because the food was delicious, and second because we were communicating with each other in ASL," said Janet Mendoza (B.S.Ed. '24), an undergraduate student in communication sciences and disorders. "It really was a bonding experience eating together and being able to communicate with everyone involved. I think all these places made me appreciate how beautiful Deaf culture is. It is so expressive and, in a way, allows people to bond, no matter their differences."
At the National Institute for Deaf Youth, Mendoza and her peers communicated with French students using LSF and explored the city with another ASL group from Texas Women's University.
"I went to a different country to learn a different language with people I had never met before, and I was nervous," added Mendoza. "However, I came back with new friends, more confident in my ASL, and new experiences that expanded my knowledge on Deaf culture."
For the entirety of their stay in Paris, students communicated strictly using ASL, including at restaurants, museums, hotels, and on public transit.
This immersive experience helped psychology student Cindy Argueta (B.S. '23) rapidly improve her ASL skills via regular day-to-day conversations. In addition to gaining a newfound understanding of how deaf or hard-of-hearing people navigate the world, Argueta also gained greater confidence in signing and expressing herself in public.
"In terms of Deaf culture, I expanded my knowledge on the history of ASL and the figures that were involved in developing its culture," said Argueta. "A lot of people were intrigued when we signed in public, especially on the subways. They would always stare at us when we would communicate, and I thought, this is what deaf people must experience every day."
Next summer, students who participate in the study abroad program will attend the Deaf Film Festival for the first time. The festival, which occurs once every two years, invites filmmakers from around the world to Paris for a three-day celebration of deaf film, culture, and arts.
The film festival will wrap up the last two days of the program when students typically feel more confident using their ASL skills, said Leffler.
"I learned about a culture that was much different from my own, I was able to gain different experiences and learn many things outside of my regular daily life," said Argueta. "It helped me understand and learn about Deaf culture, ASL, and just etiquette around deaf individuals. I encourage everyone to take a single step to learn more about the world and people around them."