ASL faculty, students cultivate inclusivity during Deaf Awareness Month
On Sept. 23, dressed in a bright red jumpsuit, Debra Teesdale signed the national anthem to thousands of football fans in Sanford Stadium in recognition of Deaf Awareness Month.
Though Deaf Awareness Month is observed in September, students and faculty in the Mary Frances Early College of Education's American Sign Language program foster awareness and inclusivity of Deaf individuals year-round.
"Deaf Awareness is recognized to ensure awareness about American Sign Language that Deaf people communicate with, and the culture that is so diverse but yet shares strong values of being deaf," said Amy Peterson, a lecturer in American Sign Language.
The College's four ASL lecturers—Laurie Achin, Brian Leffler, Peterson, and Teesdale—come from different backgrounds and bring their experiences to students in their ASL classes. They teach ASL levels I-IV, with Achin, who comes from a theatre background, also teaching Visual-Gesture Communication which emphasizes the visual element of ASL, and Peterson, a Certified Deaf Interpreter, teaching Deaf Studies.
Achin said ASL has rules and structure like spoken languages do, but instead of making changes to one's tone of voice, ASL denotes different emotions through expressions and body language.
"The thing with ASL is there's no print, it's more visual, but we have all of the grammar, the structure, the features, the rules, and that's what's beautiful about it," Achin said.
Awareness of Deaf culture is baked into the curriculum of the ASL minor, beginning when students walk into ASL I. Though some students initially appear nervous and unsure of how they will communicate with him, Leffler said he uses gestures and simple sentence structure along with PowerPoint slides to facilitate communication.
"The language is 3D, it uses space, space has meaning. It's not just about the hand structure, but the space, the space contributes to the linguistics," Leffler said.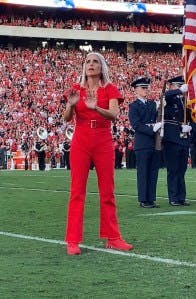 Outside the classroom, students and faculty spread awareness in various ways. ASL Dawgs, a student organization on campus, meets monthly to host guest speakers and promote understanding of ASL and Deaf culture. This involvement also crosses disciplines within the UGA community. Achin and two students minoring in ASL, Fallon-Elliot Smith (A.B. '24) and Elaina Maria (A.B. '24), will sign the UGA Theatre production "Silent Sky" during two interpreted shows on Oct. 6 and 8.
The recent football game against University of Alabama at Birmingham provided another context to spread awareness.
"Knowing it's Deaf Awareness Month and it's all about deafness and hearing allies partnering together and showing the support—and seeing that really happen with my students and former students, faculty, staff, friends, family—they all came and that was very special," Teesdale said.
Teesdale also credits Smith with the success of the night. A theatre major earning a minor in ASL, Smith said his knowledge and appreciation for Deaf culture has deepened through his experience in the ASL program and with its faculty.
"If someone had told me when I was the only student showing up face-to-face to my 8 a.m. ASL class with Debra my freshman year during the pandemic that three years later, I would be standing on the field of Sanford Stadium cueing her performance of the national anthem with the Redcoat Marching Band, I don't think I would have believed you," he said.
"Coming to UGA, I already had a deep appreciation for Deaf culture, and throughout my years of getting to know the Deaf professors at this university, I have had the honor of getting to become more knowledgeable and appreciative of that community through everything I get to learn through them and the programs they teach."